Buccaneers 28, Chargers 21: Immediate Reactions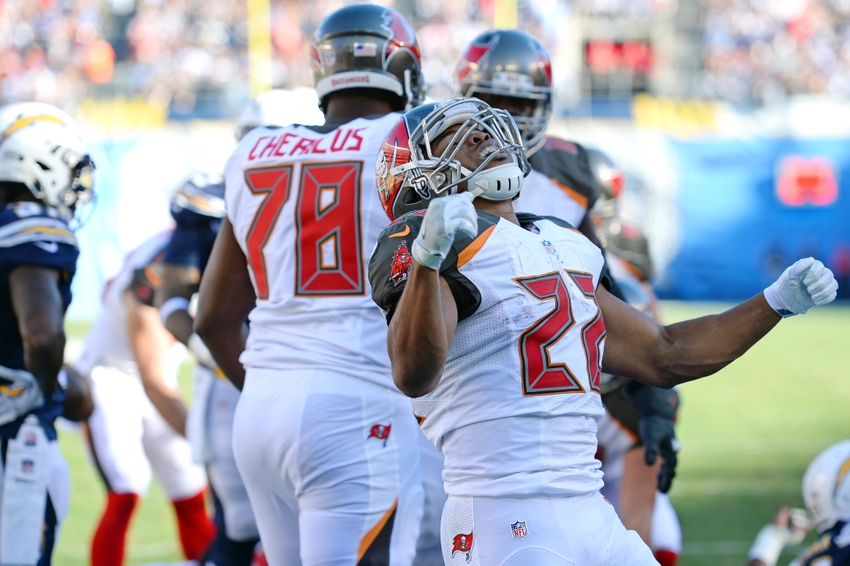 It didn't come easily, but the Buccaneers (7-5) will come back to Tampa with a four-game winning streak and a share of first place in the NFC South. On Sunday, the Bucs came up with a 28-21 win over the Chargers (5-7) on the West Coast. Here, we have immediate observations and reactions from another big win.

28

21
The Buccaneers got out to a rough start on Sunday afternoon, but finished strong on their way to a 28-21 road victory over the San Diego Chargers. After trailing 14-7 at halftime, Tampa Bay came out clicking in the second half. The offense fed off of the defense, which led to a 21-7 run to end the game.
Observations and Reactions- General
-These are the games that good teams win. The Bucs certainly didn't play their best game of the season, but they were able to do enough to win a tough road game against a formidable opponent.
-Speaking of tough road games, Tampa Bay is now 5-1 on the road. That's impressive, especially considering the youth on the roster.
-Head coach Dirk Koetter has his team rolling, and it's definitely a sight to see. The Bucs hadn't won seven games since the 2012 season, but here they are at 7-5 with four games to go.
-Penalty-wise, it wasn't a bad day for the Bucs. They were flagged just six times for 35 yards on the afternoon.
Observations and Reactions- Offense
-The Bucs moved the ball fairly well in the first half, but only came up with seven points. A Jameis Winston interception and a missed field goal hurt, but Tampa Bay was bailed out by its defense. Heading into halftime, the team was trailing 14-7, but all things considered, that wasn't too bad.
-One of the biggest concerns coming out of this game is the health of the receiving corps. Cecil Shorts went down early with what looked like a serious leg injury, while Adam Humphries later left with a concussion.
-With that noted, the offense's ability to overcome those injuries was huge. Freddie Martino stepped up with four catches for 56 yards, while Cameron Brate had 86 yards and a touchdown on six catches.
-Mike Evans was held in check by the San Diego defense, catching just three passes for 38 yards. He did come up with a two-point conversion catch in the fourth quarter.
-Another concern for the offense continues to be the lack of production in the red zone. In five red zone trips, the Bucs managed to score just two touchdowns. Especially with a shaky kicker, they need to find the end zone when they have chances.
-Winston did an admirable job on Sunday, considering the ineffectiveness of the offensive line. He completed 20 of his 30 passes for 280 yards, a touchdown and a two-point conversion pass to Evans.
-The offensive line has to be much better. The Bucs have found ways to win without consistent play from their line. Sure, that's good, but can anyone imagine what this team could do with a potent offensive line?
-Tampa Bay didn't get a whole lot going in the ground game, but that's not much of a surprise. The San Diego run defense is very good, and when the Bucs needed some big conversions, they were able to get them for the most part. It was great to see Jacquizz Rodgers back on the field. He rushed for 29 yards on just seven carries, but did pick up a key first down to ice the game.
Observations and Reactions- Defense
-It's only fitting that the defense was responsible for the Bucs' fourth straight win. It bent a little throughout the day and gave up a few big plays, but it did enough to keep Tampa Bay in it against a solid San Diego offense.
-Early in the game, Tampa Bay got nowhere near enough pressure on Philip Rivers. He started the day 9-of-10 for 129 yards and a touchdown. But, the defense adjusted well. He finished the day 15-for-26 for 225 yards, two touchdowns and two interceptions.
-The Chargers got Melvin Gordon involved in the passing game early, and the Bucs didn't have much of an answer. The former Wisconsin Badger had a big day, rushing for 84 yards and a touchdown on 17 carries. He also added 54 receiving yards on four carries.
-Gerald McCoy and Robert Ayers got after Rivers and sacked him to force a long field goal (that was missed). It turned out to be a big swing for the Bucs, as the offense then went on to tie the game at seven.
-Lavonte David came up with one of the biggest plays of the game in the third quarter, but Vernon Hargreaves gets a big assist. The rookie made a nice play on the receiver and tipped the pass into the hands of David, who returned it 12 yards for a touchdown. Hargreaves was the team's leading tackler on Sunday, racking up seven (six solo).
-Noah Spence didn't have any tackles, but was harassing Rivers all day. He got in the backfield quite a few times, and picked up two hits on the quarterback.
-William Gholston hasn't gotten enough credit for his play this year. He had a solid day against San Diego, finishing with six tackles (five solo), including one for a loss.
-The Bucs haven't had any problems with the "next man up" mentality this year. Keith Tandy was that next man up on Sunday, coming away with the game-clinching interception late in the fourth quarter. He started in place of Chris Conte, who was out with a chest injury.
Observations and Reactions- Special Teams
-A couple of weeks ago, it looked like Roberto Aguayo had finally found his footing. That no longer looks to be the case. He missed an easy 31-yard field goal late in the first half, which was his second miss in two weeks. But to his credit, he rebounded later on. He connected on field goals of 27 and 35 yards, while also making all of his extra points.
-Has Bryan Anger been given an invitation to the Pro Bowl yet? He's been one of the team's MVPs this year. He punted just twice on Sunday, with both going 54 yards. One landed inside the 20, which set up David's pick six in the third quarter.
Final Thoughts
Well, this is pretty fun. The Buccaneers have now won four games in a row, and with a loss by the Falcons on Sunday, they now sit tied for first in the NFC South. The Redskins also lost, so the Bucs are also in good position for a wild card spot if they can't win the division. But, taking a step back, how crazy has this run been? Tampa Bay was 3-5, coming off of two embarrassing losses, but now it is in serious contention just four weeks later. The leadership of Jameis Winston and Gerald McCoy has been fun to watch, and the "next man up" mentality has been great. Head coach Dirk Koetter and defensive coordinator Mike Smith are getting it done, and it has been a breath of fresh air for Buccaneer fans.
The Bucs are still making mistakes that they shouldn't make. However, they're still coming up with ways to win. That's one of the signs that says this team has turned the corner. Tampa Bay has a real chance to make the playoffs for the first time since 2007. Koetter and company have led the Bucs to their first four-game winning streak since 2008. This run has been pretty remarkable, and it's not over yet. For the first time in years, Tampa Bay fans have big-time December games to look forward to. What a time…
The Bucs return home to what should be a rocking home crowd next Sunday for a 4:25 matchup against the New Orleans Saints (5-7).
More from The Pewter Plank
This article originally appeared on