Buccaneers' 2017 NFL Draft Profile: Safety Jamal Adams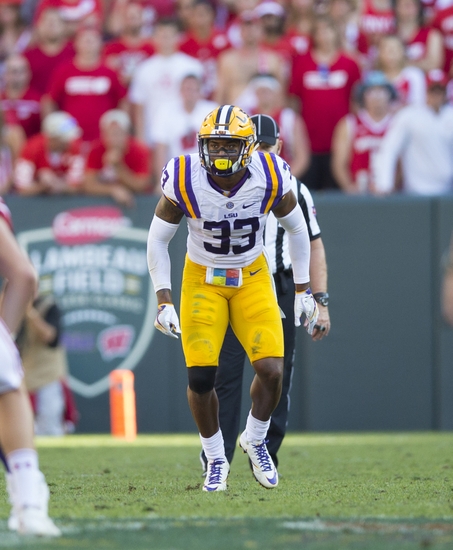 The Buccaneers defense had an impressive outing this past weekend against the Chicago Bears, but that should not hide the fact of the lack of talent at the safety position. With draft talk starting to pick up, there has been one familiar name across the boards for your Tampa Bay Bucs.
Finally, the Buccaneers have pulled off their first win at home this season. From the trenches to the back-end, the defensive had an impressive well-rounded game. Coach Mike Smith's defense was able to cause four turnovers and essentially shut down what looked to be the most confident two win team in the league.
More from The Pewter Plank
Yes it was a great game from the defense, but that does not take away from what the past has shown. The safety position for the Bucs has been atrocious. Chris Conte and Bradley McDougald have proven that they are too inconsistent to be considered the solutions.
So what about the backups?
Keith Tandy has proved to be a reliable role player, but nothing more than that. Rookie fourth round pick Ryan Smith has yet to touch the field on defense. So where do we find the answer? The draft.
I personally have published an article in the past about solving this problem with the play-maker Jabrill Peppers, but to be honest he may be out of the question due to our draft position. So who do we look at from here?
Jamal Adams is one name to take note of. This punishing safety out of LSU has drawn comparisons to the likes of Kansas City's Eric Berry and even the Arizona Cardinal Tyrann Mathieu. Coincidentally, it just so happens that General Manager Jason Licht was the Vice President of Player Personnel for the Arizona organization back when they decided to take a shot on Mathieu back in 2013.
Defense & Fumbles
Since playing as a true freshman Adams has proven that he is a stud to have on the field. This well-rounded talent has shown that he is not only a force in the run game, but also a threat when that ball is up in the air.
Not only does Adams have the quickness to line up on a receiver and cover with ease but he also possesses the skill to shut down opposing tight ends. This is great to hear for Buc fans due to the fact the defense has made some money for various opposing tight ends. One name in-particular would be division opponent Greg Olsen.
Adams is a player who does not miss tackles. His instincts and ball tracking skills are phenomenal and he always seems to be exactly where he needs to be. That awareness and discipline displayed in the film is something that Bucs have lacked for quite some time now. If the Bucs are still convinced that retooling this team is what is needed, why not pair our 2015 first round pick Vernon Hargreaves III with this ball hawk?
The hope is that with Ryan Smith having a year to learn the defense it can eventually help him make his way onto the field. Unlike Smith, Adams is a day one starter. He provides an instant force that opposing players will begin to recognize. These two together could be the future at the safety positions for your Bucs for years to come.
Jason Licht has managed to hit some home runs when it comes to the draft, especially that grand slam back in 2014, and you can bet that Adams is a player that Licht has already done some homework on. If Adams is sitting there when our time on the clock begins, it would be quite difficult to pass him up.
What do you think Buc fans? Like what I have to say? If so follow me on Twitter and we can talk anything Bucs. God Bless and onto Kansas City.
This article originally appeared on