Bruce Arians hospitalized with chest pains after loss to Vikings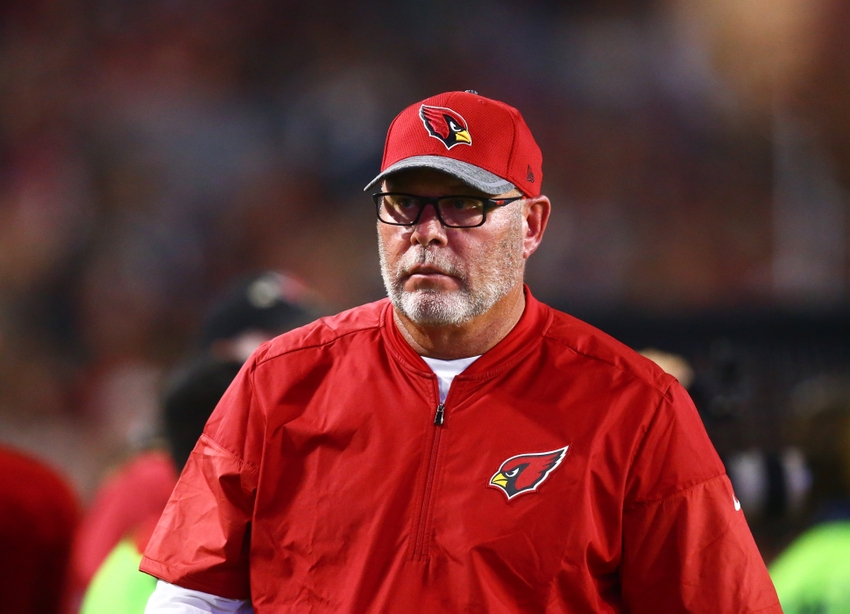 Bruce Arians has been hospitalized due to chest pains for the second time this season.
During the preseason, Arizona Cardinals head coach Bruce Arians thought he had a kidney stone so he got rushed to the hospital. He has been taken to the hospital again following the Cardinals loss to the Minnesota Vikings, complaining of chest pains.
Cardinals HC Bruce Arians is hospitalized with chest pain, sources tell ESPN. Tests so far have been "favorable", according to one source.

— Adam Schefter (@AdamSchefter) November 21, 2016
Chest pain can be an early sign of a lot of bad things, including a heart attack and cardiac arrest. However, it's also a symptom of some relatively minor things and it might just be some discomfort in his chest. So far, the tests have been positive, so it appears Arians will be fine. He will continue to be monitored to make sure he's OK and that his condition doesn't get any worse.
The Cardinals coach was hospitalized back in August for symptoms suggesting he might have Diverticulitis, a condition which affects the digestive tract. No word yet on if this is related to it, but it's worth noting chest pain is a symptom for that disease as well.
Arians' Cardinals are coming off a 30-24 loss to the Vikings, which places them at 4-5-1. While they are second in the NFC West, the Seattle Seahawks are slowly starting to pull away at the top of the division. A frustrating loss against the Vikings could be demoralizing to a Cardinals team that had Super Bowl aspirations before this season. They'll have to rebound next Sunday on the road against the Atlanta Falcons.
It remains to be seen if Arians will be joining his team in Atlanta, but it appears he'll be alright. Still, chest pain can be the precursor to a lot of terrible things. Some of those conditions take a while to show up. Hopefully Arians is OK.
This article originally appeared on