Browns look to pick up first win in 2016 on Thursday night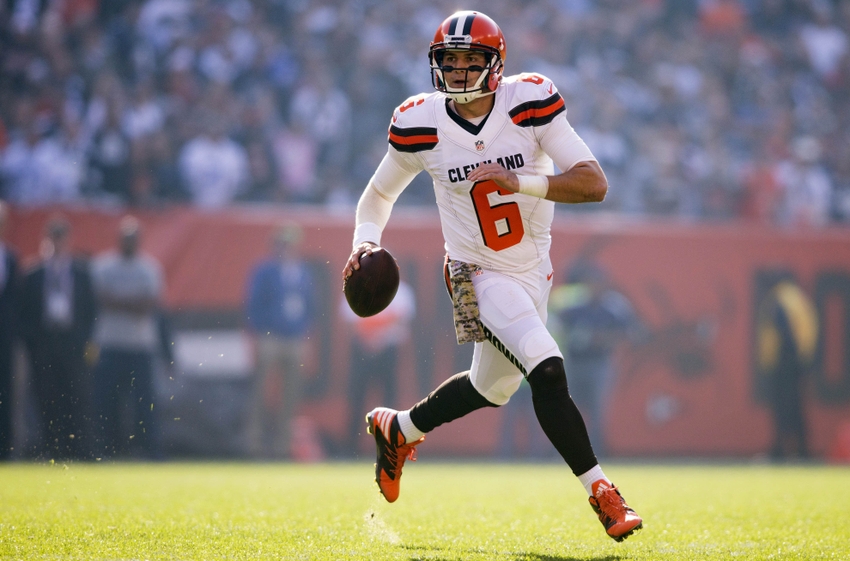 The Cleveland Browns have been a sheer disappointment heading into their lone nationally televised game of 2016. At 0-9, Cleveland hopes to upset the Baltimore Ravens in one of their last golden opportunities at a win.
Long behold, the Cleveland Browns finally have their chance to show off the new regime to the nation as they play in their lone nationally televised game this Thursday. Cleveland takes on division foe Baltimore Ravens, who currently sit atop the AFC North at 4-4 after defeating the Pittsburgh Steelers in Week 9.
The Browns are coming off of a relentless onslaught committed by the Dallas Cowboys, led by rookies Dak Prescott and Ezekiel Elliott. Despite the return of both Cody Kessler and Corey Coleman, Cleveland's performance was lackluster and continues to struggle finding any rhythm on offense. Winless through ten weeks, the questions begin to arise regarding the potential 0-16 season.
The Baltimore Ravens are contending for the AFC North and, despite currently leading the division due to a tie-breaker with the Pittsburgh Steelers, are in a vulnerable spot this Thursday. Sure, the Browns have been abysmal in every way, shape and form so far in 2016. However, the Ravens snapped a four-game losing streak against a shaky Steelers team and almost blew a 21-0 lead in the fourth quarter.
The Ravens are in first place of a foggy AFC North, one which can quickly be ran away with by Baltimore or the Pittsburgh, or even the Cincinnati.
More from Dawg Pound Daily
The Browns and the Ravens fire met on Sept. 19 and the Ravens came back to win from a 20-0 deficit. On the Browns' final drive, a questionable call was assessed on Terrelle Pryor for flipping the ball. The Browns lost the game after being pushed back 15 yards and unable to convert on the final play.
The Ravens haven't faired well in the statistics category, similar to the Browns. Baltimore ranks No. 26 in points and No. 27 in total yards among NFL teams. Looking more specifically, they rank No. 20 in passing yards and No. 28 in rushing yards. Joe Flacco has been a solid quarterback, but hasn't necessarily lived up to the expectations his contract warrants.
Their receivers consist of veterans Mike Wallace and Steve Smith sprinkled in with Breshad Perriman and Kamar Aiken. Wallace and Smith have definitely developed chemistry with Flacco, although they no longer are at their physical peak. The running game is weak, as their starting tailback is former Cleveland Brown Terrance West. The name may still make several Browns fans cringe, however West has had several successful outings with Baltimore.
The Ravens are without a doubt a beatable team and the Browns need to take advantage of winning whenever they can. Thursday, Kessler needs to have a decent outing and Corey Coleman and Terrelle Pryor need to be much more involved early on. The defense will need to prevent the deep ball and chunk passing plays also. The threat from Wallace and Smith's speed is a weakness against the Browns and their defensive backs must be prepared and on the same page come Thursday.
It will be enjoyable to watch Cleveland on national television to begin, though that could change quickly. Hue Jackson needs to bring his team to Baltimore prepared and focused in order to give this team a shot in their lone national game.
This article originally appeared on