Browns at Ravens Recap, Highlights, Final Score, More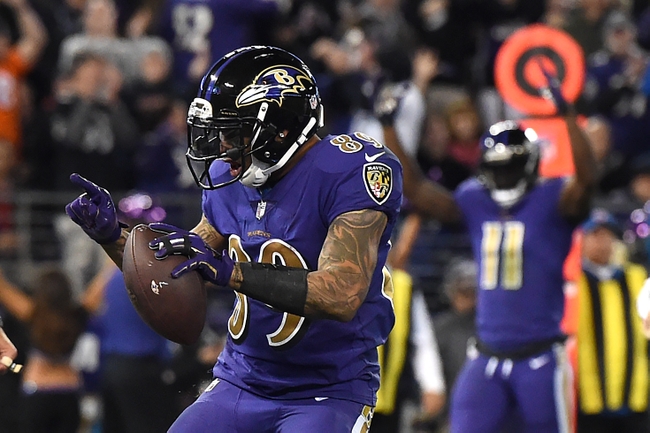 The Cleveland Browns once again fell short of a victory as the Baltimore Ravens ran away on Thursday Night Football to take a temporary lead in the AFC North.

7

28
In what was far from a surprise, the Cleveland Browns and Baltimore Ravens sputtered out of the gate on Thursday Night Football. The first three drives for the visiting Browns resulted in punts, while it was two punts and an interception for the Ravens offense. Of course, that all pales in comparison to Cleveland burning a timeout on the first play of the game and then using their second within five minutes after kickoff.
Even with that early timeout gaffe, Cody Kessler dropped a dime for a score to answer a Baltimore field goal and take a 7-3 lead. At that point, Cleveland had to be thinking about that elusive first win of the 2016 season.
Unfortunately, that was the only score of the game for the Browns after that. Kessler was benched for Josh McCown after not really fueling the offense. Moreover, everyone kept turning the ball over and the offense couldn't capitalize on turnovers.
Joe Flacco and the Ravens weren't great, but they knew when they needed to score in the second half and ultimately put up 25-straight points. It was a blowout for the Ravens dominant defense and Cleveland now has double-digit losses with a zero remaining in the win-column.
Three Stars
Joe Flacco, Ravens – Was Joe Flacco good on Thursday night? No, not really. However, he finished the night with the win and made the plays he needed to. He finished the night going 30-of-41 for 296 yards and three touchdowns, though he did throw two picks.
Jamie Collins, Browns – In his new home, Collins continues to look ready to earn a big new contract this offseason. He finished this game with nine total tackles along with one sack, two tackles for loss, one quarterback hit, and generally flying all over the field.
Steve Smith Sr., Ravens – Not shocking anyone, the veteran Steve Smith got the job done once again on Thursday night. He came through in the most crucial moments with big catches, even if he didn't have a monster stat-line. He finished with five grabs for 60 yards and a touchdown.
Highlights
Next Game
Cleveland will continue searching for their first win of the 2016 season, going home to welcome the Steelers in Week 11. The Ravens hope to open a lead in the AFC North, but will have a tough test going on the road to play the Dallas Cowboys.
This article originally appeared on