Browns at Ravens: Game preview, odds, prediction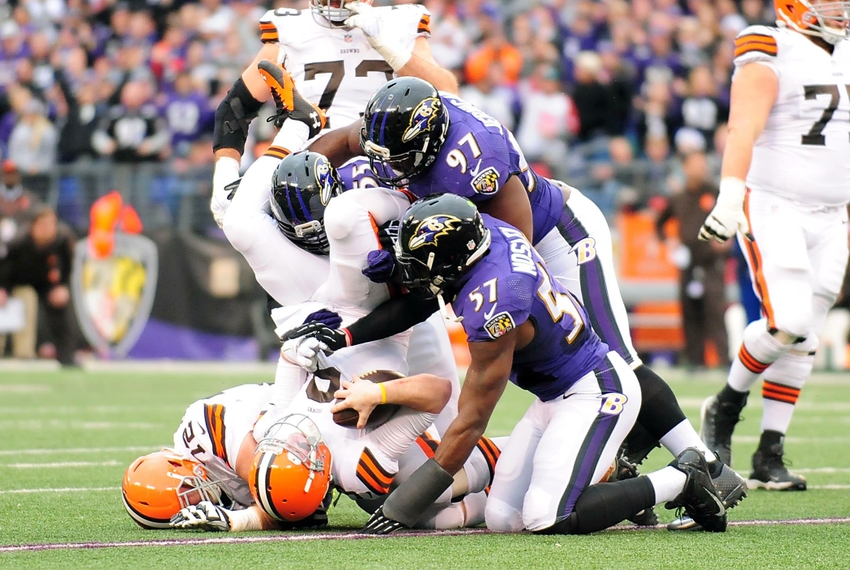 The Baltimore ravens take on the winless Cleveland Browns at M&T Bank Stadium on Thursday. Here are the odds, a preview and a prediction.
Naturally, the Ravens are healthy favorites against the the 0-9 Browns. Baltimore is favored by as much as 10 points by Odds Shark.
It's reasonable to believe the Ravens will earn the W and take control of the AFC North. But it should be closer than the oddsmakers think.
In fact, the over/under of 44 is likely to veer toward the under given how much the Ravens' offense is struggling. Marty Mornhinweg has done little to boost the unit since succeeding Marc Trestman as coordinator.
The main problem is the lack of a credible running game. Baltimore runners are averaging a mere 3.5 yards per carry, according to Sporting Charts.
It doesn't help that the interior of the offensive line has crumbled this season. In particular, center Jeremy Zuttah is creating next to no movement inside.
But it's more important Mornhinweg settles on a workhorse of choice. He must choose between Terrance West and rookie Kenneth Dixon. Both can rip off big runs, but neither is consistent between the tackles.
Odds
Line: BAL (-10)
Over/Under: 44
However, West, Dixon and Co. should be delighted to see the Browns this week. Cleveland are the not-so proud owners of the NFL's 31st-ranked run defense.
Coordinator Ray Horton's 2-4-5 and base 3-4 fronts are doing nothing to disrupt running plays at source. Front-line behemoths such as nose tackle Danny Shelton aren't holding double teams or playing behind the line of scrimmage.
The addition of former New England Patriots Pro Bowl linebacker Jamie Collins is supposed to change all that. Collins is an ultra-aggressive, downhill 'backer who can be a force on run blitzes through inside gaps.
If Horton's smart, he'll regularly put Collins in the A-gaps either side of the center. He'll threaten the middle and force runners sideways.
Horton must also take advantage of Collins' versatility in passing situations. He should move him outside to attack Ravens rookie left tackle Ronnie Stanley.
Baltimore head coach John Harbaugh has identified why the player selected sixth overall in the 2016 NFL draft has struggled, per Jeff Zrebiec of the Baltimore Sun:
Horton must get creative to exploit the Ravens' weaknesses. His defense has woefully under-performed, but head coach Hue Jackson says Horton's job is safe, per ESPN's Pat McManamon.
One DC not under pressure is Baltimore's Dean Pees. Not when his unit is ranked second in points and rushing yards allowed.
The latter is bad news for the Browns, whose strength should be the running game. But Isaiah Crowell and Duke Johnson won't get going against football's most formidable D-line.
Timmy Jernigan, Brandon Williams and Lawrence Guy are three monsters no blocking scheme can nullify for four quarters. Stuffing the run puts helpless quarterbacks at the mercy of Pees' chic pressure designs.
Identifying and adjusting to pressure will be vital for Cody Kessler, who will keep the Browns' starting quarterback job. Kessler struggled in Week 9's blowout loss to the Dallas Cowboys, but Jackson is content to stick with the rookie, per Mary Kay Cabot of the Plain-Dealer:
Jackson's keeping Kessler under center, but he's identified one area where his quarterback must improve:
Getting those deep strikes will depend on a lot of factors, not least picking up the blitz. It will also hinge on the health of burners Terrelle Pryor and Corey Coleman.
The latter broke his hand earlier in the season, but was back against Dallas, while Pryor has been limited with a hamstring problem.
It's tough to believe Kessler and the Browns will get on track against a suffocating defense. Meanwhile, the Ravens lack the firepower on offense to truly exploit Cleveland's struggling D'.
Pick: Ravens 17, Browns 9
This article originally appeared on