Browns at Dolphins: Recap, Highlights Final Score, and More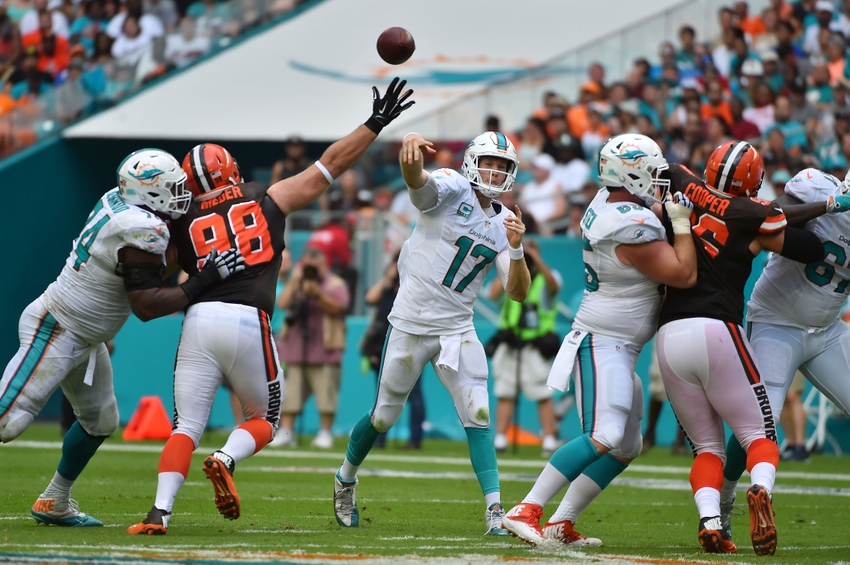 It took overtime after the Miami Dolphins came out flat, but they survived at home to pick up a needed win over the Cleveland Browns.

30

24
For the third week in a row, the Miami Dolphins came out and looked uninterested in the game of football. For the entire first quarter, the Dolphins offense sputtered against a Cleveland Browns team decimated by injury. The team fell behind early before turning it on in the second quarter, taking a 13-10 edge into halftime.
As the two teams came back to the field for the second half, it was largely a repeat of the first half. The Dolphins again came out lethargic on offense and defense. They could not move the ball down the field, and they couldn't stop the Browns from doing so. Terrelle Pryor had a huge day for the Browns, contributing in every facet of the offense and nearly spurring the team to victory.
It took overtime, but the Dolphins emerged victorious. It took Cody Parkey missing a field goal towards the end of regulation and Cameron Wake making a big play in overtime to force a fumble. But a win is a win. Now the Dolphins have a short week to turn their attention towards a Thursday match-up with the Cincinnati Bengals.
Three Stars
Cameron Wake, Miami Dolphins – The box score might not show it, but Cameron Wake was huge in this game. The stats only show two tackles, one sack, and one forced fumble, but that doesn't tell the full story. Wake forced the fumble in overtime to give Miami the chance at victory. More than that, though, Wake was a disruptive force throughout the game. He had another sack and forced fumble that was called back on an offsides penalty. His pressure forced five penalties on Browns offensive tackle Austin Pasztor, playing a critical role in Miami's first win of the season.
Jarvis Landry, Dolphins – Plain and simple, Jarvis Landry kept this Dolphins offense in the game. Even when it seemed like Ryan Tannehill and the coaching staff was determined to let this one slip away, Landry wasn't having it. He was the only bright spot on the Dolphins offense today, notching seven catches on 12 targets for 120 yards and a key touchdown. More than the stats, Landry provided the team a spark at the end of the game when it looked like most everyone was resigned to yet another defeat.
Hue Jackson, Cleveland Browns – The Browns didn't win this game and start the season 0-3, but Hue Jackson coached his tail off today. Cleveland came into Miami starting their fifth quarterback in as many games. Their star defensive back, Joe Haden, was a surprise scratch from the lineup. They were working with a back-up kicker signed earlier this week. Their first-round wide receiver, Corey Coleman, was lost earlier in the week to a broken hand. And they still took a clearly superior Miami team to overtime. If that doesn't deserve a star, I don't know what does.
Highlights
Get the ball to Damien Williams.
Watch him break a tackle.

And dive in for SIX! #FinsUp #CLEvsMIA https://t.co/z1k9OjbZv8

— NFL (@NFL) September 25, 2016
🚨 PICK-6 ALERT! 🚨

Briean Boddy-Calhoun takes Tannehill's pass to the HOUSE. #DawgPound #CLEvsMIA https://t.co/C0wJokp2cf

— NFL (@NFL) September 25, 2016
.@TerrellePryor in at QB.
And he's is scoring TOUCHDOWNS.#DawgPound #CLEvsMIA https://t.co/UvNYZRGV1p

— NFL (@NFL) September 25, 2016
.@TerrellePryor leads all receivers in #CLEvsMIA with 135 YARDS on 7 receptions. 👏https://t.co/B4InXyIvYI

— NFL Network (@nflnetwork) September 25, 2016
Next Week
The Miami Dolphins don't have time to celebrate a hard-fought win. Nor do they have time to hang their heads about needing overtime to beat a depleted Browns team. They have to quickly put this game behind them and turn their focus to a Thursday night game against an AFC powerhouse, the Cincinnati Bengals.
The Browns head on the road for the second straight week, and third out of four, for a tough match against Washington. Cleveland didn't win today, but they have a lot of positives they can take from this game for next week. Washington can't overlook the Browns like Miami seemed to this week.
More from NFL Spin Zone
This article originally appeared on