Browns at Bengals: Game preview, odds, prediction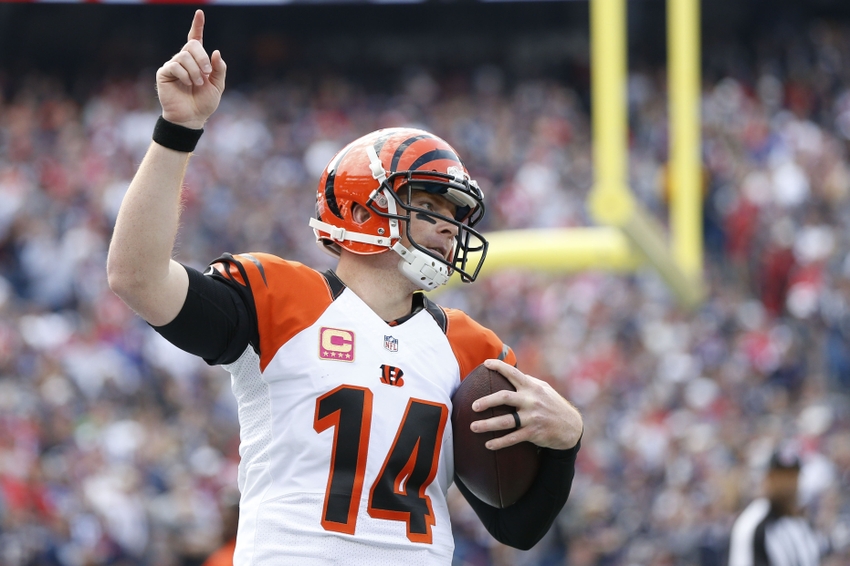 The battle of Ohio will feature as many wins as teams when the Cleveland Browns meet the Cincinnati Bengals at Paul Brown Stadium in Week 7.
While the Browns have surprised nobody with a typically dire 0-6 start, the 2-4 Bengals rate as one of the NFL's bigger disappointments. After all, the Bengals have been to the playoffs in each of the last five seasons.
But the offense that led the charge for Cincy last season is suffering after losing several key personnel. The losses have been felt most keenly in the passing game, where there's no longer any Marvin Jones or Mohamed Sanu. It hasn't helped when tight end Tyler Eifert has sat out the first six games with injury.
Losing so many clutch targets has hampered quarterback Andy Dalton. He's thrown only six touchdowns and needs his primary intermediate and red zone weapons to take the heat off outside burner A.J. Green.
It would also help if Dalton's O-line could get its act together. He's already been sacked 19 times, just one short of the entire total for last season.
Pressure has been coming from everywhere and the sacks are proving costly. The Bengals were cruising last week against the New England Patriots, until linebacker Dont'a Hightower came through the middle untouched on a delayed blitz to crush Dalton for a safety. It's when the roof fell in for Cincy.
The best way to avoid pressure will be for Dalton to get his underneath playmakers involved more often. It should mean a big day for promising rookie Tyler Boyd. He's a possession-style wideout who enjoyed himself against the Patriots, per RotoWire via CBS Sports:
Boyd helped stretch the Patriots defense on Sunday with his 27-yard deep cross setting up a third-quarter touchdown, followed by a 30-yard seam route that set up a fourth-quarter field goal. Boyd has been inconsistent to start his rookie season with two games of 75 or more receiving yards, but no more than 33 yards in the other four contests.
Boyd can exploit a Browns defense fond of zone coverage on hook and curl routes and shallow crossers on the inside. Dalton and offensive coordinator Ken Zampese would also be wise to isolate pass-catching running back Giovani Bernard against Cleveland's inside 'backers Demario Davis and Chris Kirksey.
Odds
Line: CIN (-10.5)
Over/Under: 45.5
Leaning on the short-range part of the passing game can loosen up coverage and create more favorable matchups for Green. He's among the most prolific receivers in the game.
Of course, the real onus in this game will be on an under-performing Bengals defense. A unit with this many talented bodies should be ranked higher than 15th in yards allowed and 20th in points surrendered.
The Bengals still boast a formidable front four loaded with end Michael Johnson and tackles Geno Atkins and Domata Peko. But it's the strength of the rotation that really stands out, with bulky behemoth Pat Sims and situational end Margus Hunt also able to bring the heat.
Bringing the heat will be vital against a Brown offense with more talent than you think. Rookie passer Cody Kessler has a range of weapons to aim for, including versatile running back Duke Johnson and tight end Gary Barnidge.
However, it's converted wide receiver Terrelle Pryor who is really standing out. Unfortunately, he's been dealing with a hamstring problem, even though Kessler and head coach Hue Jackson are both hopeful the wideout who is averaging 12.5 yards a grab will be healthy enough to go, according to Mary Kay Cabot of Cleveland.com. Yet Cabot also noted how rookie playmaker Corey Coleman won't be ready to return from a broken hand.
There are weapons aplenty in the passing game, but the Browns would be smart to lean on the run in the Queen City. It would mean giving Johnson and Isaiah Crowell more than the 13 carries they combined for during last week's loss to the Tennessee Titans.
But this may be the game for the Cleveland ground attack to get back on track. Especially when the spotlight will be on bruising Cincinnati linebacker Vontaze Burfict, after more than one controversial incident against the Patriots in Week 6.
Burfict was alleged to have stomped on running back LeGarrette Blount. He also drew the ire of the Pats after a vicious hit on tight end Martellus Bennett.
Yet the Bengals believe Burfict won't be banned, perhaps only being subject to a fine, according to ESPN's Ed Werder. But given his history of disciplinary issues, a possible ban shouldn't be easily dismissed. Even if he does play, Burfict may be more contained than usual.
Either way, the Browns need to get the run going after two dismal weeks on the ground. It's the only way to keep Kessler clear of the Cincy front four.
Pick: Bengals 24, Browns 20
More from FanSided
This article originally appeared on