Broncos Fanzone: Interview with Aric Manthey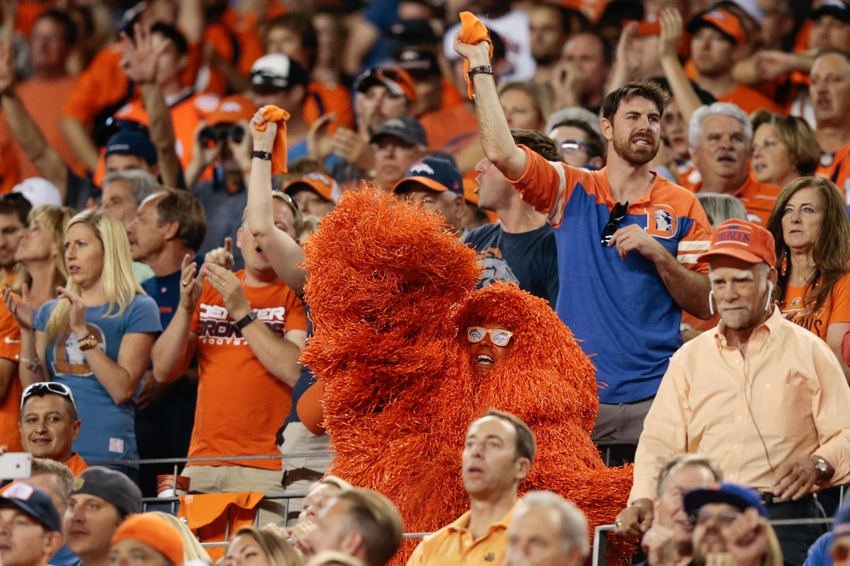 For this week's edition of the Denver Broncos Fanzone Interviews, I talk to colleague and Predominantly Orange writer Aric Manthey on the Broncos and the Colts game.
The Denver Broncos and Indianapolis Colts are set to do battle on Sunday for the fourth time in three years. If there is one team that has given the Broncos a tough time during those three years, it is the Colts.
Having won three of the past four games, the Colts will be looking to continue their success while the Broncos will be hoping for the opposite. The game will be in Denver, so that should help the case.
From what I know, the Broncos will be entering this game healthier than the Colts. Demaryius Thomas has a hip injury, but they did say he will play. Derek Wolfe will be questionable.
This tends to be quite an interesting match as the Broncos will look to build off of their win over the Panthers while the Colts suffered a shootout loss to the Lions last week.
Continuing this week with the Denver Broncos Fanzone interviews here at Predominantly Orange, I have decided to interview one of the site's writers for this week.
Aric Manthey has been with us here at FanSided and Predominantly Orange for a year. You might know him for his Meme Monday's. And we can put it on the record that he was the one who was with Trevor Siemian throughout.
He is a very intelligent writer. And I am happy to say that I enjoy working with him.
So, I sat down with Aric and got his takes on last week's game, the state of the Denver Broncos, and this week's game against the Colts.
The Denver Broncos were able to win the rematch against the Carolina Panthers. What stood out to you the most during that game?
What stood out to me the most about the Carolina game was the coaching staff's confidence in their young players. This couldn't have been more obvious with their play calling on offense.
To start the game, Kubiak called FIVE straight passing plays. In what has been stereotyped as a "run heavy" scheme, Kubiak and his staff trusted Siemian to throw early and often to open up the game. I was fascinated by that decision and even when there were mistakes, Kubiak didn't dial back the game plan.
It's become clear that the Broncos have a lot of confidence in their young players (especially on offense) and their ability to execute the game plan given to them. In a year where many fans expected the defense to carry their counterparts, the offense may prove it's able to walk on its own two feet. That's a great sign for the Broncos and we should all hope that they will only get better with each game.
Trevor Siemian performed pretty well in his first start. What was your take on his performance?
Considering the circumstances, I thought Siemian played very well. I've been a very proud and vocal fan of Siemian since we drafted him, so obviously I had a lot of confidence in his ability to become a starting QB in the NFL.
The one thing that really stood out to me with his play last week was how composed he was throughout the entire game. Despite having three turnovers in field goal range (two of those three in the red zone) and being down by ten points, Siemian never wilted under the pressure.
He played through the mistakes and when it mattered most, he led scoring drives that ended up giving us the victory over Carolina. I'm excited to see how he grows throughout the season.
The Denver Broncos host the Indianapolis Colts this weekend. The Broncos seem to struggle overall against them. What do you believe needs to be done in order to get the win this week?
Yeah. I don't know what it is, but we've always had trouble playing the Colts. As much as I love Luck and the way he plays, he's only one man.
He had a fantastic game against Detroit, but let's keep things in perspective. Detroit's defense has been suspect (at best) for a few years now and I have a feeling that they will be in a lot of "shoot outs" this year. As for our match up against the Colts, I feel like the game plan should be very simple. Don't turn the ball over and don't let their receivers get past.
With the Colts being such a pass happy team, it may be best served to have a "bend, but don't break" philosophy in our match up with them. I understand that the Broncos are big on using man coverage with their secondary, but in this match up, I think it's best served to keep ALL of the Colts' playmakers in front of the defense and not to allow them to make the "game changing" play.
If they can do that and avoid costly turnovers, then I think that the Broncos will walk away with a win.
What is your favorite memory of the Denver Broncos?
My favorite memory of the Denver Broncos… Wow… I can only pick one?
Here's a memory that I'll give you. I won't take the easy way out and give you one of the Super Bowl victories, so I'll pick one that may not be as obvious.
For me, my favorite Broncos memory (non- Super Bowl related) is when we defeated the New England Patriots in the 2006 Playoffs. I'll never forget what an achievement that was for the organization and all of Broncos Country around the world.
At that time, that Patriots were at the height of their power. They were defending Super Bowl Champions (for the third time in four years) and with Tom Brady under center, the Patriots were 10-0 in postseason games. Despite being the home team, nearly EVERY "analyst" picked us to lose that game. Very few people expected us to win that game.
Not only did we win, but we put an end to their season in a convincing fashion. It was one of many memories that I have of the Broncos overcoming the odds and defeating an opponent that very few thought that they would beat. It made me so proud to know that my team was able to vanquish such a strong and seemingly unbeatable opponent.
Any bold predictions and a final score for the game on Sunday?
My bold prediction for this week's game is that the Broncos will have zero turnovers. My final score is Broncos 27 Colts 20.
Thanks for taking the time out to talk to me Aric. If you are interested in reading his pieces, you can follow him on Twitter and read his articles there.
This article originally appeared on