Broncos at Chargers: Preview Predictions and More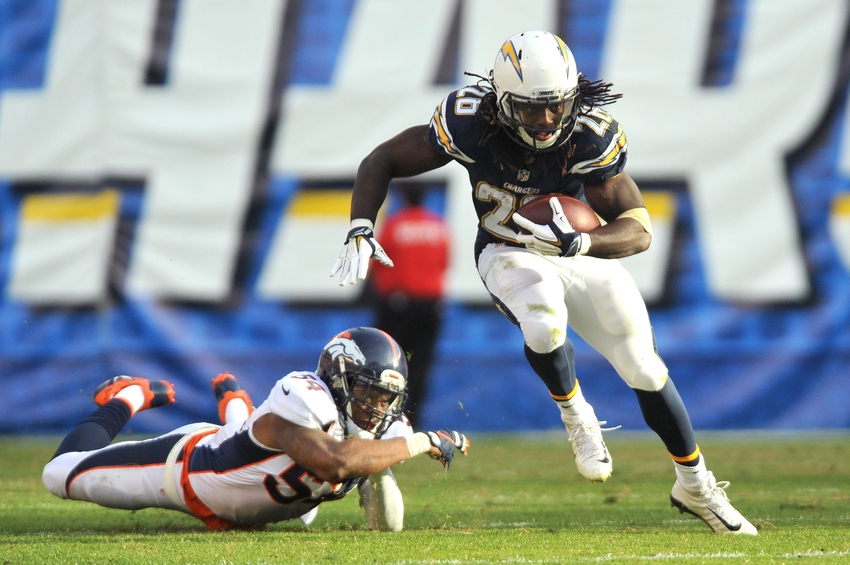 Denver Broncos at San Diego Chargers
The Denver Broncos visit the San Diego Chargers at Qualcomm Stadium in a key AFC West matchup on Thursday Night Football. The Broncos lost to the Falcons 23-16 at home in Week 5 while the Chargers lost a heartbreaker in Oakland, 34-31.
Trevor Siemian will be back for Denver after he was cleared to play on Monday. The Broncos missed Siemien while he was out with an AC Joint sprain in his shoulder. Denver's passing game was starting to round into form before Siemien got hurt. However, the Broncos will be without coach Gary Kubiak who is resting after being admitted to the hospital on Sunday night for flu like symptoms. Kubiak will return next week.
At 1-4, head coach Mike McCoy and his Chargers face a must win situation. McCoy's job is rumored to be on the line and if the Bolts don't win this game, he could be good out by this weekend. McCoy has done a great job of keeping the Chargers competitive despite playing without Keenan Allen and Danny Woodhead for most of the season. Unfortunately, the NFL is a bottom line business and just being competitive isn't good enough.
Broncos Keys to Victory
Spread and Shred Em: With Siemian back, the Broncos need to spread the Chargers and attack their banged up secondary. San Diego is eighth in the NFL against the run, giving up only 83.4 yards per game. Conversely, the Chargers are 28th in the league against the pass, giving up 292 yards per game. If the Broncos and offensive coordinator Rick Dennison want to win this game, they will do it by throwing the ball. 

Get Rivers Off His Spot: The Broncos have to bring inside pressure and get Phillip Rivers off of his spot. They cannot allow him to hang in, hitch up, and deliver the ball on time. Denver must force Rivers out of the pocket and make him a runner. The Broncos great edge pressure with Von Miller and Shane Ray, but blitzing Rivers will be the key to victory defensively.
Don't Allow Gordon to Get Going: Melvin Gordon has had a productive second season for the Chargers thus far scoring touchdowns, but he is not rushing for a lot of yards. In fact, the Chargers as a team only average about 90 a game on the ground. The Broncos conversely have struggled against the run so far this season giving up 115.4 yards per game on the ground. They must do a better job against the run because, if Gordon gets off to a good start, Denver could be in for a long night at the office.
Chargers Keys to Victory
Account for Von Miller: Miller is a passing game destroyer. Simply blocking him one on one with the tackle isn't enough. The Chargers will need to chip him and double him at times. They must account for Miller at all times and keep a body on him otherwise he will wreck their passing game.
Keep C.J Anderson in Check: The Chargers have done a pretty good job against the run thus far giving up only 83.4 yards per game on the ground. Their run defense will be tested this with with the Broncos in town. San Diego must do a good job of fitting into gaps and tackling C.J Anderson. If they allow Anderson to get going downhill, they could be in for a long night defensively.
Protect the Football: The Chargers are a -2 in the takeaways and giveaways. San Diego has turned the ball over 11 times thus far this season. The Chargers must do a better job of protecting the football in this game because, if they don't, Denver will make them pay.
Odds
Point Spread: Denver -3
Moneyline: Denver -170 San Diego +150
Over/Under: 45
Prediction
The Broncos are still an elite team in the AFC, despite last week's loss to the Falcons at home. If the Broncos want to stay in the conversation as one of the best teams in the AFC, they need to take care of business in games like this. I think they will. San Diego will make this a game, but Phillip Rivers doesn't have enough weapons at his disposal to make enough plays against a defense as good as Denver's.
Pick: Denver Broncos: 28, San Diego Chargers: 17 
This article originally appeared on