Brian Kelly Mulling Options: Five Places He Could Land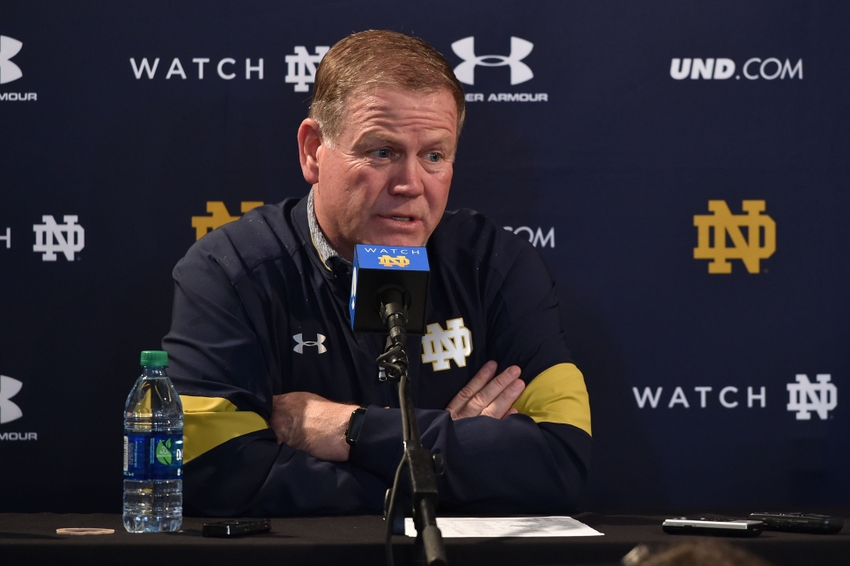 Brian Kelly says he will be back at Notre Dame, but his representatives are reportedly making some calls
Oh how the mighty have fallen. Once regarded as an NFL head coach candidate, Brian Kelly has seen his Notre Dame program crumble beneath him. Now, the Irish coach is reportedly looking at other options should there be a divorce with Notre Dame.
Here are five jobs that could interest Kelly should he and Notre Dame split.
Oregon: While Mark Helfrich has not officially been fired, the speculation has been looming all season he would soon be out the door. The Ducks have gone from National Championship contenders under Chip Kelly to lame ducks with Helfrich. A new coach Kelly could turn around a program with a lot of promise.
Houston: Tom Herman leaves Houston in good hands as he departs for Texas. Kelly has an opportunity to win immediately with Houston should he land there. With the entire state being a hot bed for recruiting, this job might be the best available for Kelly.
Baylor: This job could be a stretch considering what Baylor has gone through with the NCAA. Kelly has had his own experiences with the NCAA and sanctions, so the school could want a fresh face to take over. There's no reason to let an already tarnished coach try to shine a tarnished program. Though similar to Houston, Baylor is in the land of recruiting and the team is already packed with talent.
Purdue: This job requires a total face lift of the program, which will be difficult in the Big Ten. With four teams from the conference vying for a national championship, acquiring talent would be a major undertaking. The challenge could intrigue Kelly, but at the same time it could be too much for a high-profile coach such as himself.
Cincinnati: Nothing compares to returning home, and this could be a great opportunity for Kelly. Having coached at Cincinnati from 2007-2009, the Bearcats are where Kelly was truly able to launch his career after Grand Valley State. Kelly was 34-6 with Cincinnati, and a homecoming should not be ruled out.
Other programs to keep an eye on: Boston College, UMass, Arizona
This article originally appeared on