Brian Hoyer Proving He is Chicago's Answer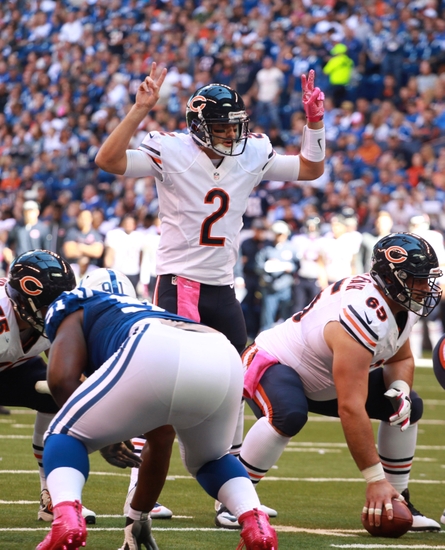 Brian Hoyer's raucous career took an upward turn with a fantastic performance  against the Indianapolis Colts despite losing 29-23.
Hoyer's three starts hold the lone Bears win of the season and his individual performances are dominating Cutler's stats this season.
Cutler quietly had a great season in 2015 despite a 6-9 record. He posted his second-lowest interception percentage at 2.3 percent while completing 64.4 percent of his throws. He averaged his second highest yards per game (244 yards) and posted his best passer rating at 92.3, the only time he has crossed the 90 rating mark.
All of that progress with new head coach John Fox evaporated early in the new season. Despite the very small sample size as he only played a game and a half, his performances were ugly. A career low in passer rating of 75.7 put the team in a quick 0-2 hole.
In comes Hoyer. Everyone's last memory of Hoyer was his dreadful playoff game against the Kansas City Chiefs. He completed under 50 percent of his passes and threw four picks in the 30-0 thumping.
But Chicago was smart to ignore that game, as Hoyer ha proven to be a winner. A career record of 16-12 on teams like Cleveland and Houston is nothing to laugh at. Despite a 1-2 start with Chicago he is
Despite a 1-2 start with Chicago, he is putting the Bears in a position to win; unlike Cutler.
In just his third start he finished with 397 yards passing and two touchdown throws for a 120.0 passer rating. His 71 percent completion trails only Matt Ryan in the league minimum 50 attempts.
While his incompletion on fourth down to keep the game-winning drive alive puts a sour taste in an other wise fantastic game, the Chicago Bears brass should be happy with what they are seeing from him.
The Indianapolis Colts' defense is far from impressive, allowing 410.6 yards per game, but Hoyer's arsenal is far from potent. With Kevin White out on IR, he was stuck with the likes of Eddie Royal, Zach Miller, and Jordan Howard alongside Pro-bowl receiver Alshon Jeffrey. Cameron Meredith, the sixth string wide out Week 1, led the game in yards with 130 yards on 9 receptions.
It's clear that if Chicago wants to stay competitive, Hoyer is the man for the job. At age 30, he adds a little more youth compared to Cutler and a much cheaper price. With Cutler's contract close to being paid off, cutting him may be their best option.
If Hoyer can salvage this season and stay healthy, Chicago should make him their future singal caller. Some projected the Bears as the worst team in the league, but Hoyer keeps them competitive and hopefully can add some more wins to what their low expectations were.
More from With the First Pick
This article originally appeared on