Brees Inks New Deal – Takes Cap Friendly Pay Cut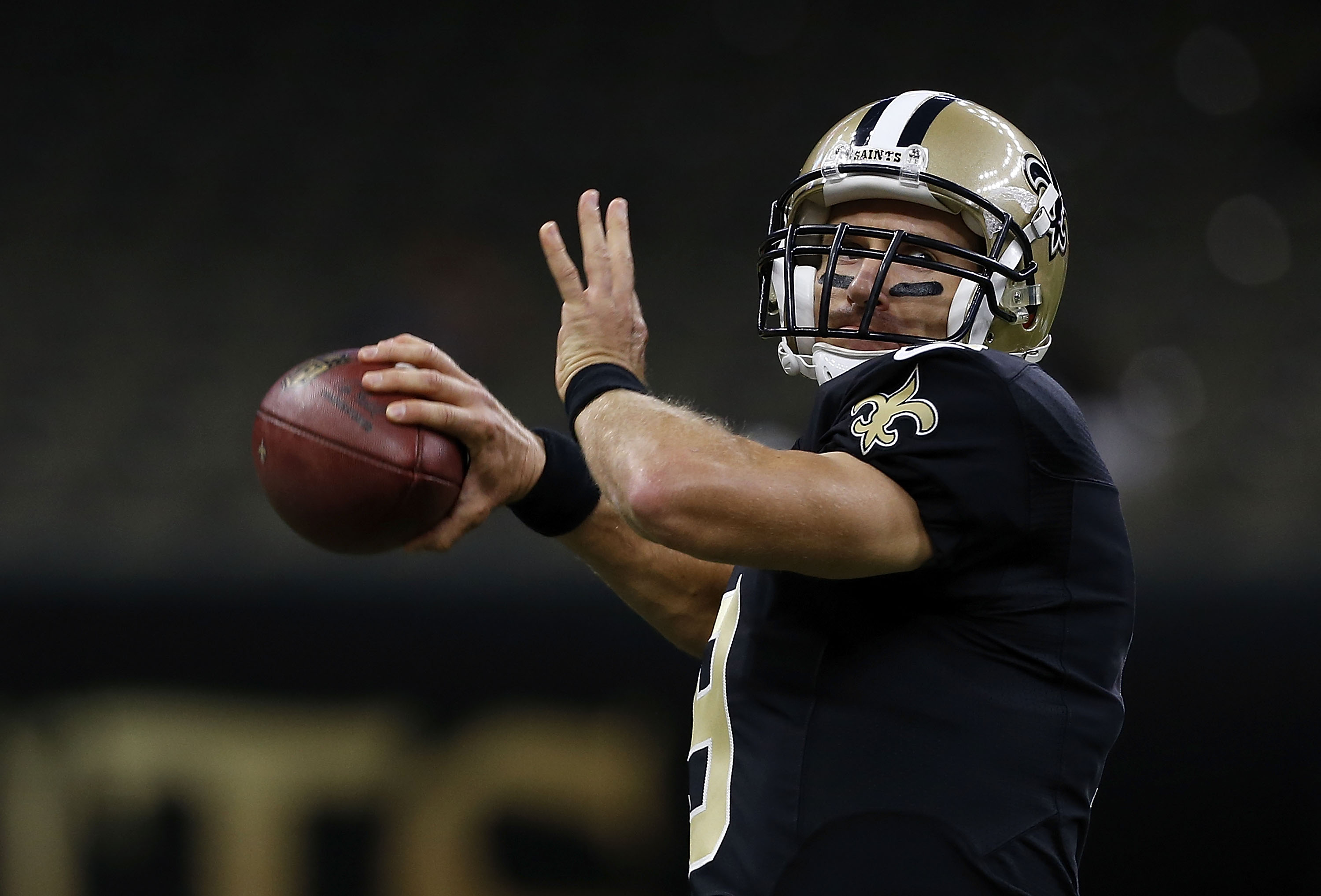 It look like Brees will remain a Saint for the remainder of his career.
New Orleans Saints' future Hall of Fame QB Drew Brees announced today at a post practice press conference that he has inked a new cap friendly deal with the team effectively keeping him on board for at least the next two seasons.
According to reports across the internet and specifically from ESPN's Adam Schefter and Ed Werder, the new contract will hit the Saints' salary cap for $17.25 million this season.  That's $12.75 million down from the $30 million Brees was scheduled to make this year on his last deal with the Black and Gold.
Details
Modern day NFL contracts are mind-numbingly cryptic affairs and the new commitment from Brees, keeping him on the Saints roster through next season, is typical of the trend.  The deal, purportedly, is as follows:  a five year deal voidable after two seasons with $44.25 million guaranteed paying out $20 million this year and $24.25 in 2017.  There is also word that a no trade clause is included in the wording of the contract taking that possible distraction going forward off the table.
The substantial savings for the club will give them some wiggle room to address offensive line concerns via possible trades or waiver wire pick ups this season and next year going into free agency and the draft.
Brees on the Deal
At his press conference today, a beaming Brees was obviously relieved and ready to get back to work.  He repeatedly expressed his desire to finish his career with the Who Dats and was emphatic stating his intent to play well past the two years guaranteed.  He has previously said he'd like to play up to age 45 and feels he's more than physically capable of pulling that off.
Drew expressed concern that the contract work toward freeing up cap space necessary to bring in talent to make the Saints a contender in the future if not this season.
What Now?
It remains to be seen if the new salary cap room will help the team this year.  Any help would likely have to come in the form of a trade.  I firmly believe yesterday's resigning of RB Travaris Cadet to the Saints roster, giving the team an unusually high six at this point, was for the purposes of such a trade.
The offensive line for 2016 is currently a shambles and, even with today's news of G Jahri Evans being brought back in, is a huge question mark at this point.  It's unlikely Evans has much, if anything, left in the tank.
I'd also place wideout Brandon Coleman, whose performance so far this season coach Sean Payton described as "pedestrian", in the category of trade bait.
The Saints are also thin at tight end losing Michael Hoomanawanui to injury in the preseason and being forced to add practice squadder Chris Manhertz to the current roster.
Former 3rd round pick and hopeful Brees heir, QB Garret Grayson, was released today to make room for Jahri Evans on the roster.  So a quarterback to groom for the future could also be considered with the new money freed up.
Rumors began swirling yesterday about the Cincinnati Bengals possibly looking to ship quarterback A.J. McCarron when promising rookie Jeff Driskel was picked up off waivers from the San Francisco 49ers.
I'll admit to some personal bias in hoping he might be on the Saints' radar.  McCarron went to my high school in Mobile, Alabama prior to leading the Alabama Crimson Tide to two national championships.  I don't know if he's a Saints fan or not but he grew up in the area and his high school team was the St. Paul's Saints.
In other news, 2016 undrafted rookie free agent center Jack Allen who had been released on the last Saints cut down, was brought back for the current practice squad.  So there's at least a potential replacement on the line should injuries raise the need.  Allen is also capable of playing guard though he seemed ineffective in preseason action.  He does have the mentality and potential to be a starter with proper grooming and experience.
Wrap
With the cloud of Brees' contract situation behind them, the Saints can move forward trying to make this team a contender in the future.  An already tumultuous week will continue to be so as offensive line help is sought out.  For now the savior of the Saints is firmly in the fold for the immediate future and that's a huge weight off the collective minds of the Who Dat Nation.
More from Who Dat Dish
This article originally appeared on