Brace Yourselves, Raider Nation, The Bandwagon Fans Are Coming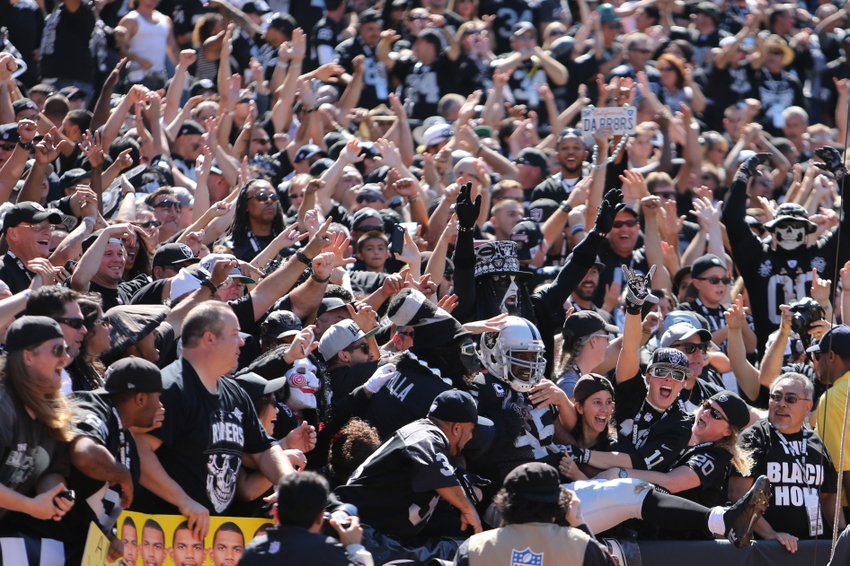 Raider Nation has long been known as one of the most passionate and loyal fanbases in sports. But with newfound success, it's only a matter of time before the bandwagon gets full.
Bandwagon fans, aka the worst fans in the world. Everyone knows a bandwagon fan — that person who cheers for the Cubs, whatever team LeBron James is on, the Patriots, Penguins and Alabama Football — or whatever random combination of teams. Soon, one of those random teams will be the Oakland Raiders.
That's what happens when a team gets competitive — at your local Chipotle, you'll see half the people in there wearing gear so new, they forgot to take the tags off.
It sucks.
As a diehard fan, you've been through it all. Especially in the case of the Raiders — there were nine seasons where the Raiders couldn't get above 5 wins and they displayed an overall level of dysfunction that was as comical as it was frustrating.
And then all these years later, after endless heartbreak, your favorite team is finally competitive. You couldn't be happier…until you see some clown in brand new gear that has never even heard of Johnnie Lee Higgins.
Bandwagon fans are the worst.
But for the NFL, and for any sport, bandwagon fans are a necessary evil. Teams love them for one reason and one reason only — money.
Bandwagon fans buy tons of new merchandise. They spend money on shirts, hats, hoodies, official game gear, random home/office stuff. Anything they think that will validate their fandom, they buy it.
"I'm a real fan…just look at my Raiders spatula. Only a real fan has a Raider spatula."
I'm sure at one point, somewhere, some bandwagon fan said those exact words.
You see, here is the truth about bandwagon fans. If your favorite team doesn't have them…well, your favorite team probably sucks.
You want your favorite team to be good, right? If the answer is yes, then you also have to deal bandwagon fans. It's just how it goes.
And that's fine. There are a number of different ways to deal with it. The best way to quiz them with things diehard fans would know.
Which brings me to my next point. We are going to put together a "Bandwagon Test" for a future article. So if you have a good idea for a question, leave it in the comments or tweet us @JustBlogBaby. Use the hashtag #RaidersBandwagonTest when you tweet us.
So Raider Nation…your favorite team, after all these years, is finally legit. At 9-2, the Raiders have a real shot to do something special.
Do your best to enjoy the ride, and pay no mind to the bandwagon fans. And pay no mind to all of the future "where did all these Raiders fans come from?" comments that will certainly follow.
You know where you stand. You know what you've been through.
Just Win, Baby.
More from Just Blog Baby
This article originally appeared on