Bounce-back D-Line Performance Key for 49ers vs. Seahawks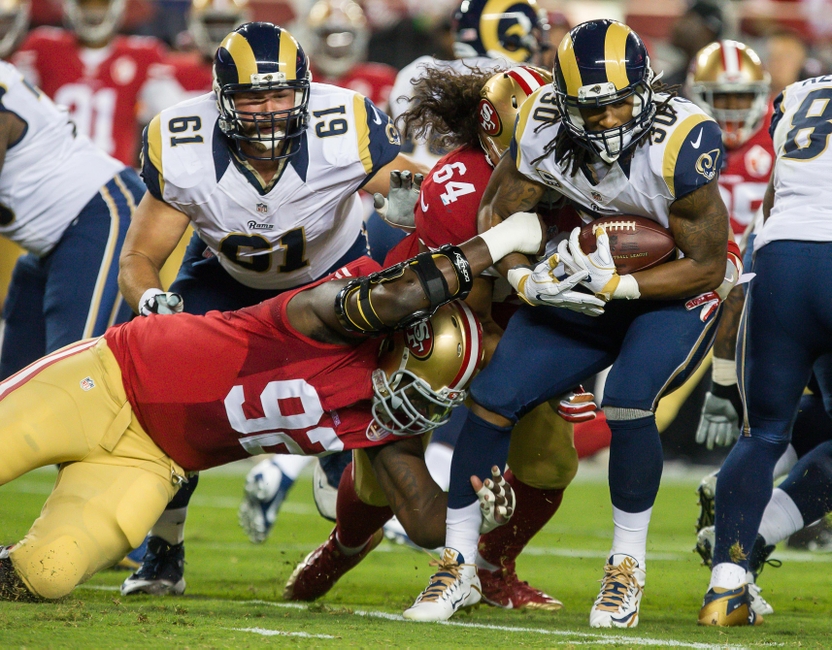 The 49ers' defensive line had a poor showing against the Panthers, and a bounce-back performance is key to hopes of beating the Seahawks.
After a dominant performance against the Rams, the 49ers' defensive line had a bad day in Week 2 versus the Panthers, barely touching Cam Newton and giving up 176 yards on the ground to a rushing attack that was deprived of Jonathan Stewart for the majority of the game.
The 49ers now make the trip up to Seattle to face a Seahawks team they have not beaten since 2013 and have not defeated on the road in nearly five years.
San Francisco's main hope of ending their wait for a win at CenturyLink Field comes in the trenches, where the Niners' D-Line has a distinct advantage over a Seattle offensive line that ranks at No. 22 in the NFL in pass protection and No. 28 in run blocking, according to Football Outsiders.
The Seahawks' O-Line endured a nightmare showing in a 9-3 defeat to the Rams in Week 2 and, back on the west coast after a full week of rest, the 49ers' D-Line is in a strong position to enjoy a bounce-back week.
And its ability to do so will be key to keeping San Francisco in the game against a Seattle team smarting from the defeat in Los Angeles.
The O-Line has long since been a problem for the Seahawks and, as Football Outsiders alluded to, it is run blocking that is the main issue for Seattle.
Seattle has a significant weakness on the interior of the line, where the Seahawks' best lineman, Justin Britt, is flanked by two sub-par guards in J'Marcus Webb and Mark Glowinski.
Take this play from the loss to the Rams, none of the lineman are able to get the kind of push necessary for Thomas Rawls to pick up decent yardage on the ground but it is Webb, who is easily beaten by Michael Brockers' swim move, that allows the Rams to get penetration and drop Rawls for a loss.
There are similar concerns on the fringes of the O-Line, with right tackle Gary Gilliam's lack of athleticism exposed by Aaron Donald, who knifes into the backfield with ease on this play and prevents Russell Wilson from making any headway on a zone-read run.
Having seen the success Carolina had on the ground against the Niners, the Seahawks can afford to have confidence Christine Michael, set to get the majority of the carries with Rawls doubtful, putting up impressive numbers in Week 3.
However, given the improvements San Francisco has made on the D-Line, there is a chance the sub-par display against the Panthers was an aberration for a group that had little problem shutting down Todd Gurley in Week 1.
One of major keys to San Francisco's ability to keep Gurley in check was Quinton Dial, who is establishing himself as one of the better run-stuffing defensive linemen in the NFL.
Dial was excellent against the Rams as the 49ers held Gurley to 2.8 yards a carry, with his ability to clog the running lanes pivotal in shutting down Los Angeles' ground attack.
But Dial also generates push when defending the run, doing so on the play below to help force Gurley towards the sideline, leaving him to again settle for a minimal gain.
Dial is the best run-stopping defensive lineman on the team but Arik Armstead has evidently developed in this area, using his size and his quickness to generate push in the same way he did when playing predominantly as a pass-rusher in his rookie season.
Armstead got in the backfield in a hurry on the play below, with only the speed of Gurley preventing him from dropping the tailback for a significant loss.
Though he was unable to finish off a highlight reel play, Armstead proved successful in doing the dirty work against the Rams, showing an ability to drive defenders backwards and help clog the lanes to ensure there is no room to run up the middle.
But Armstead's forte remains his pass-rushing ability, which was on show for all to see in Week 1 against a Rams offensive line that is just as bad as Seattle's.
Armstead's first sack of the season came against Los Angeles and came about as a result of his persistence, a neat spin move and the good work from Ahmad Brooks off the edge in hurrying Case Keenum.
However, his real value in terms of pass rushing, perhaps comes in how he can draw double teams, something Armstead does to great impact here in running a stunt with Brooks, who surges into the backfield to bring down Keenum.
When at their best, offensive lines will have to choose carefully over who to double team out of Armstead and DeForest Buckner, who has already shown himself to a very difficult man to block one-on-one.
The 6'7″ Armstead and Buckner can be a handful for any O-Line and figure to present a particularly difficult challenge for a Seattle group that was manhandled by the Rams in Week 2.
Glowinski and Gilliam appeared to be the two primary offenders, the former's miserable afternoon in southern California encapsulated by this play where he seems to simply fall over after Cam Thomas blows by him.
Neither Glowinski nor left tackle Bradley Sowell was able to do anything to stop Rams star defensive tackle Aaron Donald, their meek attempt at a double-team proving completely ineffective on the below play.
Of course most offensive linemen have difficulties slowing down Donald, but on the other side of the line Gilliam was outplayed throughout by William Hayes.
On this play Gilliam was forced back relatively easily by Hayes, whose pressure forced Russell Wilson to quickly move out to the left despite playing on an injured ankle.
In addition to being physically overpowered, Gilliam made mental errors such as this one that enabled Hayes to record a sack.
Here Gilliam inexplicably passes Hayes over to running back Christine Michael but has no secondary assignment to pick up. Michael is predictably engulfed by Hayes, who is easily able to drop Wilson for a loss.
Whether it was the heat or the cross-country trip, or a collection of factors, the cold hard truth is that San Francisco's D-Line under-performed in Carolina.
But now the 49ers come up against an offensive line that features players who don't seem to have any answers when overmatched by strength, lack the athleticism to recover when defenders get a jump and struggle to open up holes in the run game while not giving adequate protection to Wilson.
San Francisco, with Aaron Lynch suspended, does not have the speed off the edge to take advantage of Seattle's weakness at tackle like Robert Quinn did on this play.
But in Dial, Armstead and Buckner the 49ers have players who can push the pocket from the interior, with the latter duo possessing the size to draw double teams and open up holes.
Beyond that trio, the Niners have further depth in Glenn Dorsey and Ronald Blair and more than enough talent to restrict the Seattle run game and put Wilson under pressure.
Should they shake off the bad day in Charlotte, the Niners will have at least have half a chance.
This article originally appeared on