Bold Predictions: Denver Broncos v. Tampa Bay Buccaneers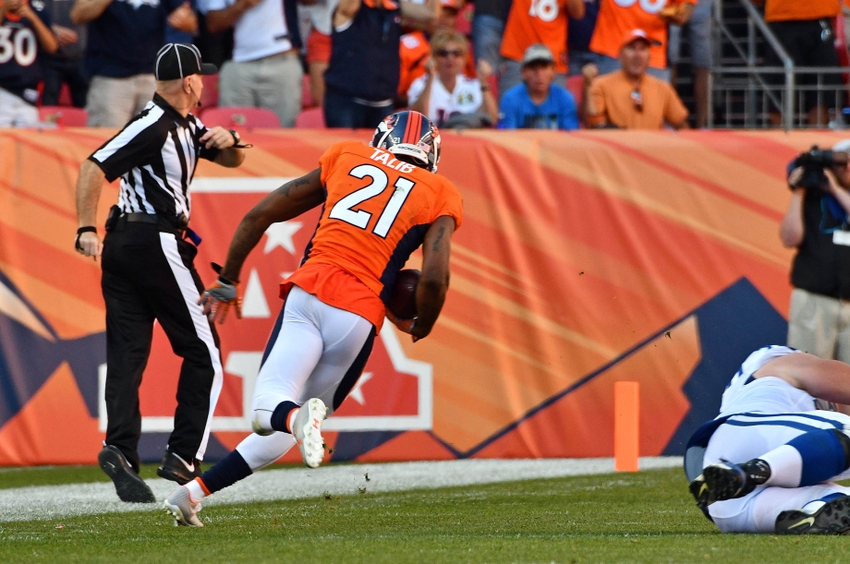 Newest weekly Denver Broncos articles focuses on bold predictions for every Broncos' game. Predictions often do not come to true, but there's hope it does. This week features the Denver Broncos and the Tampa Bay Buccaneers.
More from Predominantly Orange
The Buccaneers come into Sunday's game against the Denver Broncos with a 1-2 record, while the Broncos own an undefeated record on the season. Jameis Winston is a tremendous young quarterback, but with the No Fly Zone in town, Chris Harris and Aqib Talib could have a field day against the Buccaneers offense. The Orange Rush of the Broncos has taken center stage the past few weeks; however, the secondary needs to intercept Winston as much as they can on Sunday.
A running attack will see struggles against Gerald McCoy and the defensive line, but with an improved offensive line the running game may hit the ground running again. Easier said then done, however. Also, on offense Jeff Heuerman is expected to assume a larger role on the offense in the passing game. Heuerman might be the unsung target to push Trevor Siemian's aerial assault to another level. Reminder, there is no Virgil Green this Sunday against the Buccaneers. 
With that all squared away, let's find out what these bold predictions could be shall we?
Jeff Heuerman: 50+ Yards Receiving W/ First Career Touchdown
Virgil Green is out for the second straight week and Jeff Heuerman is expected to have a larger role in the offense. Heuerman only caught one pass, but he made his presence felt sustaining the drive. The Broncos are coming off an incredible air attack and second half aerial assault, as well. Siemian is a young quarterback and typically the tight end is the best friend for a youthful gunslinger.
Next up is the Tampa Bay Buccaneers where their defense allowed 37 points to the Los Angeles Rams, which could spell success for Heuerman and the Broncos tight ends. Phillips caught a touchdown pass last week against the Bengals, but now it is Heuerman's turn. The linebackers will be keyed on Heuerman in the matchups, but with the Buccaneers limited tape on him, he needs to show of as the big target he was in college.
The Buccaneers are 18th in the NFL in pass defense and 19th in the NFL in passing yards allowed per game. This could not just bode well for Demaryius Thomas and Emmanuel Sanders. Both wide receivers caroled 100 yards against the Bengals defensive backs. But this will be a difficult task, but look for Heuerman to have 50+ yards receiving and his first career touchdown.
Aqib Talib/Chris Harris: An INT Each
The Broncos defensive backs surround wide receivers like glue and Aqib Talib already has an interception taken to the house, while Chris Harris has an interception of his own. Both Broncos corners are the staple of the No Fly Zone. Talib picked off Andrew Luck for a pick-six, while Harris' used incredible awareness to find the ball off a Carolina Panthers wide receiver for his first of the season.
Jameis Winston is second in the NFL in passing attempts (142). This will allow Talib and Harris plenty of opportunity in coverage to jump routes for a turnover. The other member of the No Fly Zone, Bradley Roby is still searching for an interception on the season, but Talib and Harris are primed for center stage against Winston.
Winston does do a tremendous job of completing his passes, but he has yet to face a secondary as deep and talented like the Broncos. It is two fold. The Broncos have not faced Mike Evans yet with this new constructed secondary, but facing Kelvin Benjamin was enough to prepare for Evans. Winston will throw interceptions to Aqib Talib and Chris Harris. Talib will catch his on Evans and Harris will pick his off Winston, while covering Jackson.
CJ Anderson: 100 Yards Rushing & 75 Yards Receiving
CJ Anderson is the perfect running back for the Gary Kubiak system, but saw his struggles against the Bengals front seven last Sunday. Anderson played with intent in the home opener and there seems to be a new level of confidence in the runner this year. In my opinion, Anderson will bounce back in monster performance in the hot Tampa Bay sun.
The best way to neutralize speed of the linebackers is hit them with power. Our offensive line has improved from last season; however, there is still room for growth, but plenty to be excited about. Anderson does not need a big hole to run through because he is more than capable of creating a gap of his own. He has shown the talent to expand his running style to the receiving end will have close to 75 yards as that duel-threat back.
LaVonte David and Kwon Alexander, but particularly David will have the task of stopping Anderson in the pass game. David is capable of stopping Anderson in coverage, but the hunch I have says Anderson will see plenty of green grass in the passing game. This will allow for more of a dynamic running between the tackles for Anderson giving him 100 yards on the ground.
This article originally appeared on