Blogging Dirty's NFL Week 14 Picks and Predictions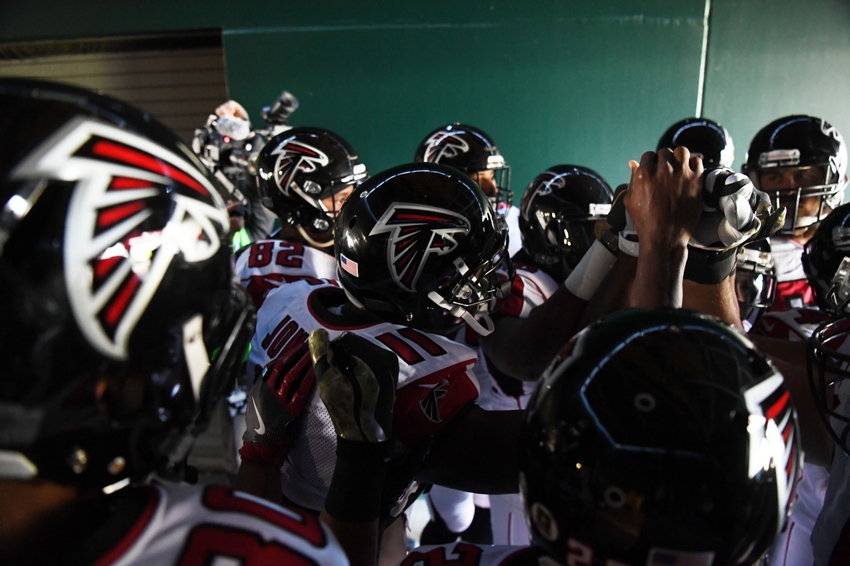 Many teams are fighting for playoff hopes as the NFL season winds down. So which teams will be victors in NFL Week 14? Blogging Dirty makes the calls.
With plenty of teams still searching for their playoff spot, NFL Week 14 is upon us. Only the Dallas Cowboys have clinched a playoff spot but the New England Patriots, Kansas City Chiefs, and Oakland Raiders aren't close behind. Teams who definitely won't be appearing in the playoffs are the New York Jets, San Francisco 49ers, and Cleveland Browns. Either way, this week feels primed for another slate of entertaining action.
Here we go with Blogging Dirty's Week 14 picks and predictions:
 Thursday Night Football
Note: We are behind on the post but "pinky swear" the picks were submitted before this NFL Week 14 game was played.
Oakland Raiders at Kansas City Chiefs (-3)
This will be a tough game between a pair of divisional rivals stuck firmly in the playoff race. Oakland leads the AFC with the #1 slot, but the Chiefs are not far behind at #5. It's worth noting the Chiefs came out with a 26-10 victory when during their first meeting in October.
The Raiders have improved and will look to beat the imposing Chiefs defense with the Derek Carr-led, high-flying offense. Alex Smith and the Chiefs' offense will look to stay away from Khalil Mack and attempt to burn the weaker Oakland secondary. Expect this NFL Week 14 matchup to be a dogfight for the ages.
BD's prediction: Raiders Win 28-27, Raiders cover
1:00 PM – CBS Slate
Pittsburgh Steelers at Buffalo Bills (+2)
The Steelers have been quite the off-and-on team this year, but were certainly on while holding the New York Giants to 14 points last week. The Bills had a strong first half against a great Raiders team, but gave up 29 unanswered points in a 38-24 loss.
The Bills are still as pesky as ever this year. Buffalo may not firmly in the playoff race but are still in the hunt. Look for Rex Ryan try and get after Ben Roethlisberger and stop Antonio Brown. The Steelers' defense will attempt to contain Tyrod Taylor and a strong rushing attack led by LeSean McCoy.
(Our prediction: Steelers win 27-20, Steelers cover)
Houston Texans at Indianapolis Colts (-6)
In the second viewing of their AFC South matchup, Brock Osweiler attempts to lead his new team to victory against Andrew Luck at LucasOil Stadium. The Texans have been playing strong without star lineman JJ Watt this season and currently hold the division tiebreaker
This game has big playoff implications and will be a good fight. The Colts come carry some momentum following a strong, 41-10 beat-down of the New York Jets. The Texans suffered a 21-13 loss in snowy Green Bay last week.
(Our prediction: Colts win 31-28, Texans cover)
Denver Broncos at Tennessee Titans (-1)
Led by rookie QB Paxton Lynch, the Broncos took a 20-10 victory against the lowly Jaguars last week. The task is more difficult this week as Denver takes on a more serious AFC South contender. The big question is whether or not Lynch will be Denver's starter or will Trevor Siemian return?
The Broncos need all hands on deck, especially on defense, as they combat second-year man Marcus Mariota. The Titans pack a power offense and seem to be finding their way. Tennessee is fighting for a playoff during NFL Week 14 and will leave it all on the field today in Nashville.
(Our prediction: Titans win 28-27, Broncos cover)
Cincinnati Bengals at Cleveland Browns (+5.5)
The Bengals brought it to the Philadelphia Eagles last week, securing a 32-14 win at home. While they are not forcefully entrenched in the playoff hunt, they aren't fully out of it, with a 4-7 record.
The perennial dumpster fire continues in Cleveland, as the Browns search for their first win. The bigger issue is who plays quarterback in Cleveland? The 0-12 Browns have been playing for next season since Week 1, and they will continue to take stock in their rookies and recent acquisition.
(Our prediction: Bengals win 27-20, Bengals cover)
Chicago Bears at Detroit Lions (-7.5)
 Many expected the Bears to improve after a decent 2015 from Jay Cutler. Instead, 2016 has been big regression by way of injuries and poor QB play. With Cutler done for the year, Chicago looks to journeyman Matt Barkley for leadership and a strong finish.
The Lions have been impressive this year and completely own the 4th quarter. Detroit continues to lean heavily on Golden Tate and Marvin Jones to help QB Matt Stafford on the way to victory. Look for the Detroit secondary to make quick work of Barkley on Sunday. Defensive lineman Ziggy Ansah should have no problem beating up the Bears' makeshift offensive line during NFL Week 14 action.
(Our prediction: Lions win 34-10, Lions cover)
1:00 PM – FOX Slate
Washington Redskins at Philadelphia Eagles (Pick'em)
In a strange Week 13, the Redskins took a 31-23 loss to the Arizona Cardinals, a team playing on a second wind. In NFL Week 14 action, Washington squares off against division rival, Philadelphia Eagles. The Redskins absolutely need the win to keep marching toward the NFC Wildcard playoffs.
Rookie QB Carson Wentz clashes with Josh Norman's Redskins secondary. Expect Kirk Cousins to have a big day against a weak Philly secondary. Also, looking for former Eagle Desean Jackson to have a big day.
The pick'em line is a strange one. The Eagles have floundered in recent weeks while the Redskins have been consistently average.
(Our prediction: Redskins win 31-17)
Arizona Cardinals at Miami Dolphins (-1)
The Cardinals have gone from playoff contender to bottom-feeder after a season of injuries and poor play from Carson Palmer. Last week's win over Washington does have Arizona flying high, but they meet a young and resurgent Dolphins. Miami will look to get back on track after their 6-game winning streak was snapped in 38-6 loss to the Ravens.
The Cardinals lead a strong defense but Ryan Tannehill at home is the favorite. Look for Jarvis Landry and Jay Ajayi to make some big plays and keep Miami within the Wildcard hunt.
(Our prediction: Dolphins win 27-24, Dolphins cover)
Minnesota Vikings at Jacksonville Jaguars (+3)
No team has been more decimated by injuries than the Vikings. Minnesota's latest injury is to FS Harrison Smith. Regardless, the Jaguars offense has been an absolute disaster this season. Jacksonville doesn't do anything particularly well and it's expected Gus Bradley will soon be fired.
Minnesota's defense has kept them in every game and will be the key to victory in Jacksonville. Expect Bortles to make more bad throws while under constant pressure from the Vikings.
(Our prediction:  Vikings win 17-10, Vikings cover)
San Diego Chargers at Carolina Panthers (-1.5)
The Chargers went from potential playoff contender to the AFC West cellar when they lost Keenan Allen to injury. Also done for the season is young star corner Jason Verrett. The Chargers are 5-7 but still have enough offensive talent to be a pest on any Sunday.
The Panthers blew their season up after failing to address holes along the offensive line and letting Josh Norman walk. Luke Kuechly will not play due to a concussion and may be shut down for the season. Still, this feels like a game Cam Newton places over the chip on his shoulder.
(Our prediction: Panthers win 24-23, Chargers cover)
NFL Week 14 – Late Games
New York Jets at San Francisco 49ers (-2.5)
This game will be NFL Week 14 battle of the dumpster fires…in the dumpster fire that is Levi's Stadium. Todd Bowles will choose between suffering through another Fitz-tragic start, or making sense of what Bryce Petty might be able to do. Meanwhile, the 49ers will choose between Colin Kaepernick, who was benched after a horrific game against Chicago.
(Our prediction: Jets win 14-10, Jets cover)
Seattle Seahawks at Green Bay Packers (+3)
The Packers have been extremely up-and-down this season, but their defense appears to be circling the wagons. Seattle ripped off a big win last week but at the cost of Earl Thomas. This will be a fun game between perennial playoff contenders.
(Our prediction: Seahawks win 31-28, Packers cover)
New Orleans Saints at Tampa Bay Buccaneers (-2.5)
Drew Brees collected his usual high yardage in Week 13, but also tossed three interceptions in the loss to Detroit. Tampa Bay's Jameis Winston has progressed significantly and will use his big receivers to demolish a relatively weak Saints secondary. Expect this game to be quite a shootout as the Bucs try to keep pace with Atlanta in NFC South.
(Our prediction: Buccaneers win 35-31, Bucs cover)
Atlanta Falcons at Los Angeles Rams (+6)
With the receiving corps wounded, Matt Ryan will put his faith in Atlanta's young receivers. The Falcons have plenty of firepower in their backfield and should go heavy with the run. The Rams have a solid defensive line but will be hurting in the secondary without E.J. Gaines. Expect Jared Goff to be pressured by the Falcons throughout a majority of this NFL Week 14 game.
(Our prediction: Falcons win 28-13, Falcons cover)
Sunday Night & Monday Night Football
Dallas Cowboys at New York Giants (+3)
Two NFC East rivals, both jockeying for playoff positions, square off in the best match for NFL Week 14. Rookies Dak Prescott and Ezekiel Elliott will look to power the offense against a revamped Giants secondary. Giants quarterback Eli Manning will look to make some connections with his amazing trio of receivers.
We think the Giants can win if they manage a rushing attack against a weak Cowboys defensive line.
(Our prediction: Cowboys win 30-28, Giants cover)
Baltimore Ravens at New England Patriots (-7)
The Ravens travel to Foxborough in a rematch of the 2014 AFC Divisional playoff game. Losing Rob Gronkowski doesn't make the path any easier, but the Patriots remain the AFC favorite. New England just seems to always find ways to win. If Tom Brady isn't able to throw for 300 yards, then LaGarrette Blount and the ground game takes over.
The Ravens defensive line has their work cut out for them. Still, don't count out Baltimore. If Joe Flacco can exploit the Patriots secondary, then we expect an offensive shootout on Monday Night.
(Our prediction: Patriots win 28-24, Ravens cover)
This article originally appeared on