Blake Bortles on pace for 4310 yards, 27 touchdowns, 20 interceptions in 2016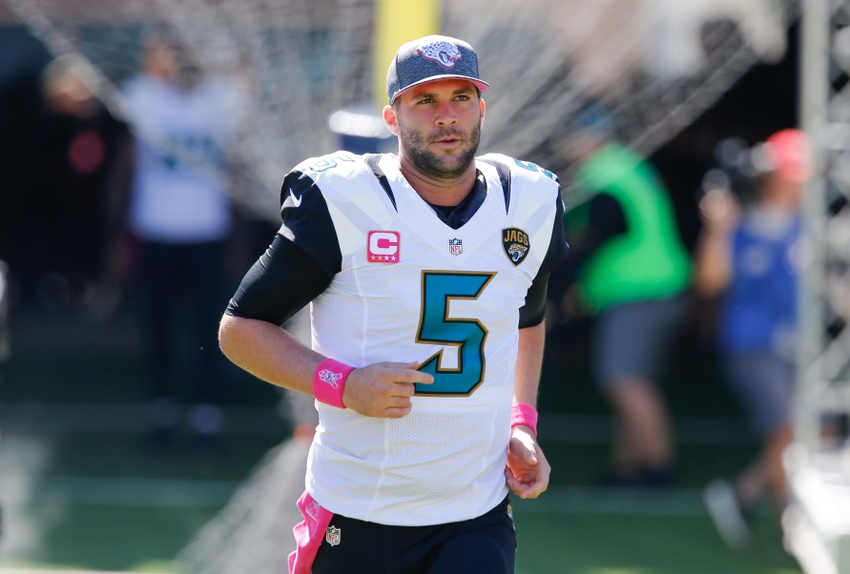 Blake Bortles has struggled in 2016 and his overall production could take a serious hit if he keeps up his current pace.
391 completions, 4310 yards, 27 touchdowns, 20 interceptions.
That is the possible season-ending stat line for quarterback Blake Bortles in 2016. It represents a severe regression compared to the impressive aerial attack he put together in 2015.
In 2015, Bortles had 355 completions, 4428 yards, 35 touchdowns, and 18 interceptions. His overall production balanced out the mistakes he often made. It was hoped he would grow away from those mistakes while still keeping his production high.
Through eight games, it's clear that he hasn't grown away from those mistakes. He is still making a significant number of them and he hasn't been able to match his previous production.
This is concerning for the Jacksonville Jaguars, especially as they hope to correct his throwing motion mid-season. Whether that can be done or not remains to be seen. His first outing under new offensive coordinator Nathaniel Hackett didn't yield a result much different from usual, with 252 yards, two touchdowns, and an interception. He easily could have done worse, though.
What we see after eight games into Bortles' third season is a quarterback who could break either way. He could still connect on a few missed passes or he could still make catastrophic mistakes. His mechanics are breaking down, which leads to valid concern about whether he is the long-term answer, but he still has some of that risk-taking magic that made him a sensation in 2015.
The projected numbers aren't pretty. He'll need to become a better quarterback in the second half of the season if he hopes to look like a potential franchise signal caller for the Jaguars or for any other team.
It's tough to see so much talent not live up to its potential, but Bortles is doing just that. I sincerely hope that he won't have that final projected stat line when Week 17 rolls around.
This article originally appeared on