Blake Bortles Has Jacksonville Jaguars at an All-Time Low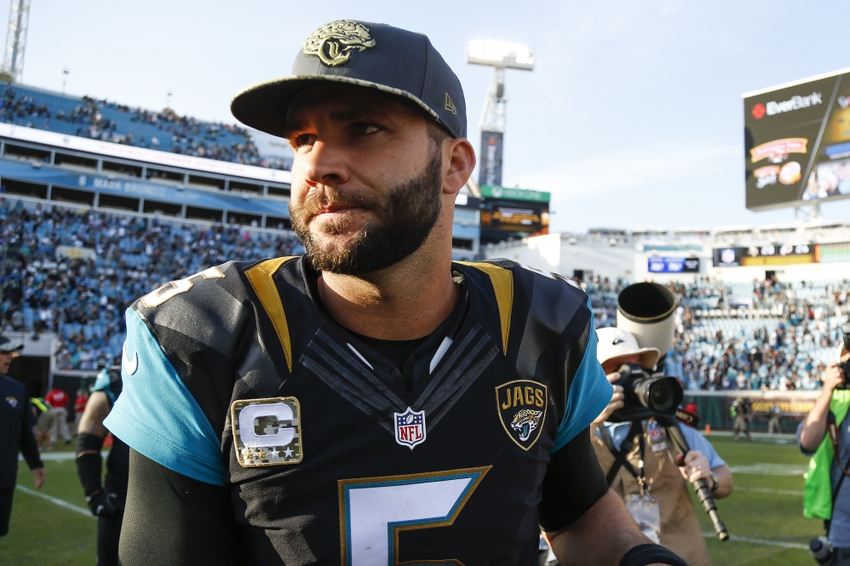 This was the year the Jacksonville Jaguars' rebuild was supposed to end, but Blake Bortles has led the franchise to an all-time low.
Blake Bortles and the Jacksonville Jaguars are the worst, most unwatchable team in the NFL. I say that knowing damn well the Jags play in a league that also features the Cleveland Browns and San Francisco 49ers.
The big reason Jacksonville is worse than both of those teams is simply that the Browns and 49ers were supposed to be this bad in 2016. Expectations were near nonexistent. They were teams entering, and to some extend, already in a rebuild. For the Jaguars, though, this was supposed to be the year that the rebuild finally ended, that things turned around.
Alas, that isn't the case. Because of that, the Jaguars are currently at their absolute lowest point in franchise history. Actually, that moment came a few weeks ago when the Tennessee Titans absolutely manhandled Jacksonville on national television. It was so strange to see, as if the one game represented the mediocrity the Jaguars have been stuck in for a decade.
The Jaguars haven't made the postseason since 2007, and they haven't had a winning season since the same year. What's worse, the closest they've come to that was a mediocre .500 mark in 2010. Since then, Jacksonville's posted 21 wins and 71 losses. Subsequently, the Jaguars have held a top-10 pick in every draft since 2008. With those picks, they've whiffed big on guys like Tyson Alualu, Blaine Gabbert and Justin Blackmon.
Jacksonville's drafting proved to be so abysmal that the team splurged in free agency. Jacksonville inked defensive standouts like Malik Jackson, Tashaun Gipson and Prince Amukamara to deals. The offense figured to improve, too, as power back Chris Ivory also signed. More importantly, the third-overall pick from 2014, Bortles, showed promise at the end of last season. Thus, Jacksonville seemed primed to make an actual run in a bad division.
The result so far?
A 2-10 record with another top-10 pick looms on the horizon. The spectacular offense from a year ago is dead. In its place is a bad unit, prone to making mistakes and failing to do anything captivating on offense. The defense is much better, but it can't mask the overall team's deficiencies.
The issue with this team isn't so much that its losing games. More so, the issue is that they're losing games to bad opponents.
If you want to assign blame to one single player, look no further than Bortles. The team's gamble to take him in the top-three of the 2014 draft is beginning to look like yet another awful decision. Bortles' regression after a promising second season makes 2015 look like a complete anomaly rather than a sign of things to come. He looks awful. The former UCF standout looks like a guy who wouldn't even be worth a 53rd-overall pick. It's not unfair to put him among the worst starting quarterbacks in the league for 2016.
Bortles' statistics don't wholy show that, but trust me, it's true. He's struggled to move the ball effectively and consistently all year, which has to frustrate the hell out of Jaguars fans.
His broken mechanics have caught up to him and he's been painfully awful to watch. His only highlights this season seem to come in garbage time, with the Jaguars already well out of reach of winning the game.
The franchise stuck with Bortles, though. They can't just give up on their supposed franchise quarterback like that, right? Bring in a quarterback guru or tape him to a chair in front of film; they have to do something to try and fix his broken mechanics. However, that still leaves them in a quagmire for now. Sticking with Bortles will result in more headache-inducing issues, but benching him would prove to be counterproductive.
On the subject of moving forward, though, you would have to assume Gus Bradley's future in Jacksonville is over. How can this organization continue moving forward with this coach who has done little-to-nothing right?
The harsh reality is that this team is destined for another top-10 pick and another painful phase in a perpetual rebuild. It's not something any Jaguars fan, nor any fan of football itself, wants to hear. Jacksonville being a good team improves the league, which makes everything better for everyone. But they're far from that point in 2016—and Bortles is at the heart of the issue.
This article originally appeared on