Blaine Gabbert Is Entertaining For All The Wrong Reasons (Video)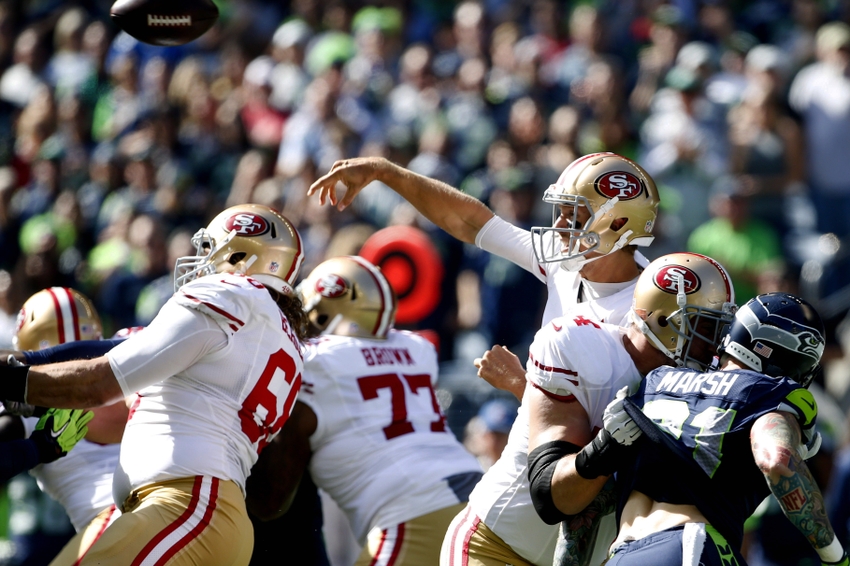 San Francisco 49ers fans who tried to talk yourselves into thinking you would be cool with Blaine Gabbert as the starting QB, I salute you. Thanks for the laughs.
The San Francisco 49ers started the season brightly through two weeks. After dismantling the Los Angeles Rams 28-0, they gave the Carolina Panthers quite a scare—until Cam Newton remembered that he's the NFL's Superman.
Meanwhile, the rival Seattle Seahawks had a nightmare start to the 2016 campaign. After barely escaping with a win over the Miami Dolphins, they could only muster three points against that same Rams team that crapped themselves against San Francisco in a Week 1 snoozefest.
Well, it looks like balance is being restored in the NFC West for these two teams (the Arizona Cardinals are another story after their drubbing at the hands of the previously winless Buffalo Bills), because the Seahawks are blew out the 49ers, 24-3, in the first half.
And then there's this.
This is just beyond stupid from Blaine Gabbert. So not only does he throw the ball behind Shaun Draughn before any part of this route could feasibly develop (let alone before the back is ready), but he also throws it to someone who would have been destroyed by a linebacker.
Honestly, it's a good thing Draughn didn't try to catch the ball and instead decided to visibly show how pissed off he was at the throw. Because if Draughn somehow makes that catch, it's a negative play—or worse.
See that linebacker? Yeah, that's Bobby Wagner. He's elite. Not only will he blow you up, but you never know what can happen if the ball gets up in the air high enough.
Gabbert didn't completely embarrass himself in Week 1 or Week 2. But, man, learn when not to throw a running back screen at somebody's helmet when they are about to get killed by Bobby bleeping Wagner.
That said, Gabbert is 9-for-12 at the half and the 49ers pass defense is the bigger issue right now. I mean, Jimmy Graham and Doug Baldwin are straight cheesin' out there.
More from NFL Spin Zone
This article originally appeared on