Bills at Seahawks Recap, Highlights, Final Score, More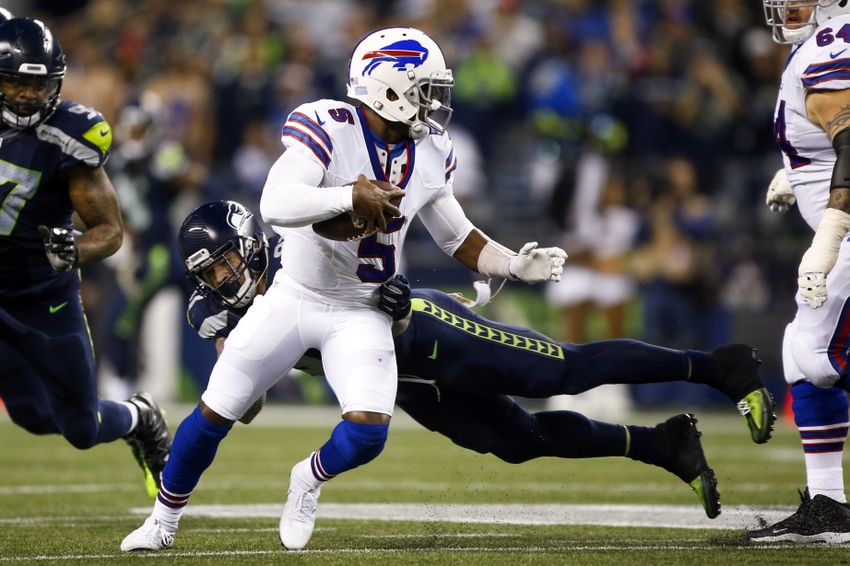 The Seattle Seahawks hung on late at CenturyLink Field to defeat the Buffalo Bills on Monday Night Football.

25

31
Those fans that tuned into Monday Night Football for a grinding defensive battle between the Buffalo Bills and Seattle Seahawks in NFL Week 9 were sorely disappointed. It became clear right away that this one could get wild as Bills linebacker Jerry Hughes blocked a punt after Seattle went three-and-out on their first drive. They then punched it in with a Tyrod Taylor run to take the lead. However, the Seahawks answered quickly to tie it up.
Thus began a back-and-forth that lasted until Buffalo jumped ahead 17-14. From that point, the Seahawks started turning up the heat on both sides of the ball and netted 14 unanswered points, capped off by an unreal one-handed grab by Jimmy Graham. However, Buffalo had the opportunity to get a field goal right before halftime—but then things broke down.
Bills kicker Dan Carpenter lined up, but Richard Sherman jumped way offsides. "Playing until the whistle," Sherman never let up, but seemingly went right at the leg of the kicker. He made big contact. However, he was only flagged for offsides. Then, as trainers had come out to look at Carpenter, he had to come off the field for a play. Buffalo then spiked the ball to get him back in to kick. However, the refs were then in the way after the ball was set, but didn't reset the play clock. They assessed a five-yard penalty on the Bills. A timeout was then called by Seattle to ice Carpenter. Sure enough, Carpenter was completely cold at that point and hooked it right.
Apparently that hit on the kicker amped up Buffalo at halftime, though. Taylor threw an interception to Sherman on the first drive, which caused a staredown between Rex Ryan and the Seattle cornerback. However, the Bills still got things rolling. They looked like the more dominant team and pulled closer late in the fourth quarter with a Mike Gillislee run from the 1-yard line and subsequent two-point conversion.
After a big stop, a Seahawks field goal pushed the lead to six. But a late stop from Buffalo on defense gave them one more shot to win it. They started off with a couple of solid plays to move the ball and then advanced it further off of a late-hit on an already big gain. Another offsides penalty on the Seahawks then gave them a goal-to-go situation. However, Seattle's stout defense came up big with a pair of sacks to force fourth down. With the game on the line, Taylor's pass to the end zone fell incomplete, effectively ending the game and giving the Seahawks the win.
Three Stars
Russell Wilson, Seahawks – There may not be more evidence that Wilson hasn't been healthy than what he looked like in this game. The Seahawks quarterback put their offense on his back, delivered two dimes for scores, and finished the game 20-of-26 for 282 yards.
Jimmy Graham, Seahawks – Wilson's favorite target of the night was Jimmy Graham, who caught all eight of the balls thrown his way. The star tight end finished with 103 yards receiving and two touchdowns. Oh, he also had two one-handed touchdown grabs because he's questionably human.
Bobby Wagner, Robert Woods, Tyrod Taylor (SEA, BUF, BUF) – I'm cheating because there were ridiculous games by a lot of people in this one so that there needs to be more than three stars. Wagner finished with 16 total tackles, 0.5 sacks, and three quarterback hits for Seattle. Meanwhile, Woods went for 10 catches and 162 yards in the Bills passing game. Tyrod Taylor was also a beast, going 27-of-38 for 289 yards, one score, and one pick while also taking eight carries for 43 yards and another touchdown.
Highlights
Next Game
After a tough week, Seattle has a short week to go all the way across the country. They'll face the New England Patriots on Sunday Night Football in Week 10. Buffalo will be on a bye next week.
This article originally appeared on