Bills at Bengals: 3 things we learned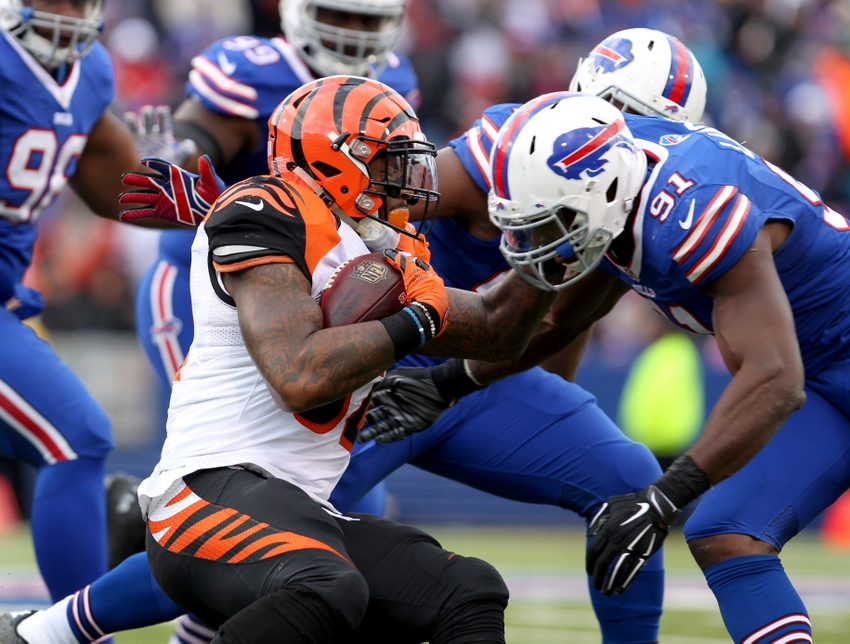 Andy Dalton and the A.J. Green-less Cincinnati Bengals were beaten 16-12 at home by the Buffalo Bills in Week 11. Here's what we learned about both teams.
Big-play potential left the passing game with Green once the dynamic wideout left the field with a hamstring injury in the first quarter. Dalton still had plenty of short-range targets to aim for, but his inability to stretch Buffalo's defense proved costly.
So did Cincinnati's continued struggle to run the ball effectively. Neither Jeremy Hill nor Giovani Bernard managed to average even four yards a carry.
By contrast, the Bills kept both the clock and the chains moving on the ground, despite losing star back LeSean McCoy to injury.
Here are the three biggest lessons from the game.
Bengals reduced to small ball without Green
It's not as if certain Bengals pass-catchers didn't step up in Green's absence. Rookie Tyler Boyd made six receptions for 54 yards and a score, while Bernard caught five passes for 40.
It's just that none of Dalton's other weapons can match Green's ability to take the top off a defense in one play. Sure, Boyd and Bernard thrived underneath. But the Bills were willing to give the Bengals the underneath as they condensed the field without the threat of Green going vertical.
Tight end Tyler Eifert is usually the next best thing for Dalton in terms of big plays, but he caught just three passes. The Bills felt confident enough to double Eifert without Green around.
Green could be out for a while, according to Geoff Hobson of Bengals.com:
Bengals fear Green out for year with possible hamstring tear. But MRI pending

— Geoff Hobson (@GeoffHobsonCin) November 20, 2016
So Cincy offensive coordinator Ken Zampese will have to get creative about manufacturing big plays through the air.
Running game still stalled for Bengals
Missing Green wasn't the only factor hampering the Cincinnati offense this week. Dalton's series of short passes might have worked had he enjoyed the support of a consistent ground attack.
However, the Bengals managed just 93 yards, with Dalton accounting for 10 of those. It doesn't help when supposed workhorse Hill mustered only 3.9 yards per attempt.
Hill's supposed to be a grinder between the tackles. But if he's not providing big running plays, Bernard sure ought to be.
After all, he's the speedster who can get to the edge against any defense. Yet 21 yards off seven carries isn't a change of pace. It's just more of the same ineptitude.
Dalton needs the balance only a consistent rushing effort can provide. Especially with Green set for an extended stay on the shelf.
Buffalo's throwback running game effective in modern NFL
Those who can remember their high school playbook may recognize many of the Bills' staple running formations. Some might think these formations have been kept in mothballs at the pro level since football was played with leather helmets.
Yet no matter how lacking in cutting edge the Buffalo offense appears, the Bills are making their throwback schemes work in today's NFL. Offensive coordinator Anthony Lynn is using full-house backfields, the wishbone and the read-option to create big plays on the ground.
It doesn't matter who lugs the rock for the Bills, they're a good bet to find creases and get yards. McCoy managed 33 yards on five carries, including a seven-yard touchdown, before leaving the game. His backup, Mike Gillislee came in and amassed 72 yards on 14 rushes.
Quarterback Tyrod Taylor chipped in with 39 yards on nine attempts. In total, the Bills piled up 183 rushing yards with six different runners.
That's what a run-first offense looks like. It works even in football's supposed pass-heavy era.
More from FanSided
This article originally appeared on