Biggest Defensive Takeaway for the 49ers versus the Patriots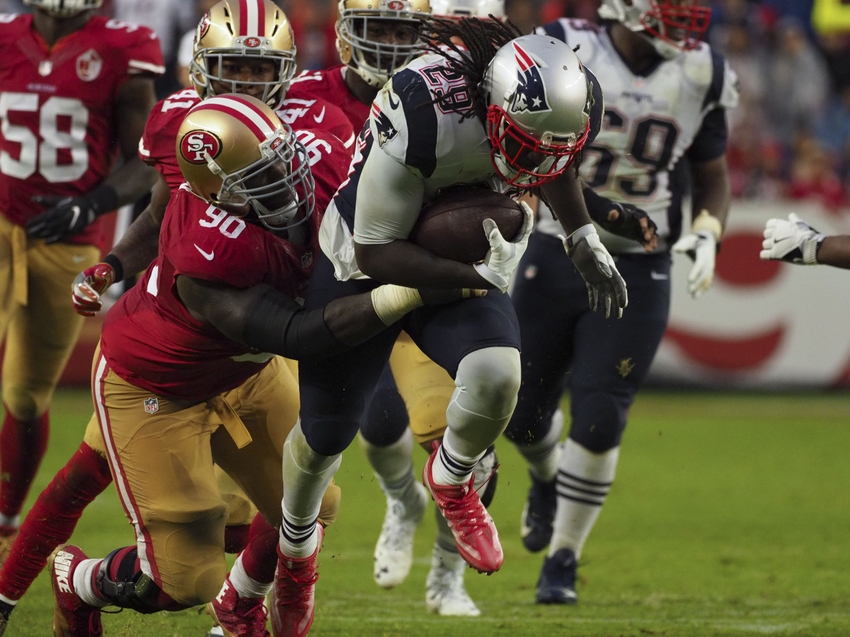 The San Francisco 49ers dropped their ninth straight game on Sunday against the Patriots. Their inability to get off the field on third down was the biggest defensive takeaway of the game.
After a 49ers punt was returned for 30 yards by Danny Amendola, the Patriots started their first drive deep into San Francisco territory. The Niners had two opportunities on that drive to force New England to a field-goal attempt, but a missed tackle by cornerback Keith Reaser allowed the Patriots to get a first down and keep the drive alive.
Again on 3rd-and-3, Reaser was beat by Patriots wide receiver Julian Edelman for a touchdown pass from quarterback Tom Brady.
The 49ers defense would eventually find a way to stop the Patriots offense on consecutive drives and help them stay within a manageable three point deficit.
But late in the third quarter, quarterback Tom Brady would complete two passes on third-down plays for first downs and would cap that drive off with a touchdown pass to Amendola.
Third-down conversions would be the big difference in this game as San Francisco allowed the Patriots to score 21 points on drives where they converted in those situations. The Patriots were 8-of-16 on third down conversions.
The play that seemed to be the most costly for the Niners defense was the 3rd-and-8 pass from Brady to rookie wide receiver Malcolm Mitchell that went for a 56-yard touchdown and put the game merely out of reach, as the Pats would go up 27-10 with 10 minutes left in the game.
The Niners defense has struggled to get off the field on third down all season. This is something they will need to improve on if they want to stay in games.
And it might explain why San Francisco continues to crumble in the second half of games seemingly all year long.
This article originally appeared on