Big Apple beginning to grow weary of Giants' Reese?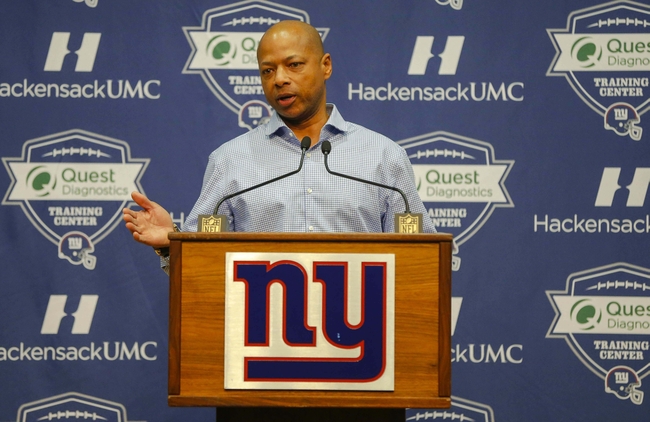 The New York Giants are 4-3 and in second place in the NFC East standings. As the team tries to make corrections on the field, the front office continues to muddle along. Instead of delivering reinforcements on the field, general manager Jerry Reese took time from his schedule to show everyone that he's the boss. Is New York growing weary of his act?
Weary Excuses
At the year-end press conference on Jan. 5, 2016, Jerry Reese had this to say, "As far as the season, we're 6-10. Obviously we had some issues with personnel. But let me say this. First of all, you always miss on some draft picks. I take full responsibility for every player that's been on this roster from the time I was director of player personnel to right now. So I'll take full responsibility."
We get it Jerry, but only to a point. Player procurement must have more hits than misses, it is very simple. And quite frankly, for one reason or another, there have been more Jayron Hosleys, Marvin Austins and Adrien Robinsons, than there have been Weston Richburgs, Justin Pughs and Devon Kennards.
Reese ought to look at the New York Yankees of the 1980s as a blue print for on-field failure. Signing the best free agents to bloated contracts is no way to build a championship roster. Flush with an open check book, the reality remains that Reese could only get a competitive team built this season. Anyone with aspirations of a championship for this squad, need to temper their enthusiasm.
Secondly, what does "I'll take full responsibility mean?"
Weary Relationships
Keep in mind Reese uttered these words at Tom Coughlin's "resignation" press conference. He also uttered these words. "
"But the roster that we put out there, it wasn't a perfect roster. Nobody has a perfect roster. But you have to manufacture wins in different ways. You got to play the hand you're dealt and you got to win with it" In other words, the roster was garbage, but it's Tom Coughlin's responsibility to win games, so that why he was shown the door.
Which makes this additional statement by Reese at the same event, ring very hollow:
"First of all, I'd like to say thank you to Coach Coughlin for our years together. He's been a great partner to work with. He and I have a really great relationship. He taught me a lot. I learned a lot from him. He's just a hard-working guy who loves football. All we want to do is win for this organization. I have great respect for him. I do say thank you to him and his staff because I see how hard these guys work, all the time they put in trying to put a good product out there on the field for the New York Giants. We've had several really good conversations the last few days, even starting Sunday. I told coach that I love him, that he'll always be a good friend to me. I wanted to put that out there first for the coach."
Weary Leadership
This week, Reese made his way into the fray, finally, regarding the Josh Brown situation. Originally, rookie head coach Ben McAdoo was left holding the bag to interface with the media about Brown. Perhaps that was by design, but it did not exactly pass the smell test, so John Mara became the face of the issue.
Mara offered contradictory statements, and no apology, on an appearance on WFAN before the team left for London. When Reese finally entered the discussion, it was a non-discussion according his rules.
NJ.com reported on Oct. 31, 2016 that Reese said, "I'm not taking any questions on Josh Brown, I wish healing for him and his family, and everybody involved. That's all I'm going to say about that."
Here's the point: Given the fact a situation he was intimately involved with, ultimately had national repercussions, did Reese really think that statement was enough? And if he did, then his performance on Monday clearly demonstrates that the general manager position is not for him.
The assembled media, who have largely given Reese a pass over the past few years, apparently did not. They pressed the issue.
"I'm not taking any questions in respect to Josh Brown, guys," Reese said. "Stop asking me. I'm not going to take any questions about that."
Weary Media Relations
Several media outlets reported these event in a matter-of-fact way, but Steve Politi of NJ.com and Pat Leonard of the New York Daily News took Reese to task.
"Let's be clear: This was a cowardly performance by the Giants GM on Halloween, one that reflects poorly on him and the entire Giants organization," Politi wrote on Monday.
Leonard put the entire sordid affair into perspective on Tuesday. "It's not just Reese's refusal to speak. It is the manner in which he dictates 'I'm not answering or taking any questions about Josh Brown.' It is his dismissive tone, his decision from up on high that this is not worthy of conversation. He should know: No one is comfortable talking about this topic. It is not easy to write about. It is painful and complicated. It is unfortunate that a man lost his job last week, but it is more unfortunate that a woman ever was put in harm's way."
I too have grown weary of covering these events and would like to focus on football. But to ignore everything that has occurred since January is irresponsible, a perspective that the tone-deaf general manager misses.
People make mistakes, but Reese keeps making the same mistakes in player procurement and media relations. And doesn't the media represent a conduit to the fans?
This is not Reese's first outburst, but maybe it will be his last.
This article originally appeared on