Bengals Week 4 Fantasy Football Recap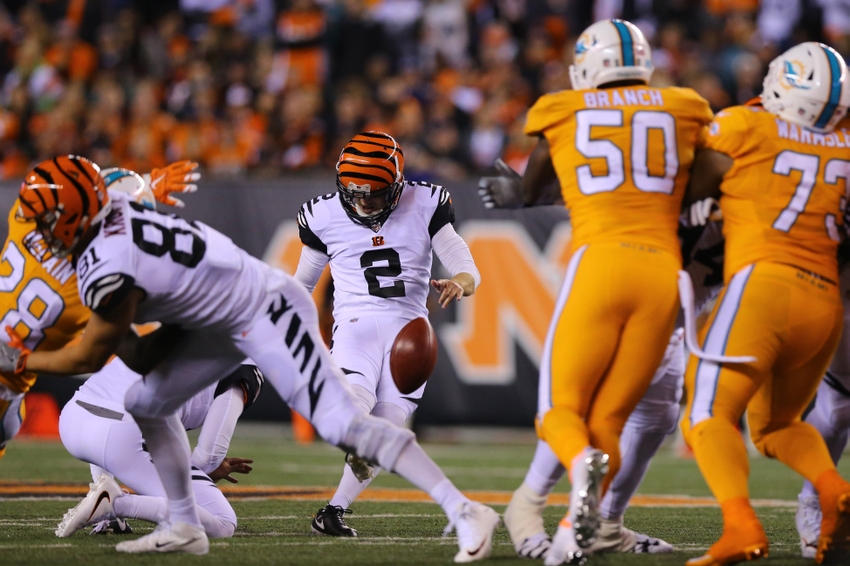 The Bengals won in primetime last Thursday over the Miami Dolphins, 22-7. Here's how the victory looked on the fantasy gridiron. 
The biggest winner from Cincinnati's win are the fantasy owners that started A.J. Green. Through four games, you're getting a great investment from a likely first-round pick.
With Byron Maxwell benched on Thursday, Green had his way with rookie corner Xavien Howard and second-year defensive back Tony Lippett.
After just two catches for three yards on the Bengals' first two drives, Green started his big night late in first quarter. Cincinnati trailed by four with 6:06 left in the first quarter when Green went up and snagged a 51-yard heave over Howard. Three plays later, Green beat Howard for 19 yards to move the Bengals in the red zone, then went on to finish the drive with a seven-yard touchdown.
Other Green highlights included a diving 21-yard snag in the third quarter and a 43-yard catch on the Bengals' first drive of the second half. Cincinnati would cap off each possession with field goals.
Green finished with 10 receptions for 173 yards and a touchdown. He leapfrogged former-Bengal Marvin Jones for the league lead in receiving yards this season with 468. In the AFC, he leads Jarvis Landry by 93 yards for the top spot, Antonio Brown by 163, and T.Y. Hilton by 174.
On the quarterback side, Andy Dalton's night was great for the Bengals but average for his fantasy owners. Unless you're in a two-QB league or you were replacing Aaron Rodgers this week, Dalton was probably not in your lineup. Or maybe you opted for a third option considering Dalton's primetime history.
The Skinny
Overall, Dalton completed 22-of-31 passes for a touchdown and zero turnovers. His day could have been a lot better in fantasy land, though. The Red Rifle finished just four yards shy of his 20th career 300-yard passing performance. Depending on how your league scores passing yards, you could have received a bonus if he had eclipsed the 300-yard mark.
One big play that stands out was Dalton's incompletion on 3rd-and-goal from the Dolphins' four-yard line. Tyler Boyd went in motion and was open as he crossed the goal line. Dalton put the ball right on him, but it clanked off the rookie's chest and fell to the turf. If caught, it would have given Dalton a 300-yard, two touchdown night.
Opposite Green, the Bengals' aerial attack was led by tight end C.J. Uzomah and Brandon LaFell. The two combined for eight receptions for 89 yards on 11 targets. Once again, however, the two could have put up bigger numbers.
One play before Green's touchdown, LaFell was targeted in the end zone. Unfortunately, Dalton's pass was a bit high, causing LaFell to drift out of the end zone despite making the catch.
Uzomah had his red zone opportunities, but couldn't capitalize. The tight end snagged a six-yard pass in the second quarter and had one man to beat to turn it into a touchdown. Uzomah hauled in the pass, but stumbled and fell short of the goal line. On the Bengals' next drive, Uzomah dropped a pass that would have converted a third and eight at the Miami 17.
Mr. Hill
If you listened to fantasy experts prior to the game, Jeremy Hill was the guy for you. The Dolphins came into the game ranked last in the AFC against the run. Hill's numbers weren't bad, rushing for 71 yards on 21 carries. The trend continued in the red zone, though, as Cincinnati couldn't convert promising drives into touchdowns. From the Miami two-yard line, Hill was stopped on back-to-back attempts, netting negative two yards.
Hill's backfield partner Giovani Bernard was limited on the ground. Bernard was held to just 18 yards on 10 carries. But the duel threat made up for it on the receiving end, catching three passes for 24 yards. In a half-point PPR league, Bernard tallied 5.7 points.
If you were wise enough to take a flyer on the Bengals' defense, kudos to you. Cincinnati's defense allowed four passing touchdowns to Trevor Siemian the week prior, so their stock was not riding high. Miami got off to a hot start with a 74-yard touchdown from Ryan Tannehill to Kenny Stills. But the Bengals recovered in a big way.
Miami's offense could not get anything going following the touchdown. Their final 10 drives resulted in three turnovers (one on downs) and seven punts. The Dolphins only ran four plays from inside Bengals' territory the entire game.
Cincinnati had just four sacks through the first three games but racked up five off Tannehill. Carlos Dunlap and Geno Atkins combined for 3.5. Dunlap also forced a fumble late in the first half that was recovered by Domata Peko.
Chris Lewis-Harris sealed the game with his first career interception. On the ground, the Bengals held Miami's group of four running backs to 62 yards.
Bottom Line
I never start the Thursday night kicker (I try to pick up someone playing on Monday night). So if you played Mike Nugent, you're an oracle. The fantasy positive for the Bengals' offense sputtering throughout the game was that it allowed Nugent to tie his career-high with five field goals. Nugent leads the NFL with 12 made field goals this season.
This article originally appeared on