Bengals' Season A Mix Of Confusion And Frustration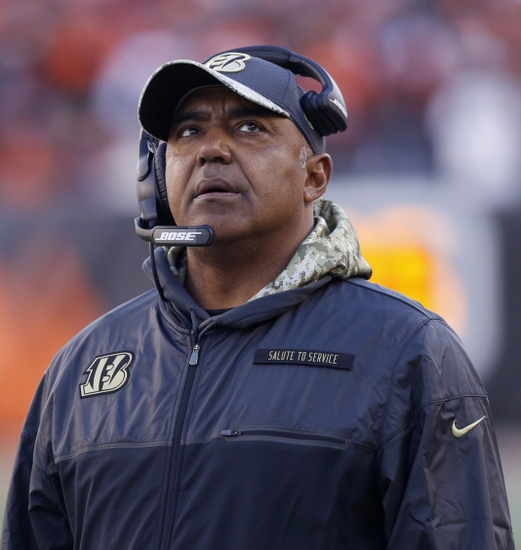 If the Bengals frustrating season isn't over yet, it's getting closer. What started as a year full of Super Bowl dreams has turned into a nightmare.
The window wasn't closed…it was slammed and nailed shut. When the Bengals lost to Baltimore on Sunday, the collective gasp of the Queen City could be heard around the AFC North. What started out as a campaign to repeat as division champs has turned into a heartbreaking nightmare. The Bengals need help and they need it fast. Time is ticking away for anything to happen for this season.
Where does the frustration end and the true analysis begin? On paper, this Bengals team should have a legitimate shot at the playoffs. Instead, they're licking their wounds and looking at a high draft pick in April. The early outlook, from optimistic sources, was 10-6 with another appearance in the postseason. What happened along the way? Marvin Lewis has gone from a positive mindset to asking for help. 
"As I told our guys, 'Now we need help,'" Lewis said via The Cincinnati Enquirer. "We've been able to control it ourselves. now, we need some help. But it's not done."
The Bengals are staring at a 3-7-1 record with five games remaining on the schedule. If Lewis and Co. aren't done…they may soon be. The Philadelphia Eagles are up next at Paul Brown Stadium. Marvelous Marv is still hopeful that his team will run the table. Philly is a primetime matchup in the afternoon. It's a pressure game. Under Marvin, the Bengals don't do well when they're faced with adversity.  
The Schedule
With both Baltimore and the Steelers sitting atop the AFC North at 6-5, they need to win just three of their last five to shut the door on the Bengals' hopes of winning the division. The AFC West is looking like a powerhouse that could possibly produce two wild card teams.
Yes, the Bengals will play Baltimore and Pittsburgh again. But, it really won't matter. Cincinnati will tangle with the Steelers in a Sunday Night Football matchup. Without sounding like a hater or pessimist, the offense won't show up for that game. It's likely going to be an L for the home team.
A for Ravens Part Deux, it's after another primetime dip with the Houston Texans. By that time, barring a major Christmas Miracle, Bengals' brass will be thinking of trades and draft picks.
It's truly starting to look as if the Bengals should just play for pride. Maybe that's what's missing. If Cincinnati can muster the passion for getting past the Eagles, there could be a chance. Isn't that what Marvin Lewis said? But, pride was supposed to be at stake against the Ravens. Sunday's game was merely another exclamation point behind the problem. This year's version of the Bengals is a cascade of confusion. There's no drive and fire.
Can The Bengals Turn it Around?
Sure, they still have a talented roster full of potential. There's a tiny sliver of hope. But, the coaches need to realize they're in the midst of a season and plan accordingly. Ken Zampese has to start recognizing what works and adjust before it's too late. The defense usually takes the brunt of the blame. Against the Ravens, Guenther's gang played adequately. Take away the four field goals and Cincy wins 12-7.
Time for a reality check to kick in. What started out as a hopeful year has suddenly turned into cries for help. In other words, cover your ears…the Fat Lady is singing. 
This article originally appeared on