Ben Roethlisberger injury update: Likely out 4-6 weeks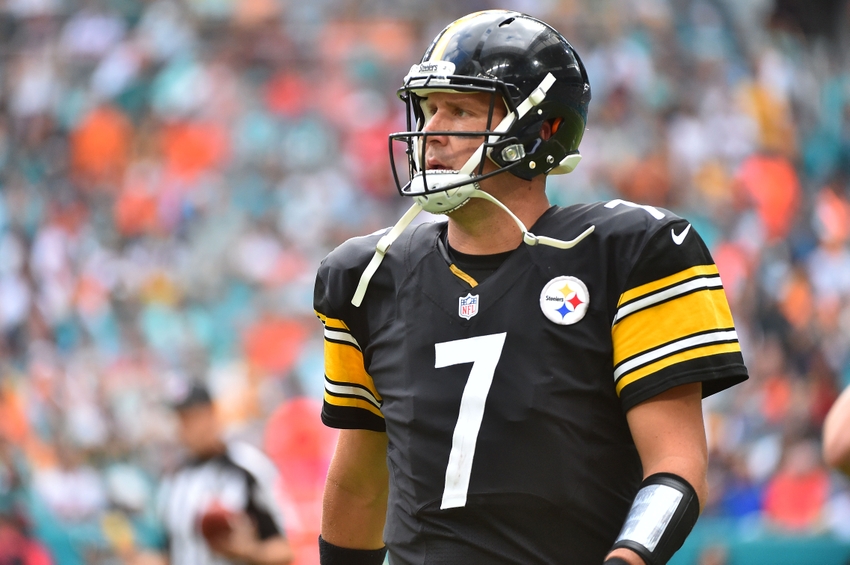 The Pittsburgh Steelers were dealt a huge blow on Wednesday morning, with the news that Ben Roethlisberger will miss 4-6 weeks with a torn meniscus.
Pittsburgh was rolling along with a 4-1 record going into Sunday's tilt with the Miami Dolphins. Now, things have gone sour. Quarterback Ben Roethlisberger was injured in the second quarter of the eventual 30-15 loss, but remained in the game throughout. Afterwards, it was revealed Roethlisberger had a torn meniscus.
Originally, it was thought Big Ben might only miss Pittsburgh's game against the New England Patriots this weekend, with a bye coming next week. However, Chris Mortensen of ESPN is reporting that the former All-Pro and two-time Super Bowl champion will be out 4-6 weeks following his surgery this past Monday.
At 4-2, the Steelers are still leading the AFC North by a game over the Baltimore Ravens and are two games better than the Cincinnati Bengals. However, the losses could pile up with Roethlisberger on the shelf.
After the bye week, Pittsburgh faces a road date with Baltimore before hosting the Dallas Cowboys. At that point, Roethlisberger could come back. If he has to sit another two weeks, the Cleveland Browns and Indianapolis Colts would be on tap.
The Steelers might be able to navigate the injury and reach the playoffs, but earning a bye just got much tougher in the crowded AFC. Pittsburgh will have to fight off the Houston Texans and either the Kansas City Chiefs, Denver Broncos or Oakland Raiders in the AFC West.
This article originally appeared on