Ben Roethlisberger fake spikes on touchdown pass to Antonio Brown (Video)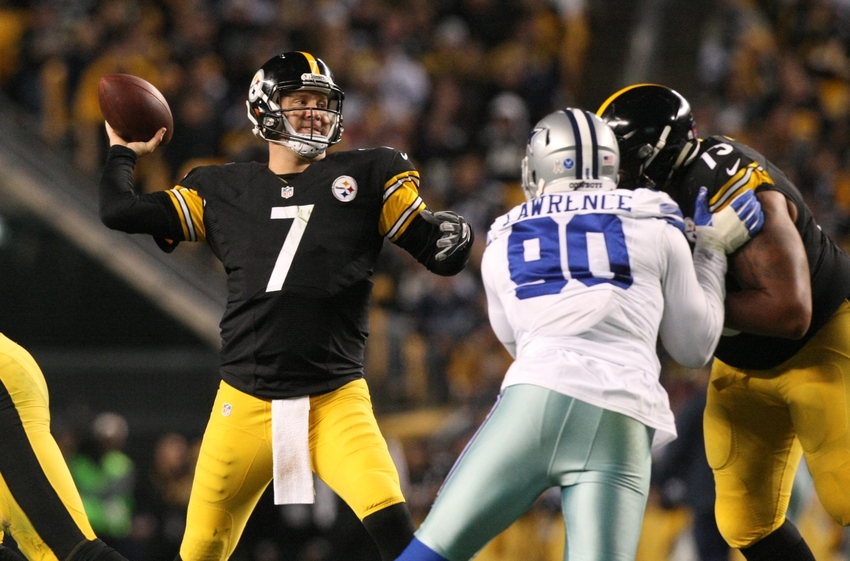 Ben Roethlisberger honors Dan Marino on this fake spike touchdown pass to Antonio Brown to give the Pittsburgh Steelers the lead over the Dallas Cowboys.
Dan Marino may have never won a Super Bowl quarterbacking the Miami Dolphins, but he did have one of the most iconic touchdowns in NFL history courtesy of the fake spike. He did it against the New York Jets in the early 1990s.
On Sunday in a tight one with the Dallas Cowboys, Pittsburgh Steelers quarterback Ben Roethlisberger channels his inner Marino and executes the fake spike to perfection. He hits wideout Antonio Brown for the go-ahead touchdown.
🚨 FAKE SPIKE ALERT! 🚨

And Big Ben finds @AntonioBrown in the end zone.
WOW. #DALvsPIT https://t.co/4GgDIDgvvS

— NFL (@NFL) November 14, 2016
Instead of spiking the ball to stop the clock inside of a minute on first down, Roethlisberger catches the Cowboys defense off guard and hits Brown in stride. Pittsburgh would elect to go for two and the Steelers would have been better off going "Laces out, Dan!"
This game was insane, with both teams failing to convert on six combined two-point conversions. That fake spike touchdown pass from Roethlisberger to Brown would make it 30-29 Steelers.
Dallas would get the ball back with less than a minute left in the game. After a poorly timed facemask by the Steelers defense, it would set up a game-winning touchdown by Cowboys running back Ezekiel Elliott.
The Cowboys would fail on the two-point attempt, but a 35-30 lead on the Steelers with nine seconds left was enough to give Dallas its eighth straight victory. Pittsburgh falls to 4-5 on the season.
Only dysfunctional Pittsburgh would find a way to squander Roethlisberger's fake spike touchdown. This is a loss that is going to sting in the Steel City for the rest of the season.
More from FanSided
This article originally appeared on