Bears vs Packers: Five Questions with Lombardi Ave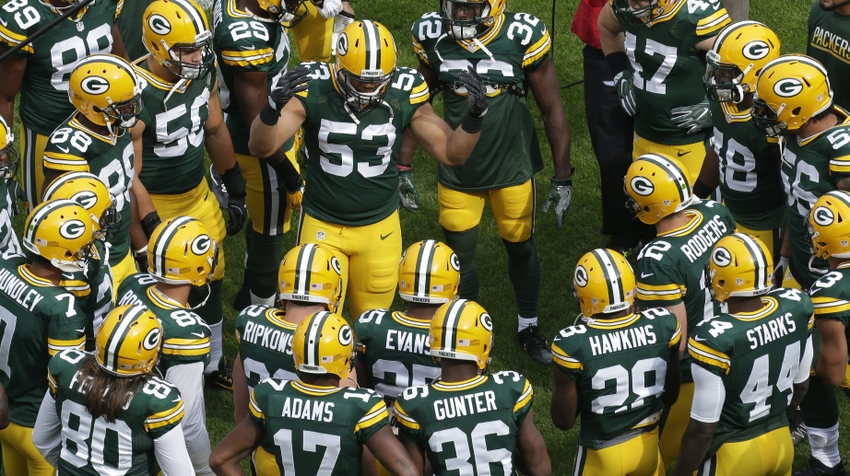 To help us prepare for the 193rd meeting of Bears vs Packers, we enlisted the help of Josh McPeak of Lombardi Ave for our weekly Five Questions post.
It's the 193rd meeting of the Chicago Bears and Green Bay Packers, the oldest rivalry in the NFL.  On paper, it looks like this should be an easy win for the 3-2 Packers, but the Bears are winners of two of the last three at Lambeau, so you can throw out the records for Bears vs Packers on Thursday night.
Carson Wentz and the Philadelphia Eagles take on the Chicago Bears
There are rumblings that Aaron Rodgers is on the decline with the Packers ranked 25th in yards per game while the Brian Hoyer-led Bears are ranked 7th with over 375 yards per game.  Is this the game where Rodgers turns it around or does the Bears 11th ranked defense stifle Rodgers and the battered Packers offense, who will rely on recently acquired Knile Davis and receiver-turned-running back Ty Montgomery to hold down their running back position with Eddie Lacy and James Starks set to miss the game?
On the other side of the ball, it looks like the Packers will be without their top three cornerbacks.  Can Brian Hoyer and Alshon Jeffery cash in on some opportunities to exploit a battered Packers secondary?  It's a bummer that former Packer Josh Sitton will miss the game with a bum ankle.  What really happened between Sitton and the Packers that led him to be cut and scooped up by the Bears?  Who's an under the radar player who might have an impact on Thursday's game?
To help us answer these questions and get a Packers insider's point of view, we enlisted the help of Josh McPeak from our FanSided sister site Lombardi Ave.  Check out his answers to our Five Questions.
1. Are we all witnessing the decline of Aaron Rodgers? What's up with the Packers offense? How will they attack the Bears defense?
A decline from recent years past -yes. An overall career decline -no. Everything up to this point has been somewhat easy for Rodgers. That is, once he was out of Brett Favre's shadow. Rodgers has also been on the short side of benefiting from a dominant run game. Teams are obviously trying to keep him in the pocket right now and enjoying some short term success.
If Rodgers is as smart as he claims to be, he should figure it out. I mean after all he scored a 35 on his Wonderlic Test compared to the 22 of Brett Favre. It also looks like Knile Davis will be the starting running back due to a rash of injuries at the position. It should be interesting.
2. The Packers are pretty banged up in the secondary. How will the Pack line up on Thursday night? Can Brian Hoyer and the Bears passing attack take advantage of the battered Packers secondary?
You will likely see a strong dose of Demetrius Goodson and LaDarius Gunter. Sam Shields is officially on the IR and both Damarious Randall and Quinten Rollins are dealing with injuries. If there is ever a week for Brian Hoyer to take advantage of, it's definitely this week. Look for the Packers to apply heavy pressure from Clay Matthews, Nick Perry and Kyler Fackrell to compensate for the depleted secondary.
More from Bear Goggles On
3. It looks like the Bears will be without Josh Sitton on Thursday night after suffering an ankle injury late in the last game. He's been really outstanding since being a surprise cut by the Packers. What happened between the Sitton and the Packers? In hindsight, do you think they regret the move?
It depends on what you want to believe with Sitton. Was he last in the terms of upcoming contract negotiations, maybe. Was he on overly expressive veteran in a fairly young locker room, maybe. Some reports even have him saying completely unearthly things to Davante Adams. I honestly have no idea why they released him. Do they regret it? Absolutely not.
Lane Taylor could be the unsung MVP of this team. The struggles of Aaron Rodgers has nothing to do with the line play. At times it looks like Rodgers could make a sandwich and still get off a pass. This is not to mention the cap space it saved. Too bad he might miss his homecoming.
4. Who's an under the radar player who will have a big impact on Thursday night's outcome? Maybe you have one of offense and one of defense?
The Packers will be without Davante Adams and starting brand new running backs to the system. Hopefully a tight end steps up. More than likely it will be a receiver who receives extra opportunities. While given few chances this season after suffering a broken hand, look for Jeff Janis to step up. The Packers will look to stretch the field and he may be just the guy. As for the defense, I will go back to a guy I mentioned earlier. With a depleted secondary look for Kyler Fackrell to come after the quarterback early and often.
5. What's your prediction for the game? Please include a final score.
I think we both agree, Thursday night games need to go. After Sunday, it gives the teams virtually zero time to heal. Not to mention the Packers will be in all white. Aaron Rodgers has been struggling and will have to hand it off to brand new running backs. It has all of the makings for very ugly TV. The Bears are 1-5 while the Packers limp in at 3-2. This game might come down to the kickers.
I'll go Packers 20 Bears 17
A big thanks to Josh McPeak over at Lombardi Ave for his insight.  Be sure to check them out for a look behind the Cheddar Curtain.
This article originally appeared on