Bears at Giants: Preview, Predictions, and More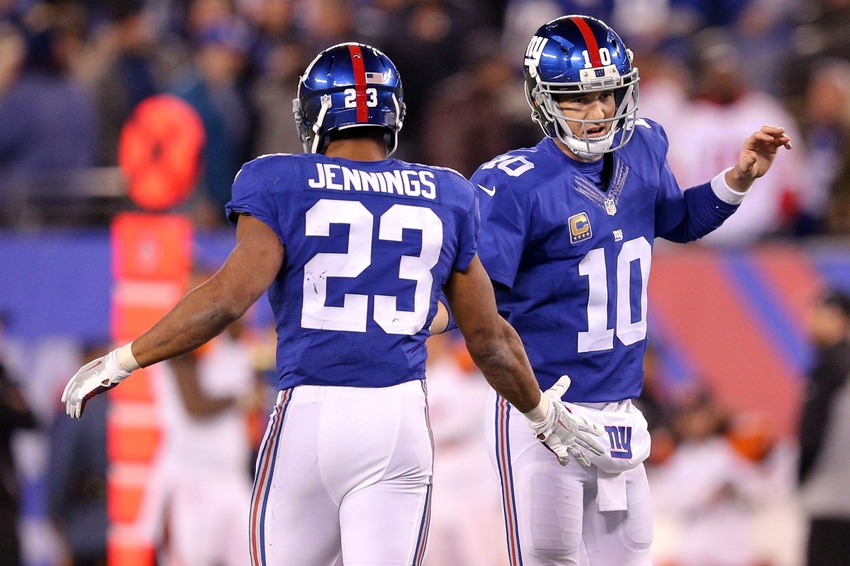 Chicago Bears vs. New York Giants
The New York Giants, winners of four-straight games, are looking to keep the train rolling forward as they look to keep pace with what's suddenly become a very competitive NFC East. To do so, they'll have to take down a struggling Chicago Bears team in Week 11 at MetLife Stadium.
The Giants, who are 4-1 at home this season, have not won five games in a row since 2010 (Oct. 3-Nov. 7). Head coach Ben McAdoo has his players dialed in to treating their upcoming guests, the Bears as though they were an undefeated team coming off a Super Bowl championship.
Chicago currently holds a dismal 2-7 record. Although the Giants insist that the Bears record isn't reflective of just how good a team they are, a certain one-time Giants head coach who's now in the Hall of Fame once said, "You are what your record says you are."
So who are the Bears? They just lost their top receiver, Alshon Jeffrey, to a four-game league imposed suspension after he was found to have violated the league policy on PEDs. They also lost starting guard Kyle Long to injured reserve. This Bears team is a banged up and desperate group who is winless in five road games this year and who, at this point, are fighting for pride.
They never know what they're going to get from starting quarterback Jay Cutler and, while they do have a talented defense, the offense must somehow match the intensity and production of that defense if this team is to salvage what's left of lost season.
Giants Keys to Victory
Harass Jay Cutler: Cutler, like any other quarterback on the face of the planet, relishes having a clean pocket to step into his throws. Meanwhile the Giants pass rush has started to come alive after a sluggish start.
The front four—defensive ends Olivier Vernon and Jason Pierre-Paul and defensive tackles Damon Harrison and Johnathan Hankins—have combined for seven of the team's 14 sacks and 29 of the team's 45 quarterback hits. Pierre-Paul and Vernon, in particular, have really cranked up their respective games since coming out of the bye week.
They need to make sure that they're suffocating the mistake-prone Cutler into rushing his throws, where perhaps an opportunistic member of the Giants secondary might be able to nab an interception.
Pick Their Poison: Giants offensive coordinator Mike Sullivan indicated that the Bears are more likely to bring their two outside linebackers, Willie Young and Leonard Floyd, down to the defensive line when the Giants go to their zebra package.
"Obviously, we have to be aware of opportunities that we have and trying to make sure that if we want to push the ball down the field, we account for those guys, trying to help tackles when necessary and do various things because they definitely do present a challenge," Sullivan said.
Therein lies part of the challenge: deciding which side they'll devote the already limited help-blocking that should come in the form of jumbo tight end Marshall Newhouse if Adam Gettis is able to step in at left guard when Newhouse has to swing outside.
Stop Jordan Howard. Howard, the Bears dynamic rookie running back, is averaging 5.3 yards per carry this year and 75.6 rushing yards per game.  With the Bears missing top receiver Alshon Jeffrey, the Giants must find a way to stifle Howard and force quarterback Jay Cutler to beat them with his arm. Howard will be a good test for  Vernon and Pierre-Paul, both of whom have quietly been outstanding these past few weeks setting the edge against the run.
Build on Running Game's Progress. The Giants desperately need to show opponents down the stretch that they are not a one-dimensional team and that yes, the opponent should consider putting a safety down in the box every so often as a sign of respect against the run.
Thus far, that hasn't always been the case, not so much because of the running backs, but because the run blocking on some of those negative yardage plays the Giants have had has been embarrassing. There were signs of hope, though, in the fourth quarter of last week's game that the tide was turning for the Giants' ground game.
Bears Keys to Victory
Establish Running Game. The Bears are entering this game without receivers Alshon Jeffrey (suspended) and Kevin White (injured reserve). Even though Giants defensive coordinator Steve Spagnuolo noted that Cutler has just as much success when he spreads the ball around, none of his other receivers bring to the passing game what Jeffrey and White bring.
To make things easier, they have to get the run going early and often. It's not going to be easy against the NFL's seventh-ranked run defense, a unit allowing 92.1 yards per game to opponents. But it would behoove the Bears to try to establish the run early and to stick with it.
As previously noted, rookie running back Jordan Howard has 605 yards on 114 carries. The Bears need to keep feeding him the ball so that they don't end up having to rely as heavily on Cutler and the passing game to carry the offense.
Hone In on Odell Beckham Jr. Although the Giants running game continued to show some signs of life last week, make no mistake about it: they are a passing team first. And the fact that they have fed the ball to Beckham on 26.2 percent (21 of 80) of the pass attempts since coming out of the bye week tells you who's No. 1 on quarterback Eli Manning's target list.
If the Bears can take away Beckham, that leaves them with Victor Cruz, who is coming off a sprained ankle injury, and youngsters Sterling Shepard and Roger Lewis Jr., both of whom have quieted down some after having impressive early season starts.
Pressure Eli Manning. Although Manning hasn't been sacked much this year—the 13 sacks allowed by the Giants offensive line represent the third fewest in the league—Manning has been under pressure probably more than he and the coaching staff would like.
Sometimes the pressure gets so bad that Manning starts hearing footsteps and tends to release the ball before his receivers have made their cuts. If the Bears can make do on linebacker Pernell McPhee's vow to tear it up and get pressure on Manning, there's little reason to think that "Bad Eli" won't make an appearance Sunday.
Odds
Point Spread: New York -7.5
Moneyline: New York -310, Chicago +255
Over/Under: 44
Prediction
This Bears team is a desperate group that is fighting for pride at this point, but sometimes anger and desperation can do more harm than good in terms of making costly errors. Expect the Bears' road game losing streak to continue as the Giants roll to a fifth-straight win.
Pick: Chicago Bears: 17, New York Giants: 31
This article originally appeared on