Be Happy Sunday's Game is At Century Link Field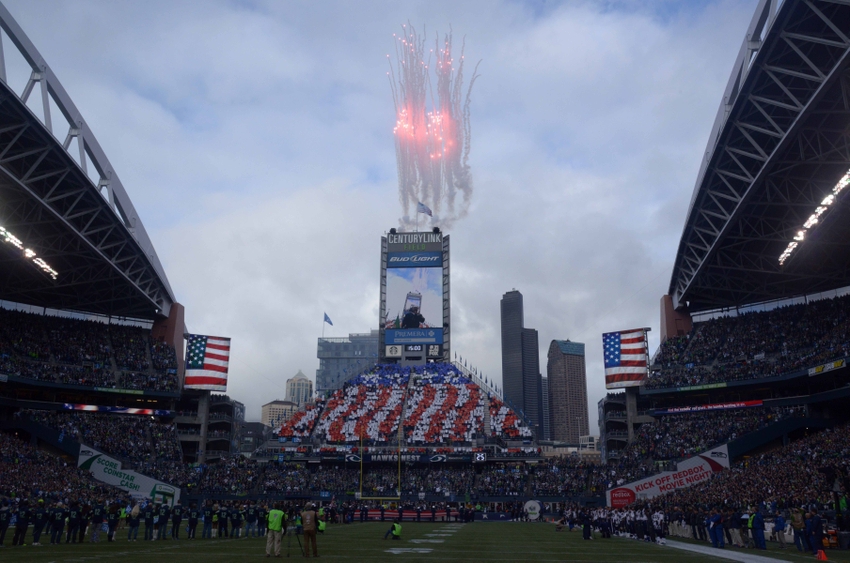 CenturyLink Field's atmosphere always gives opposing teams fits. However, fans should be especially ecstatic that Sunday's game is at home, considering the Eagles road woes this season.
CenturyLink Field's eardrum busting noise makes it a difficult place to play for NFL teams everywhere. Add into the equation that the Seattle Seahawks are riding high after walking into Foxborough and outplaying the consensus best team in the NFL. Sunday is going to be a tough game for the Eagles, regardless of the stadium. The Eagles have had a great season, but they have been declawed when playing outside of the City of Brotherly Love this season.
As always, the crowd noise WILL be a factor. You may already be aware, but CenturyLink Field gets pretty loud on Sundays. Philadelphia does boast a great veteran center with six years of experience in Jason Kelce. Quarterback Carson Wentz got off to a sizzling hot start. Wentz looked like the NFL's next big thing. His veteran poise and intense preparation really stood out. However, the Wentz Wagon has fallen off of a cliff in recent weeks. Still, he is a rookie who has yet to play in an atmosphere as electric as CenturyLink Field.
In addition, the Eagles are starting Halapoulivaati Vaitai, an adjusting rookie, at right tackle in place of veteran mainstay Lane Johnson (suspension). Not only does this allow dynamic pass-rushers Frank Clark and Cliff Avril (come back soon Michael Bennett) an opportunity to tee off on a rookie, but as of November 17th, 2015, opponents have 145 false start penalties (since 2005) at CenturyLink Field. This is an average of 1.73 per game and 13 more than the next stadium. Plus, the 12th man's morale is at a season high after last Sunday night's big win, which put Seattle in a position to potentially secure home-field advantage in the playoffs. I'd pencil in Philadelphia for a few false starts or delay of game penalties on Sunday.
More from 12th Man Rising
While Russell Wilson excels at home, Carson Wentz has been worse on the road this season. Not only does he have fewer touchdown passes and more interceptions, but he's been sacked 15 times on the road, compared to just 4 at home. Regardless of whose fault those sacks were, it's a telling stat.
Their defense is one in DVOA, but it does him few favors on the road. At Lincoln Financial Field, the Eagles defense has allowed 9.5 points per game to opposing offenses that include an MVP candidate (Matt Ryan) and a two-time Super Bowl champion (Ben Roethlisberger). On the road, Philadelphia has given up 24.4 points per game to offenses. That's a difference of almost 15 points (14.9 to be exact)
The Eagles have played four games at home this season, and they've won all four by double digits. On the road, it's been a very different story. Their one road win came when they thoroughly decimated a hopeless Chicago Bears team earlier in the season. Chicago is nowhere near the caliber of Seattle, nor do they have quite the home field advantage Seattle does. The Eagles have lost on the road to Detroit, Washington, Dallas and New York. All four teams are in the playoff hunt, but none of them have quite the home field "advantage" that Seattle does.
While I believe Seattle is the better team in this matchup, Seattle fans know to never discount home field advantage. Seattle is 31-5 overall at CenturyLink Field during the Russell Wilson era. Add in that their .829 winning percentage in November and December (since 2012), and this has the look of a Seahawks blowout.
However, don't overlook this game on the schedule. Make no mistake, the Eagles are no walkover. They boast a developing franchise quarterback, two dynamic running backs, a ball-hawking defense and a dominant special teams unit. Philadelphia's dominance in two of the three phases of the game means that Wentz and the Eagles offense should have consistently good field position, despite Seattle's recent offensive prowess. Plus, their dynamic and versatile defensive front should give Seattle's newly functional offensive line fits all day.
These are factors that the location can't control. Regardless, it should be a highly competitive game that, in typical Seahawks fashion, comes down to the last down. So 12s, get loud on Sunday! It could be the deciding factor in a slugfest between two of the better teams that the NFC has to offer.
This article originally appeared on