Baltimore Ravens News Week 7: It's All About Quarterbacks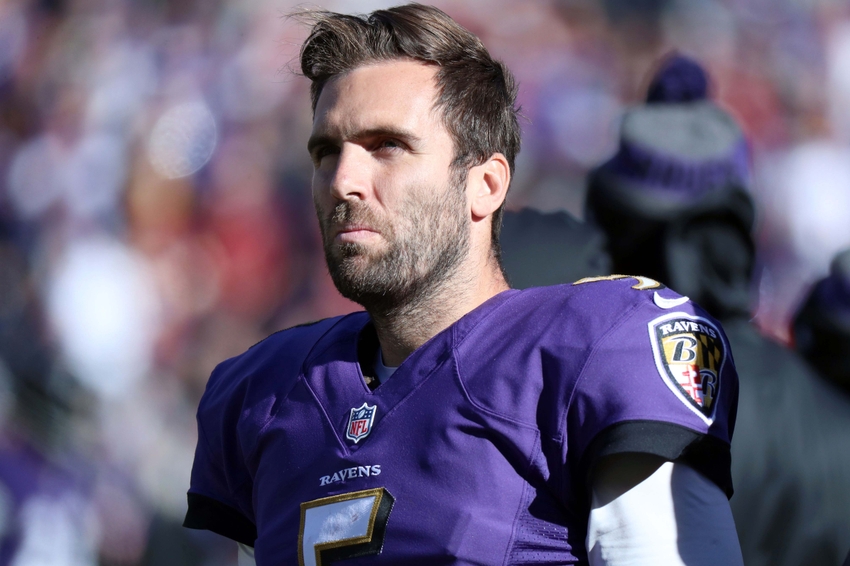 Wednesday has been all about the quarterback. The Ravens and their next two opponents all have quarterback news:
The Baltimore Ravens have an overload of news relating to the quarterback today. First of all Joe Flacco did not practice today. The Ravens left us to speculate on the injury until just past 12:30. Secondly, the New York Jets (the Ravens next opponent) announced that Geno Smith will be their starting quarterback. Smith will be replacing Ryan Fitzpatrick, who has 11 interceptions in the Jets 1-5 start. Finally, the Ravens arch enemy, the Pittsburgh Steelers, got some bad news. Ben Roethlisberger will be out 4-6 weeks.
QB Joe Flacco is not practicing today.

— Baltimore Ravens (@Ravens) October 19, 2016
QB Joe Flacco has a right shoulder issue, per Coach Harbaugh.

Harbaugh: "I believe he has a legitimate chance to play."

— Baltimore Ravens (@Ravens) October 19, 2016
Let's start with Joe Flacco. The last thing a struggling offense needs is their quarterback. Now we know that it's an injury on his throwing shoulder. If I had to bet, I'd say that's coach speak from John Harbaugh. "A legitimate chance" sounds better than we'll see. If Flacco can't play, the Ravens will have to lean on the run game. That has not been something that the Ravens have indicated they're willing to do. Every week the Ravens pass much more than they run it.
Joe Flacco is as tough as nails. That's probably why it took so long for us to find out that the Giants did some damage to the franchise quarterback. There's two ways to look at this. First, the Ravens desperate to beat the Jets. Joe Flacco gives you a better chance of doing that than Ryan Mallet. Secondly, the Ravens have to think long-term. If rushing Flacco back into action is going to risk further injury, the Ravens would be foolish to let him play. If the injury is a game time decision, the Ravens will have to balance out these two trains of thought.
Let's move on to Geno Smith. Smith has been waiting in the wings, watching Fitzpatrick stumble at every turn. Fitzpatrick has been picked off 11 times, sacked nine times and has completed just 57 percent of his passes. Geno Smith is a bigger quarterback, who has mobility and is hard to bring down. However, Geno Smith isn't exactly an upgrade for the Jets.
In 29 games, Smith has thrown for 27 touchdowns and 36 interceptions. Smith has been sacked 75 times and has fumbled an inexplicable 17 times. It's been a while, but Smith hasn't gone away. Smith will try to prove that he isn't a draft bust, while it is more likely that he confirms his lowly status. There are two differences between Smith and Fitzpatrick. Smith is a bigger and more athletic quarterback with a strong arm. Secondly, Fitzpatrick has much more experience. Other than that, the Ravens are preparing for a very similar quarterback, in Geno Smith.
The Ben Roethlisberger news is significant. Roethlisberger is out 4-6 weeks. This means he will be out when the Ravens battle the Steelers in week week nine. The Ravens have won the last three games against the Steelers; this increases the likelihood of a fourth straight win over Pittsburgh. The Ravens have a chance to get healthy. They play the Jets on Sunday and then they have the bye. With key players coming back into the action, no Big Ben and home field advantage, the battle for the Steelers could spark the Ravens as they enter the second half of the season.
The Bottom Line:
Everything hinges on Joe Flacco's health. The Ravens are playing the hapless Jets. Geno Smith shouldn't scare the Ravens defense. After the bye week the Ravens play the Steelers. Baltimore always gets up for the games against Pittsburgh. Plus with out Roethlisberger, the Ravens have a more favorable match up. If Flacco's injury is as minor as the Ravens want us to believe it is, we could be looking at a strong rebound. If Flacco's injury is on the more serious side, recovering from a three game losing streak will be difficult.  When week seven gets under way, it will be all about these quarterbacks.
This article originally appeared on