Baltimore Ravens: Joe Flacco's Mastery of the Pittsburgh Steelers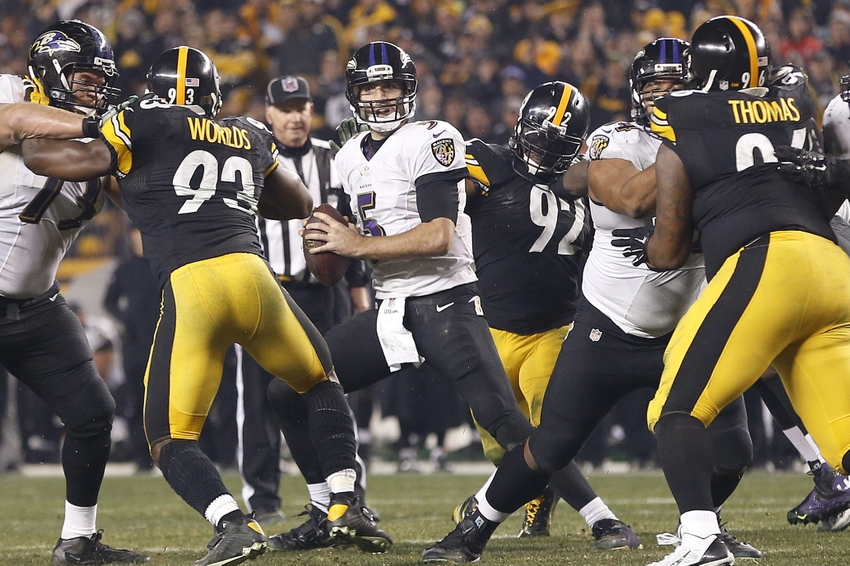 When it comes to beating the Pittsburgh Steelers as of late, Baltimore Ravens quarterback Joe Flacco has shown that he's far more than ordinary.
Once upon a time in a galaxy known as Baltimore (circa 2008), Ravens general manager Ozzie Newsome hired a new head coach in John Harbaugh. He would also draft a strong-armed quarterback from the University of Delaware named Joe Flacco.
With the exception of the final six games of last season, the nine-year signal-caller has been incredibly durable. That's saying a lot playing in a division that includes the Cincinnati Bengals and Pittsburgh Steelers.
Speaking of the latter, the Black and Gold were a thorn in Flacco's side during his first three seasons in the league. He faced the Steelers twice in the playoffs, both at Pittsburgh, and came up short. Including those two postseason setbacks, the talented passer lost six of his first eight games to Mike Tomlin's bunch.
In those contests, he averaged fewer than 200 yards through the air per game. Flacco threw for seven scores, but was picked off eight times. He was sacked 29 times and committed nine fumbles, five of which ended up in the hands of the Steelers.
It has been a different story ever since. Dating back to 2011 and including a 30-17 AFC Wild Card win in 2014 at Heinz Field, Flacco is 7-3 in his last 10 starts in this intense rivalry. He's thrown for an average of 225.9 points per contest. The 2012 NFL champion has thrown 14 touchdowns passes while being picked off just three times. While he's been sacked 22 times and fumbled on eight occasions, he's lost just three of those miscues.
To go from 13 turnovers in eight games to committing only six in his last 10 contests against Dick LeBeau/Keith Butler's defenses is quite the feat. Last season, he helped beat the Steelers in overtime at Pittsburgh, but was not around for the Week 16 rematch in Baltimore due to a torn ACL.
This season, Flacco has been less than impressive and the Ravens are in the midst of a four-game losing streak. The veteran quarterback has thrown for five touchdowns and run for two more. But he's also served up six picks and lost two fumbles.
Now the Steelers come to town on Sunday in Week 9. Is it time for him to frustrate Tomlin and company one more time?
This article originally appeared on