Baltimore Ravens: Breshad Perriman makes first TD catch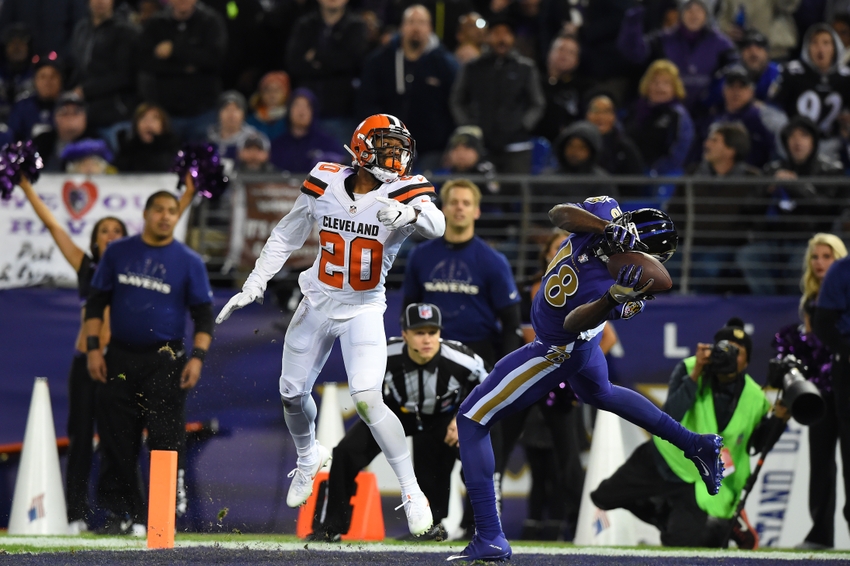 Baltimore Ravens wide receiver Breshad Perriman, a former first round pick, made the first touchdown catch of his career on Thursday night…
Thursday Night Football was another disaster for the NFL as the Baltimore Ravens decimated the Cleveland Browns 28-7, but it wasn't all bad for the Ravens who saw former first round pick Breshad Perriman catch his first NFL touchdown.
This Raven really can fly! ↗️↗️@B_Perriman11 swoops in for a huge touchdown last night.#OnlyInTheNFL pic.twitter.com/yocpTMa782

— NFL UK (@NFLUK) November 11, 2016
It was the final touchdown of the evening for either team, and it was a heck of a catch. Understandably, Perriman was relieved…
Thank you god!!

— Breshad Perriman (@B_Perriman11) November 11, 2016
The Ravens' crew of receivers, as bad/injured as it was last season, has been pretty darn good this year. Steve Smith Sr. appears to not really be aging. He's as tough as ever, but the Ravens have a new top receiver this year in Mike Wallace, who has 673 yards on 43 catches this season with four touchdowns.
Perriman has been a decent complementary piece so far, but you can see on that touchdown play why the Ravens thought enough of him to draft him in the first round. He has great size, speed, and the ability to make big plays.
That's not to mention how good he and the rest of his Ravens teammates looked on Thursday night. Of all the color rush uniforms, those have been among the very best. The all purple look is pretty nice in general, but the gold numbers and stripes down the side of the pants are excellent.
This is a really good look the Ravens should consider for the future…
Regardless of the outfit, the catch by Perriman is the focus here. This is a big moment for him and the Ravens. He wound up leading the team in receiving yards Thursday and showed some of the ability we saw from him while he was making big plays at UCF before he was placed on injured reserve in his rookie season.
More from NFL Mocks
This article originally appeared on