Baltimore Ravens Beat Jaguars Despite Erratic Flacco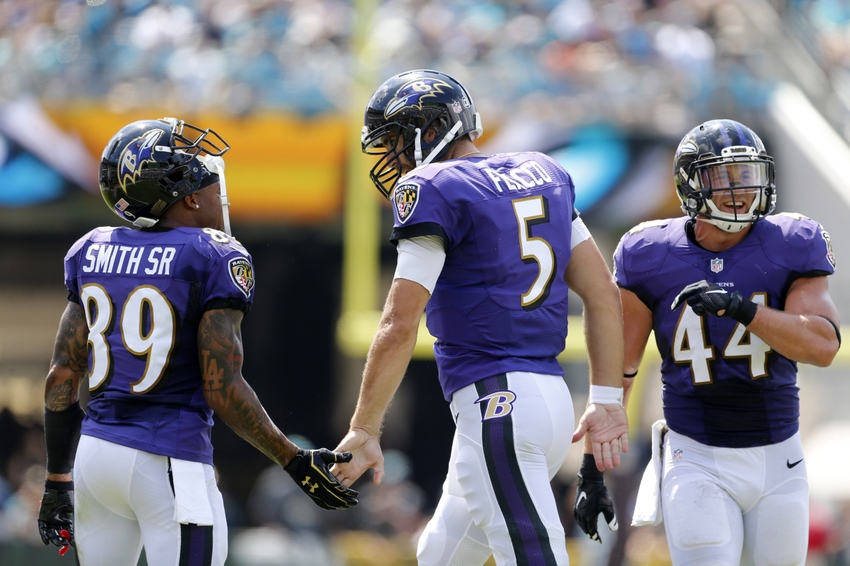 It seems like a new adrenaline ride emerged in Jacksonville, the Roller Flaccoaster.
Joe Flacco and the Baltimore Ravens escaped EverBank Field with a win against the Jacksonville Jaguars. Flacco's performance fluctuated from efficient to awful but managed to get Justin Tucker in range to kick a 54 yard field goal for the win.
The Raven's offense started sluggish as they went three and out for the first two possessions. During these drives, Flacco only completed one of five attempts. Thankfully, the defense held the supposed high-powered Jaguars offense scoreless.
Starting on the third drive of the day, Flacco connected on 21 consecutive passes. The broke the team record of 14 consecutive completions which he also held. During this streak, the Baltimore Ravens scored a touchdown and three field goals. He missed on a deep ball to Mike Wallace to end the streak. Justin Tucker kicked his third field goal to give the Ravens a 16-7 lead.
Then, the wheels came off the Flacco train again. He went three for his next seven including two interceptions which allowed Jacksonville to take the lead with under three minutes left in the game. Thankfully, Brent Urban blocked a field goal to give Baltimore another shot.
Flacco made his way onto the field at his own 43-yard-line. He needed a little over 20 yards to get Tucker in range. Flacco managed 22 yards after going four out of five. Tucker kicked a 54-yard field goal for the eventual win.
I love the gunslinger mentality of Joe Flacco. Taking deep shots routinely makes the game more fun, but he needs to pick his spots better. His two interceptions late in the fourth quarter almost cost the Ravens the game. Luckily, the Raven's defense picked up the slack and kept the game from getting out of reach. Next week, he better stay consistent next week as the Ravens take on one of the top offenses in the league, and the Oakland Raiders will take advantage of mistakes that the Jaguars missed today.
More from Ebony Bird
This article originally appeared on