Baltimore Ravens: 3 Game Balls Vs. Cleveland Browns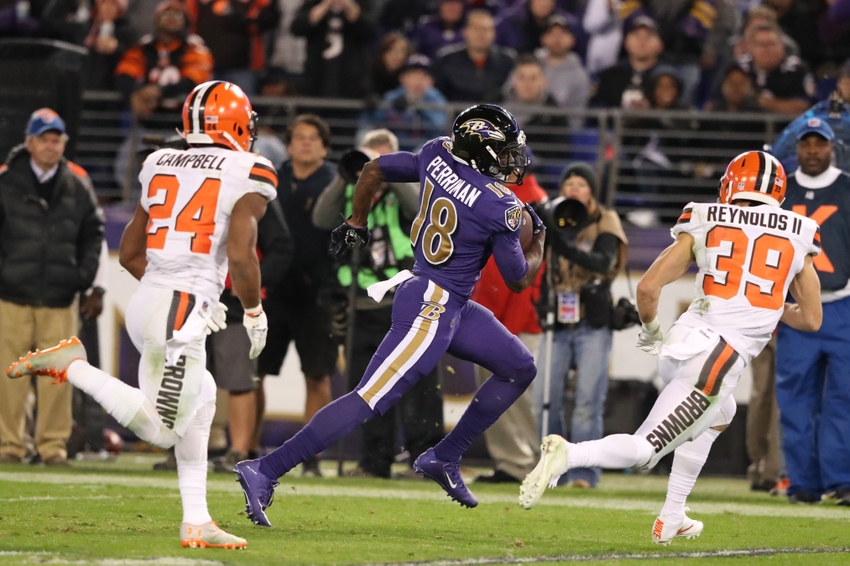 The  Baltimore Ravens improved to 5-4 with a win over the Cleveland Browns on Thursday Night.  Here are my 3 Game Balls from the game.
Terrell Suggs and the Defense:
My first game ball goes to the Baltimore Ravens Defense. Besides giving up a few long passes and runs, the defense was dominant. The pass rush and the secondary was all over the field.  Terrell Suggs helped the defense with his pressure of Josh McCown after Cody Kessler was benched in the 3rd quarter. It's important to remember that Suggs is playing with tough bicep injury. What he is doing is incredible.
If it wasn't for Suggs, who knows what would've happened after McCown came into the game. McCown has been known to light up the Ravens defense, but tonight was a different story.
Let's see if this "mini-bye" can help the Ravens defense next week against a good Cowboys team.  I'm wondering if this would get flexed to a later time? The point is that the importance of this game has greatly elevated.
Joe Flacco
My second game ball goes to Joe Flacco.  Stat wise, Flacco was 30-41 for 296 yards with 3 touchdowns and 2 interceptions.  He did have 2 interceptions, but they were essentially like punts.  Both were in the end zone so it didn't really hurt the Ravens.
Flacco spread the ball around to his plethora of offensive targets which is great to see. It was nice to finally see Kenneth Dixon do well catching the ball out of the backfield. If Flacco can keep putting the Ravens offense in position to score and win games, then the Ravens will be successful for the rest of the season.
Breshad Perriman
My third and final game ball goes to Breshad Perriman. Has the game finally slowed down for him? He still dropped a pass, but this was his best game as a professional.
He had 3 receptions for 64 receiving yards with a touchdown. I had to watch the touchdown reception a few times because it was so good. The more playing time, the better Perriman will be able to help the Ravens offense.
More from Ebony Bird
This article originally appeared on