Austin Rehkow, K/P, Idaho: 2017 NFL Draft Scouting Report
David Holmes/FanSided via NFL Mocks

Fansided
The 2017 NFL Draft features a handful of talented punters and kickers, and Austin Rehkow happens to be one of the best at both positions. I take a look at what he brings to the table.
Austin Rehkow, like many of his peers, wasn't always a football player. Prior to his kicking career in high school he was a soccer player that had an exceptionally strong leg. Needless to say, the football coaches noticed, and from freshman year on he transitioned from one version of football to another.
While in high school he had a very impressive football career. His Sophomore, Junior and Senior seasons he received all-state, and all-GSL (Greater Spokane League) honors. Rehkow's most well-known accomplishment would be during his senior year where he broke an 83-year old Washington High School record by kicking a 67-yard field goal.
What people may not know about Austin Rehkow, is that he isn't just a talented kicker, but he is the best punter in the country. His freshman season was impressive, to say the least. He finished the year as the top punter in the country with an average of 47.8 yards per attempt and was named a Walter Camp All-American as well as the FBS Independent Special Teams Player of the Year.
The rest of Austin Rehkow's college career was just as prolific as his freshman season. His name again graced the Walter Camp All-American list, the Ray Guy Award list, and the Lou Groza Award list. During his four years at Idaho, Rehkow boasts a career 36% of his punts landing within the 20-yard line.
Let's take a look at what Austin Rehkow does well and what he needs to work on as he prepares for the upcoming 2017 NFL Draft
Measurables:
School: Idaho
Year: Senior
Position: Kicker/Punter
Height: 6'3"
Weight: 213 lbs.
Strengths:
As a punter, Austin Rehkow has everything you'd like to see. He has the leg strength to drive the ball far down the field, his career long is 60 yards and he averaged 44.4 yards throughout his four years at Idaho. In 2016, he was tied for tenth among all punters with 25 of his 55 punts resulting in the oppositions following drive beginning inside their 20-yard line.
As a kicker, Rehkow has one of the most important traits you can ask for, consistency. While he struggled early on in his career at Idaho, he consistently improved his accuracy. During his junior and senior seasons, he combined to make 87.5% of his field goal attempts. In 2016, he made a 50-yard field goal, which ended up being his career best as a Vandal.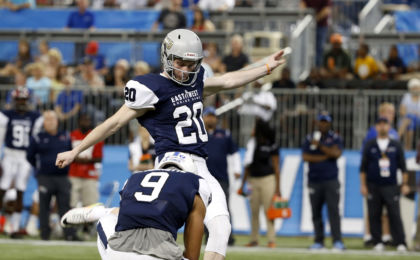 Weaknesses
The only real weakness to Austin Rehkow in regards to his punting his hang time. In the NFL he will only have gunners able to release and get after the ball prior to him making the kick. Therefore he will have to try to give them, and the rest of the coverage unit as much time as possible to get down the field to the returner.
As a field goal kicker, you'd like to see his field goal percentage increase. While 87.5% isn't bad it isn't in the elite category either.
Final Thoughts:
Austin Rehkow is arguably the best dual-threat specialist in the country. He can do it all from field goals to kickoffs, while still being the top punter coming out college. With his schooling behind him, Rehkow will have plenty of time to focus solely on football and really hone his craft.
Lately, in NFL, there hasn't been too many specialists drafted, but Austin Rehkow is a unique prospect, and it would not surprise me to see his name called early on day three of the 2017 NFL Draft.
This article originally appeared on