Austin Howard Returns to Practice From Ankle Injury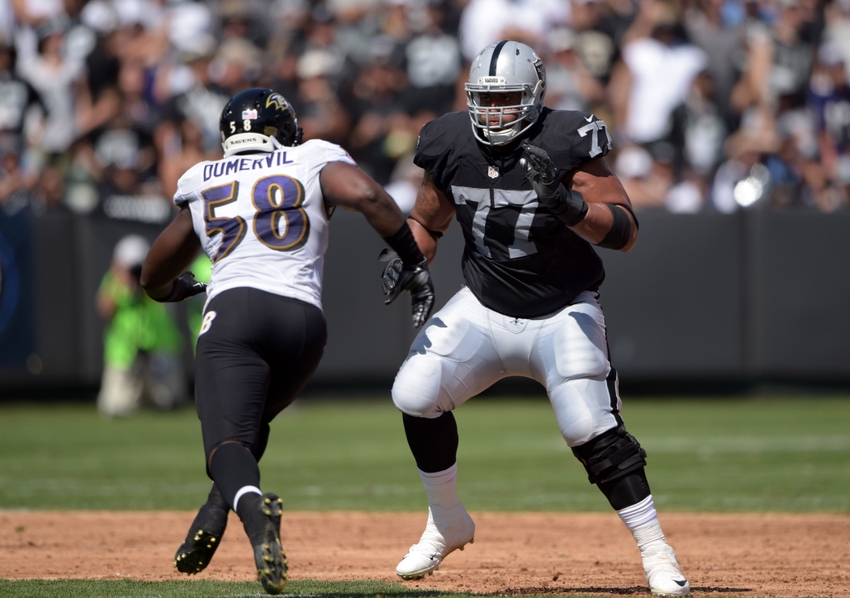 The Oakland Raiders need to put Austin Howard is back in his spot for good!
Oakland Raiders right tackle Austin Howard has had one heck of a ride in Raider Nation.  The Raiders broke bread to get 2014's No. 1 free agent right tackle away from the New York Jets. But for some reason, they moved him to guard, where he played poorly.
Khalif Barnes, the epitome of an average offensive lineman in the NFL, started at right tackle that year. So after the failed experiment, he moved back to right tackle. But Menelik Watson, whom Howard clearly outplayed last preseason was somehow the starter.
However, Watson would end up tearing his Achilles tendon in the preseason. So Howard took the right tackle spot last year and ran with it, playing at Pro Bowl level. But at the end of the season, Howard tore his ACL, again leaving doubt about the right tackle position.
With both returning from injuries in 2016, Watson got the returning starter treatment over Howard. Watson looked better than he did in 2015 but it was nothing to unseat Howard. Watson had the No. 1 spot on the depth chart as Howard injured his ankle in the preseason.
Then in Week 1, you guess it, Watson injures his groin and doesn't return to the game. Howard wasn't active for the game because of the ankle so Matt McCants replaced him. The Raiders offensive line still handled their business while beating the Saints.
But this week, the Raiders had to figure out what to do about right tackle against the Atlanta Falcons. And Howard looks like he's good to go as he practiced on Wednesday. The best right tackle on the Raiders has his spot back.
Is it permanent?
What a way to keep getting your spot back!
More from With the First Pick
This article originally appeared on