Auburn's Carl Lawson Scouting Report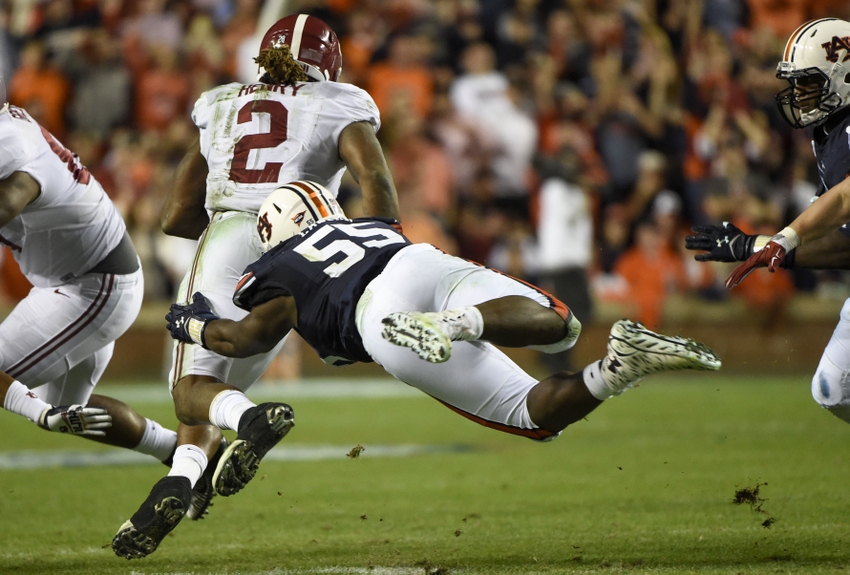 What is the current book on the speedy Auburn Defensive End Carl Lawson?
It's hard to know what Carl Lawson will be in the NFL because there's so little tape of him playing at 100% health. He's missed 21 games over his career and been healthy for maybe half of the rest.
When the tape of him playing comes on, one can see the flashes of amazing pass rush talent that's had Auburn and it's fans salivating over him. His first step might be the best in college. His speed rush skills are NFL ready.
But that's all Carl Lawson has. And at 6-2 250 lbs, it's hard to see a position for him in the NFL. His speed and quickness will be negated by his lack of height. And he needs to learn to bullrush properly and how to slap away blocks.
Get the FanSided App
So at his best, he still comes across as a project with a lot of potential upside. Perhaps if he never struggled with injuries he would have developed the skills he needed to overcome his physical limitations. Right now, he just looks far too risky a pick, especially high.
As a pro comparison: Jerry Hughes(DE, Buffalo). Right down to the extremely raw pass rush skills. In the right system and not being asked for more than 5 sacks early, he could be good.
Draft grade: high 3rd round pick. There's just too much risk here and too many better potential pass rushers to take him in the top 50. Some team will salivate over his quickness and potential and take him in the top 20 though.
The best fit for him would be a Cover-2 defense with a 4-3 front. He doesn't have the experience or skill set to play the edge in a 3-4 defense. And the cover-2 defense would allow him to learn how to stunt before asked to do it.
More from With the First Pick
This article originally appeared on