Attention Giants Fans: start Brees, sit Manning for week 3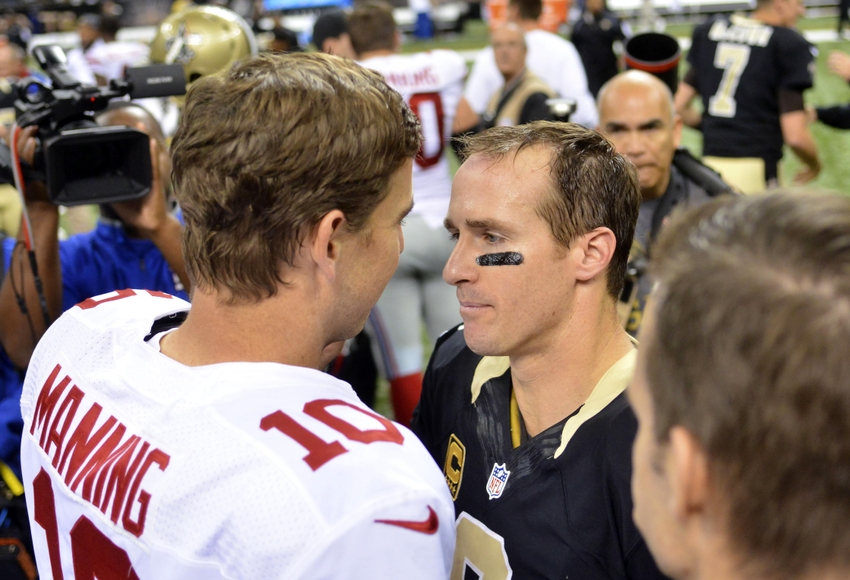 Sit Eli Manning. According to Yahoo Fantasy Sports this week, New Orleans Saints Drew Brees failed to gain a win over the New York Giants against Eli Manning's offense. Still, you should sit Manning and start Brees who will showcase his talents against the Atlanta Falcons this weekend.
Manning's Value-Added
Manning's ranks behind Carson Palmer. Manning can have games with high yardage given the ascendance of Sterling Shepard. It does not hurt that Victor Cruz is healthy once again. The three-member wide receiving group should have placed manning higher in the list.
In September 18th's loss, Brees demonstrated that he could put up the same strong offensive numbers that he has season after season.
CBS Fantasy Sports highlights that Brees only had one touchdown against the Giants. Given that it is Brees who came up short, his entire career statistics matter more than his performance in last week's game.
It is ESPN's latest ranking that offers the word of reason. It places Brees as the third top quarter back behind Cam Newton at the most valuable number one spot.
Manning has similarities with Brees in that they both are nimble and have a variety of wide receivers to select.
Manning could have ranked higher in this week's Fantasy rankings if McAdoo's offense had found ways to score at least one final time against the Dallas Cowboys. Limited to scoring field goals in week 2 prevented Manning from placing higher in the rankings.
Manning deserves greater credit for leading the Giants in tough times under Coughlin. Fantasy sports predictions tend to point out his weaknesses and look the other way when it comes to his ability to be tackled and get back up.
Manning can be wanted this year even if his numbers last year were below the fold.
"The Giants' Eli Manning is always going to be the quarterback no one wants, but he typically ends up being a quality Fantasy option. That was the case again in 2015…"
You cannot forget in 2007 and 2011 when he had a record high rating in ability to lead his team to victory when trailing.
For now, Brees is the widely acknowledge to be the #1 starting quarter back in the NFL. Next week, Manning will rise in the rankings
This article originally appeared on