Atlanta Falcons vs. Tampa Bay Buccaneers: Week Nine To-Do Checklist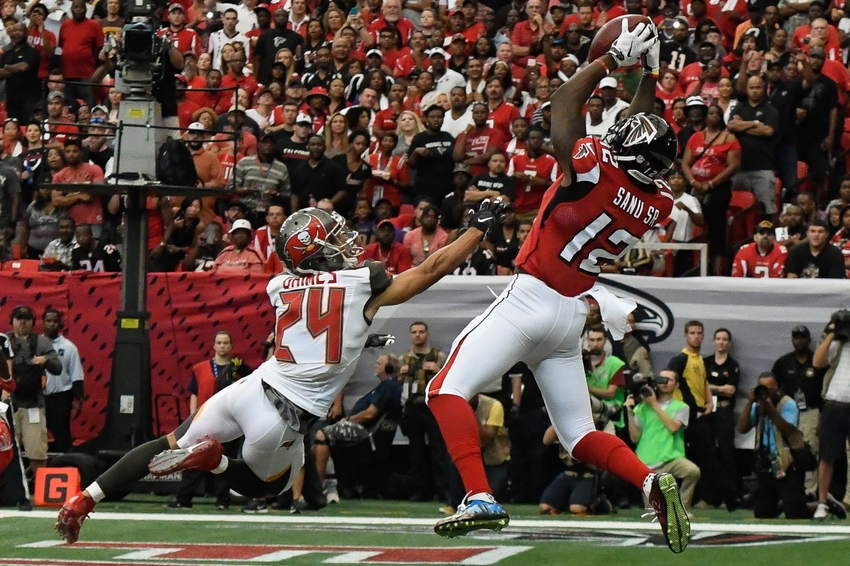 If the Atlanta Falcons want to keep their strong grasp over the NFC South, the team must beat the Tampa Bay Buccaneers.
While the win over the Green Bay Packers may have been a stressful and exasperating experience, it nonetheless placed a victory in the win column and ended a two-game losing streak. The 33-32 victory over the Packers showed a few things that have been a hinderance in recent seasons (limiting big plays, missed tackles) but what it did highlight was the fact that the team can still win a ball game against a formidable opponent without a big day from receiver Julio Jones or versatile running back Tevin Coleman.
So now the team turns their focus to another NFC opponent. One that resides in the NFC South. After a fulfilling week eight win at home, the Falcons head to Tampa Bay on a short week to lock horns with the Buccaneers on Thursday night. To pick up another key victory before their bye week, here is an important checklist for their divisional matchup.
3. Fast Start 
An offense that is known for scoring points left and right, the Falcons had a rough first half in week one against Tampa. That sluggish first half opened the floodgates for Tampa to gain momentum, make a few plays, and before you knew it, the Falcons were 0-1 to start the season.
A fast start by the Falcons needs to be implemented for a couple of reasons. One, this matchup is on a short week in which the Falcons will be four days removed from their contest against the Packers. It is common that teams are a little sluggish in these type of games with only a handful of games to instill rest and proper practice time. The second reason for a fast start is to prevent what occurred during week one. A young Buccaneers team with an optimistic quarterback in Jameis Winston are capable of taking advantage of dull play by the Falcons.
This is a key game for the Falcons with the team holding a two-game lead in the division as of now  over Tampa Bay. So having offensive coordinator Kyle Shanahan, quarterback Matt Ryan, and the rest of the Falcons offense finish drives with points are imperative in just about every game. However, the circumstances surrounding this contest has increased the importance of this important factor.
2. Rack Up Turnovers 
The reputation of Winston is that while he's a talented quarterback with plenty of potential, he has the potential to be a turnover machine in times, specifically with interceptions.
The Buccaneers as a whole are ninth in the NFL in giveaways with 12 with Winston being tied for third in the league in interceptions with nine. The Bucs offense has had at least one turnover in five of their six games played this season, including two games in which they totaled three or more and both of those games ended as losses for the Bucs.
The Falcons were only able to garner one turnover against the Bucs in week one which so happen to be an interception by corner Desmond Trufant. In this game however, the defense must crank up the emphasis on causing turnovers and the unit is coming off their third game of the season of not generating a turnover on defense. Here is a vulnerable enough opponent to change that dynamic and steal some possessions from Tampa Bay.
1. Keep The Flow Going 
The offensive flow for the Falcons has been very impressive throughout this season. They have shown on different occasions that they are able spread the ball around consistently and win games without massive outings from Jones, Coleman, or running back Devonta Freeman. Their victory over the Oakland Raiders saw production from the tight ends in Jacob Tamme and rookie Austin Hooper. Beating division rival Carolina saw a Herculean effort from Jones. This past Sunday against Green Bay, it was Mohamed Sanu's turn to step to the plate and make plays.
Although Jones may not be 100% healthy in this one, the status of Coleman is iffy due to a hamstring injury, and Tamme being ruled out due to a shoulder injury, the Falcons still have enough weapons to keep the Buccaneers defense off-balanced. The game plan shouldn't change at all. The run game should power through Freeman and backup Terron Ward and expect for Shanahan to have speedy receivers Taylor Gabriel and Aldrick Robinson take the top off a mediocre Buccaneers secondary. Don't alter or interrupt what is working. Staying consistent with this game plan bodes well for the high-flying Falcons.
This article originally appeared on