Atlanta Falcons vs. Philadelphia Eagles: 3 Under-the-Radar Fantasy Football Picks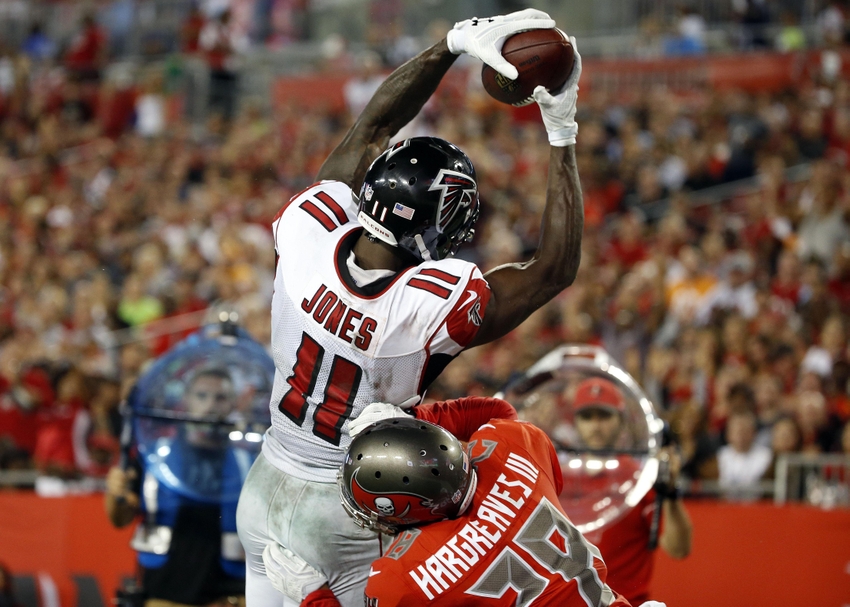 The Falcons are back on track after their explosive offense carried them to a win. Can they continue their strong play against a surprise Eagles team?
In a Week 9 prime time Thursday Night Football matchup against a divisional opponent, the Atlanta Falcons took it to the Tampa Bay Buccaneers with a 43-28 win. The Falcons showed off the ability of their impressive offense, with major contributions coming from depth players, as well as their superstars. In a game that featured a rushing touchdown from Taylor Gabriel (!!!!), the team was firing on all cylinders, as they proved themselves to be a "for-real" team in the NFC this year. While the Falcons did well, your fantasy football team may have not. Follow the slide show to see which Falcons players may be able to help your team win Week 10 and lead you to the playoffs.
3. WR Mohamed Sanu
Sanu had a decent game against the Buccaneers in Week 9, totaling 5 catches for 74 yards (7 points).  Two weeks ago, he scored the game winning touchdown against the Green Bay Packers, and racked up 14 points. In last week's game, he was often lined up against Brent Grimes, who some may still consider a good starting corner at the no. 2 spot. This week, against the Eagles, Sanu will likely be matched up against Nolan Carroll, who isn't even on the same level as Grimes. He has the chance to produce big numbers for the Falcons, as well as fantasy football teams across the country.
2. Falcons Defense/Special Teams
While they gave up a large amount of points in last week's game, the Falcons' defense managed to collect 5 points, largely due to the two fumble recoveries they had. Take out a garbage time touchdown thrown by the great Michael Glennon, and the squad would have scored even more points. This week, they play a Philadelphia offense that has struggled in recent weeks now that defensive coordinators have been able to gameplan against rookie quarterback Carson Wentz. Another pro for this team is that the Eagles' receiving core has struggled all year, with the only major threats coming from Jordan Matthews and Nelson Agholor. Look for the Falcons defense to collect a respectable amount of points in fantasy football this week.
1. WR Taylor Gabriel
In the past weeks, Gabriel has started to emerge as a true no. 3 receiver for the Falcons, and also showing a Tavon Austin-like versatility that allows him to be a threat on end arounds and gadget plays. Last week he caught all five of his targets for 54 yards, and also had two rushes for 24 yards and a touchdown (13 points). While they will be playing a stronger defense up front, Gabriel and the Falcons' high-flying offense will be able to feast on a weak secondary that gave up major points to the Giants last week. Look for him and Sanu to pair up for plenty of points in the WR2 and FLEX spots for your fantasy football team.
Check out the all the Falcons' players fantasy football scores for Week 9, as well as past weeks, here.
This article originally appeared on