Atlanta Falcons: Vic Beasley continues sack parade vs. Packers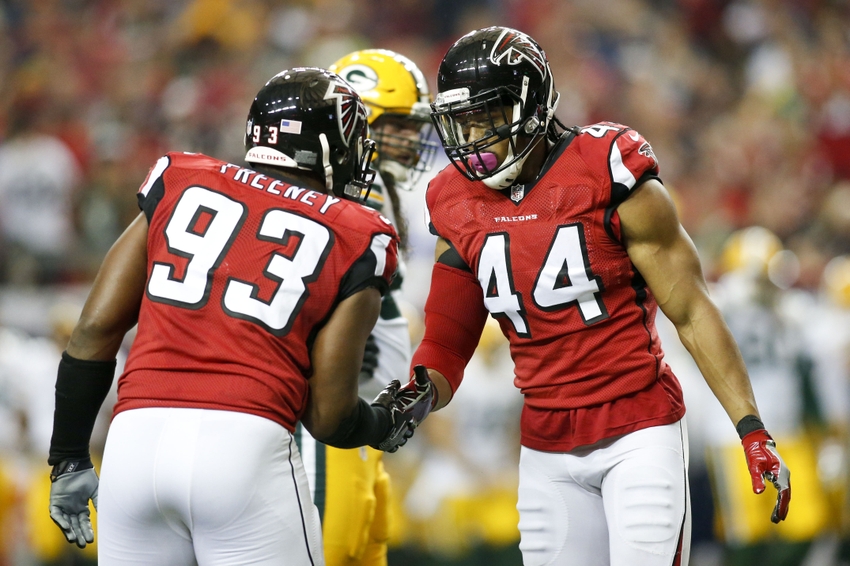 Atlanta Falcons pass rusher Vic Beasley is starting to rack up sacks, and he got another one on Sunday against Aaron Rodgers and the Packers…
The Denver Broncos opened up the floodgates for Atlanta Falcons pass rusher Vic Beasley, who had just one sack going into a matchup against overmatched Broncos tackle Ty Sambrailo.
The Broncos' offensive line and Sambrailo were absolutely cooked by Beasley to the tune of 3.5 sacks and Beasley hasn't looked back from there. In the last four games, Beasley has racked up 6.5 sacks and that includes a sack he got in the Falcons' thrilling win over the Green Bay Packers on Sunday.
Beasley's emergence has given way for the Falcons to at least have some semblance of a pass rush, which has been a major area of struggle for them. They drafted Beasley high out of Clemson so he could provide that edge presence that is so valuable in today's NFL, and he's proving his worth as of late.
His 7.5 sacks are tied for third best in the NFL, and he's racked up most of them over the last month's worth of games.
Beasley hasn't yet established himself as an elite presence off the edge for the Falcons, but he's certainly well on his way. I remember coming out of Clemson, his ability to use speed to get around the edge and convert speed to power was something I thought reminded me a lot of Von Miller coming out of Texas A&M.
The ability is definitely there for Beasley to become an elite edge rusher in this league, and that's what the Falcons are going to count on as he continues to develop. They need to find creative ways to get him involved in rushing the passer and move him around the formation. He's going to be a really valuable part of this Atlanta team if they are going to make a run in the playoffs this season.
As evidenced by Aaron Rodgers' unreal performance on Sunday, the Falcons certainly have room to improve when it comes to getting pressure on the quarterback. At the same time, it's important to note progress where it's being made, and Beasley is one of the hottest sack artists in the league right now.
This article originally appeared on