Atlanta Falcons: Post-Super Bowl 51 mock draft
With Super Bowl 51 in the books, it's time to take a look at what areas the Atlanta Falcons need to target in the 2017 NFL Draft.
Super Bowl 51 has come to a close for the Atlanta Falcons. What a year it has been for the franchise and they have restored themselves as a power in the NFC. While Kyle Shanahan is off to be the head coach of the San Francisco 49ers, the Falcons have plenty to be excited for in their future.
They have an obscene amount of talent on offense and a very young defense that is only going to get better. The even better news for them is that they can continue to add to their roster and depth with the 2017 NFL Draft. With the combine just around the corner, the Falcons know what their needs are.
They could use some more EDGE rushers, some linebacker depth, a free safety to pair with Keanu Neal and to a lesser extent, some cornerback depth. This should be a great draft for the Falcons to try and fill all of their needs. Thomas Dimitroff had a world class draft last year that helped get them to this point.
His young players have been the catalyst for change for the franchise. Another great draft class should keep the Falcons competing for Super Bowls for a very long time. The NFC South had went to the Panthers the previous three years, but now Atlanta wants to hold onto the spot permanently.
It's never too early for a mock draft and now is a perfect time to examine what they should do in April. Who will be on the clock when the Falcons make their pick? Here's a complete seven-round 2017 NFL Mock Draft for the Atlanta Falcons.
Rounds 1 – 2
Round 1: Charles Harris – DE/OLB – Missouri
The Atlanta Falcons need more EDGE rushers in this draft. The team has already grown a young dynamic defense for the future, but getting a stud EDGE could potentially make them the next great defense in the NFL. Missouri's Charles Harris would be a fantastic pick here.
Harris is expected to go around this range in the draft. If he's able to fall to Atlanta near the end of the round then they have to scoop him up immediately. At 6-3 and 255 pounds, Harris has the perfect size for an edge rusher and is nothing but pure power. He takes delight in running linemen over and getting to the quarterback. Having another intimidating force to rush the passer in Atlanta would be perfect.
Round 2: Cordrea Tankersley – CB – Clemson
When it comes to the Falcons' needs in the 2017 NFL Draft, cornerback isn't as high as some of the other needs but getting some depth could do them some well. While the Falcons would certainly love a guard or safety here in the second round, they're at a spot where it's a bit of a reach for this spot in the draft.
Clemson's Cordrea Tankersley would be an excellent value pick at the end of the second round. At 6-1 and 200 pounds, Tankersley has the size that Dan Quinn loves in his defensive backs and he would fit in. He brings a championship pedigree with him from college and would add further depth behind Jalen Collins, Robert Alford and company.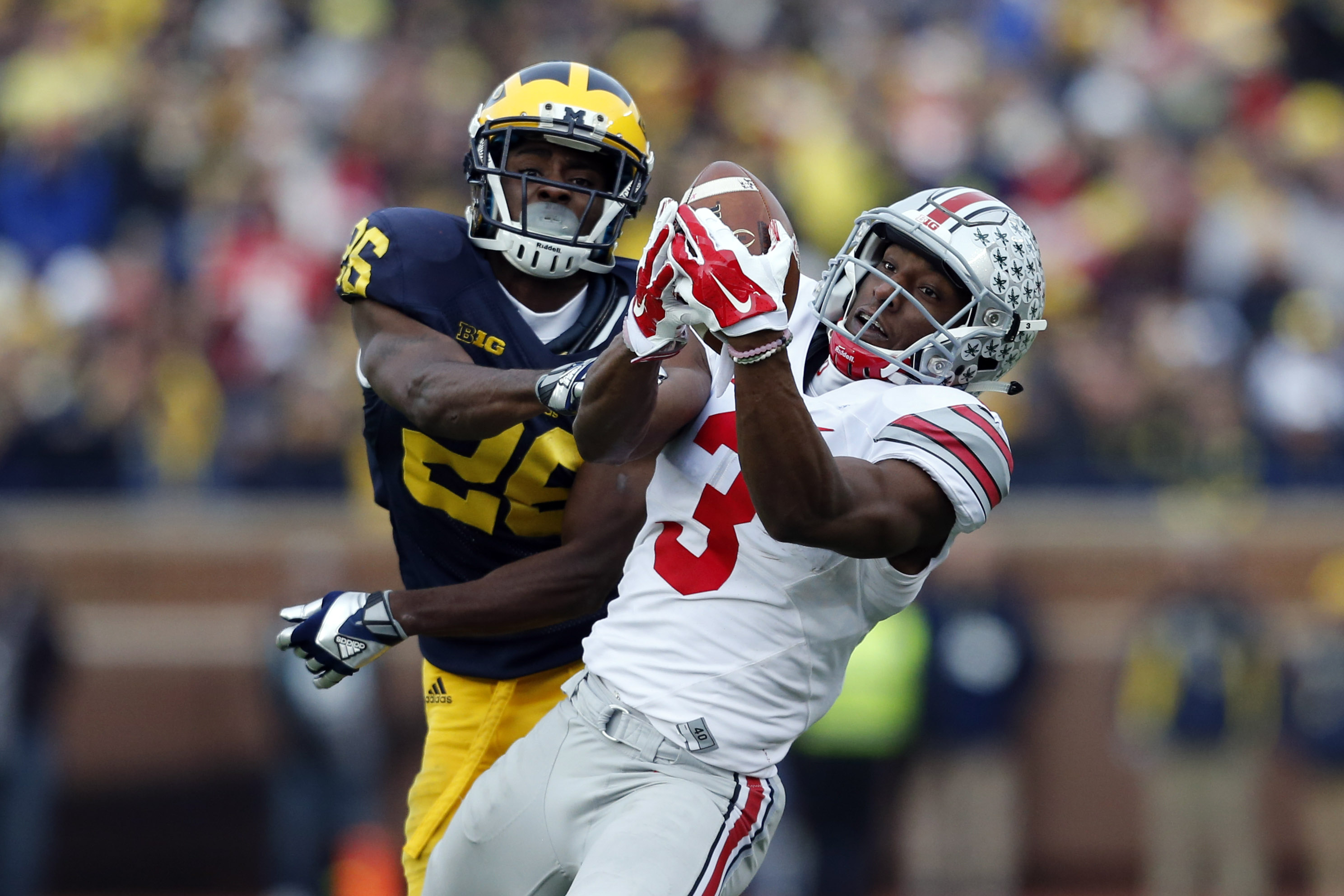 Rounds 3 – 4
Round 3: Damien Mama – OG – USC
In the third round is where the Falcons can address the guard position. USC offensive guard Damien Mama has declared early for the draft this year. The guard is a monster of a man that helped the USC offensive line physically dominate opponents this year. Adding him would give the Falcons a young offensive linemen they can groom to be a future stalwart on the line.
Mama is instinctual and possesses the talent that coaches love in guards. His technique is raw and he can get a bit wild at times, but his physicality makes up for it. With the right coaching, he could soon become a great offensive lineman in the NFL.
Round 4: Eddie Jackson – S – Alabama
With Keanu Neal holding down the strong safety position and being an impact player for the Falcons, Atlanta could use another safety for depth. Neal is versatile enough that he plays a hybrid role and the Falcons aren't afraid to run sets with multiple defensive backs. If there's a player in this draft that has talent but could use some a year or two of being groomed for the spot, it's Alabama's Eddie Jackson.
The Alabama safety is great at reading the quarterback and he has great size. Having transferred over from the cornerback spot has given him valuable experience. He just knows how to end up with the football in his hands when it's in the air. He is an athlete and fits the mold of what the Falcons like to do with their defensive backs.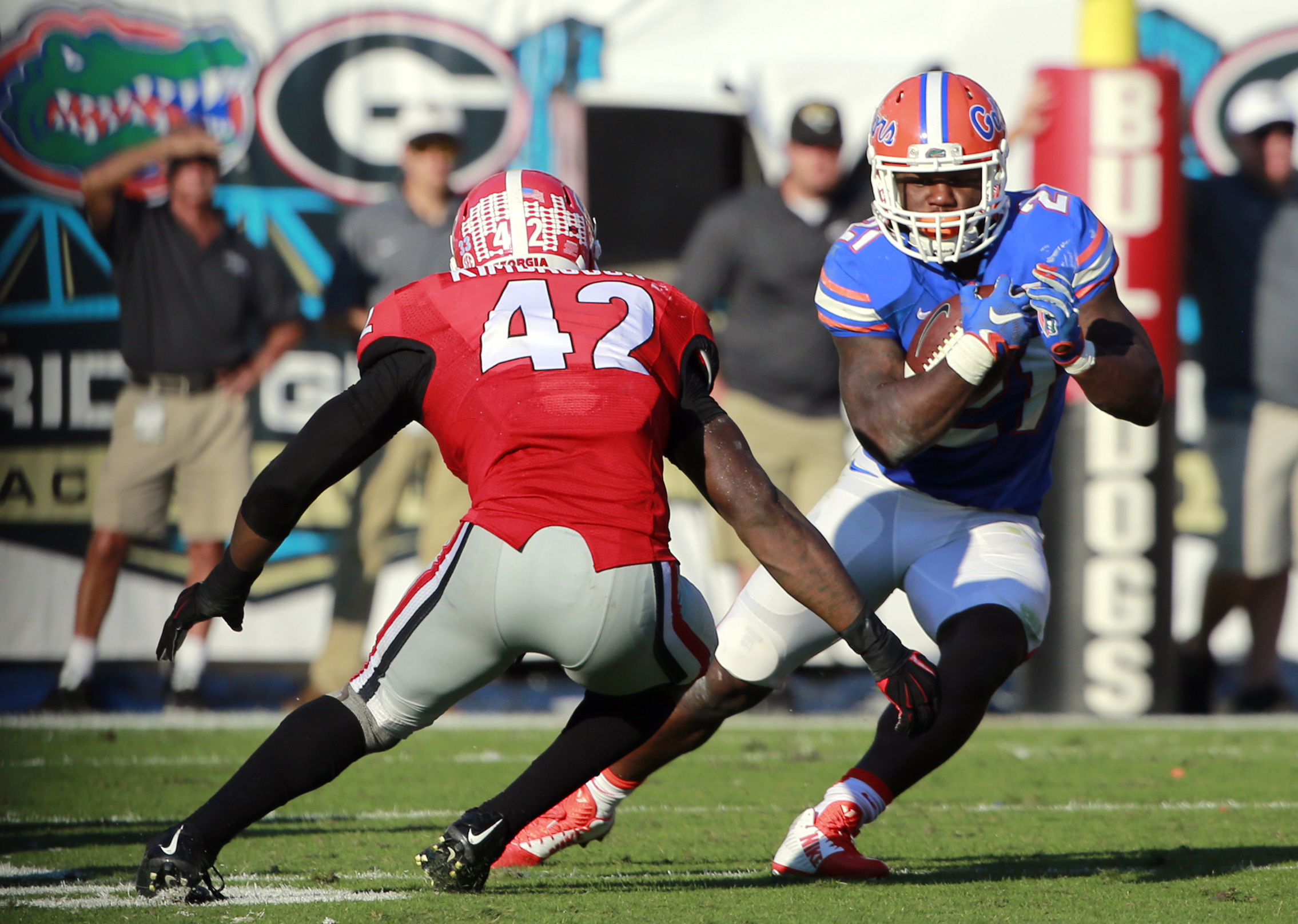 Rounds 5 – 7
Round 5: Greg Ward Jr. – WR – Houston
Here's an interesting pick for the Falcons in the 2017 NFL Draft. Greg Ward Jr. spent his career playing quarterback for Houston. However, many scouts see him as a wide receiver when he makes it to the NFL.
The Falcons can afford to take a project pick here and make the transition to the receiver spot. At 5'10 and 175 pounds, Ward's 40 times vary but he has blazing speed and could end up being a downfield threat for Matt Ryan.
Round 6: Rayshawn Jenkins – S – Miami
While the Falcons are looking for safety depth, a free safety is needed in this draft class. While Eddie Jackson was mocked early by virtue of being the best safety available, Rayshawn Jenkins is a free safety with great size. At 220 pounds, Jenkins can physically match up against any receiver or tight end in football. The Falcons have been building a defense based on physicality and speed. Adding a duo of Jackson and Jenkins would add to that dynamic.
Round 7: Tim Kimbrough – ILB – Georgia
Adding to the linebacker depth was one of the needs in this draft for the Falcons. In the final round of the draft, going for former Georgia linebacker Tim Kimbrough would be a project pick for the Falcons. At 6-0 and 227 pounds, Kimbrough has athleticism and can get in the backfield quick to make a tackle for loss. With the expanded practice squad rules that went into place, he could find his way on there if he can't make it right away.
This article originally appeared on