Atlanta Falcons 'must-do' checklist vs. Green Bay Packers
Eric Robinson/FanSided via Blogging Dirty

Fansided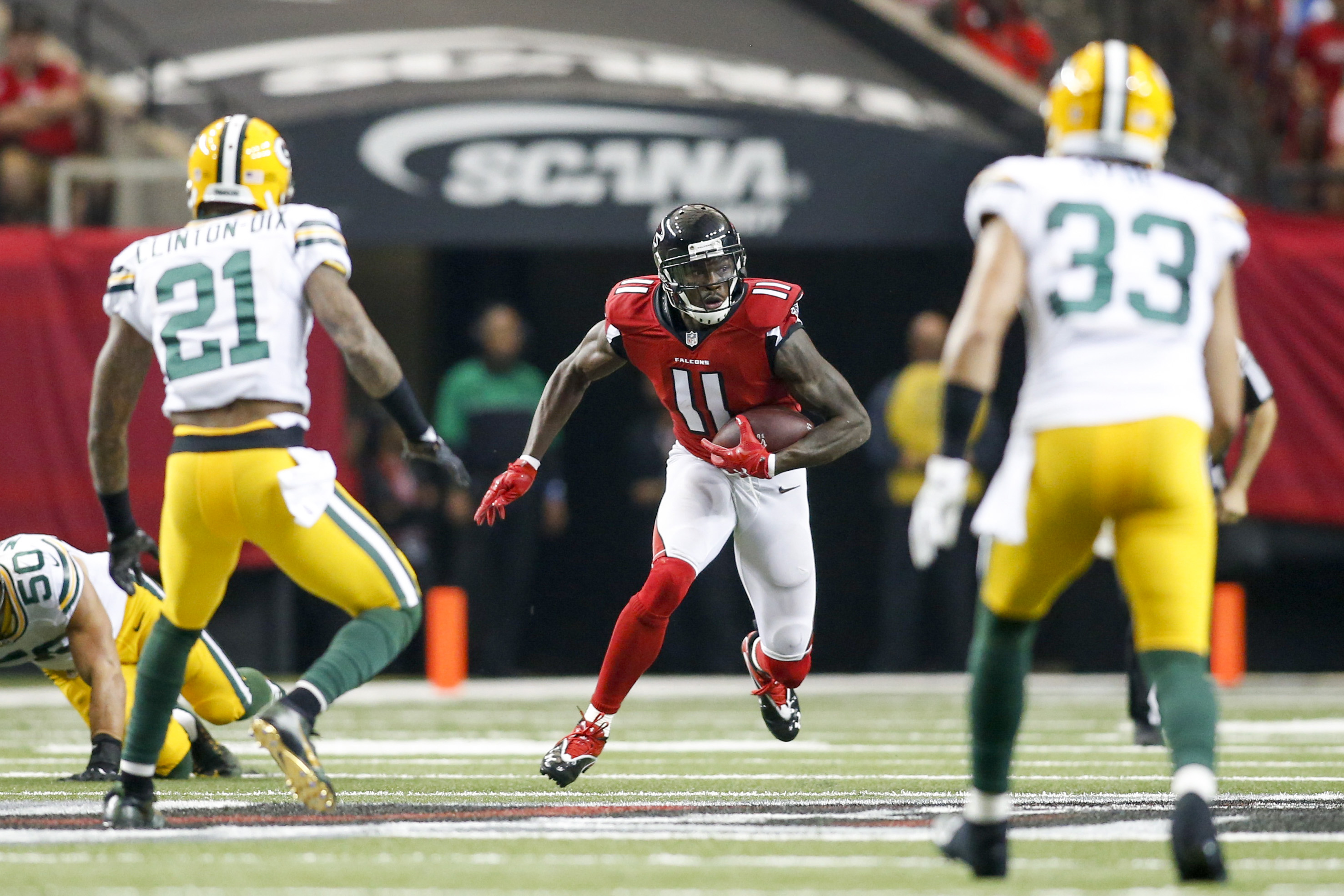 The Atlanta Falcons are slight favorites against the Green Bay Packers on Sunday. Here's what they must-do to beat Aaron Rodgers and get to the Super Bowl.

Not sure if you realize yet, but the Atlanta Falcons are in a huge playoff game this weekend. There are actually pair of huge games but right now, we'll concentrate on the NFC side of the bracket.
Last week, the Atlanta Falcons produced an impressive dismantling of the Seattle Seahawks in the NFC Divisional Round game. A victory to the tune of 422 total yards, 29 first downs, and a 36-20 punch in the mouth to Seattle. The Falcons now stand one win away from the franchise's second Super Bowl berth. In their way is what some call is "the best quarterback in football", Aaron Rodgers of the Green Bay Packers.
The Falcons and Packers last met in Atlanta during Week 8. A back-and-forth contest ended in a Mohamed Sanu touchdown reception with 31 seconds left to preserve the win. This time around, Green Bay rides into Atlanta on the crest of a massive wave. Packers' kicker Mason Crosby connected on a walk-off field goal as time expired to beat the Dallas Cowboys last week.
Up against a hot QB and the Pack's momentum, how can Atlanta get the win and move onto Houston? Here's is their 'must-do' checklist for the NFC Championship Game.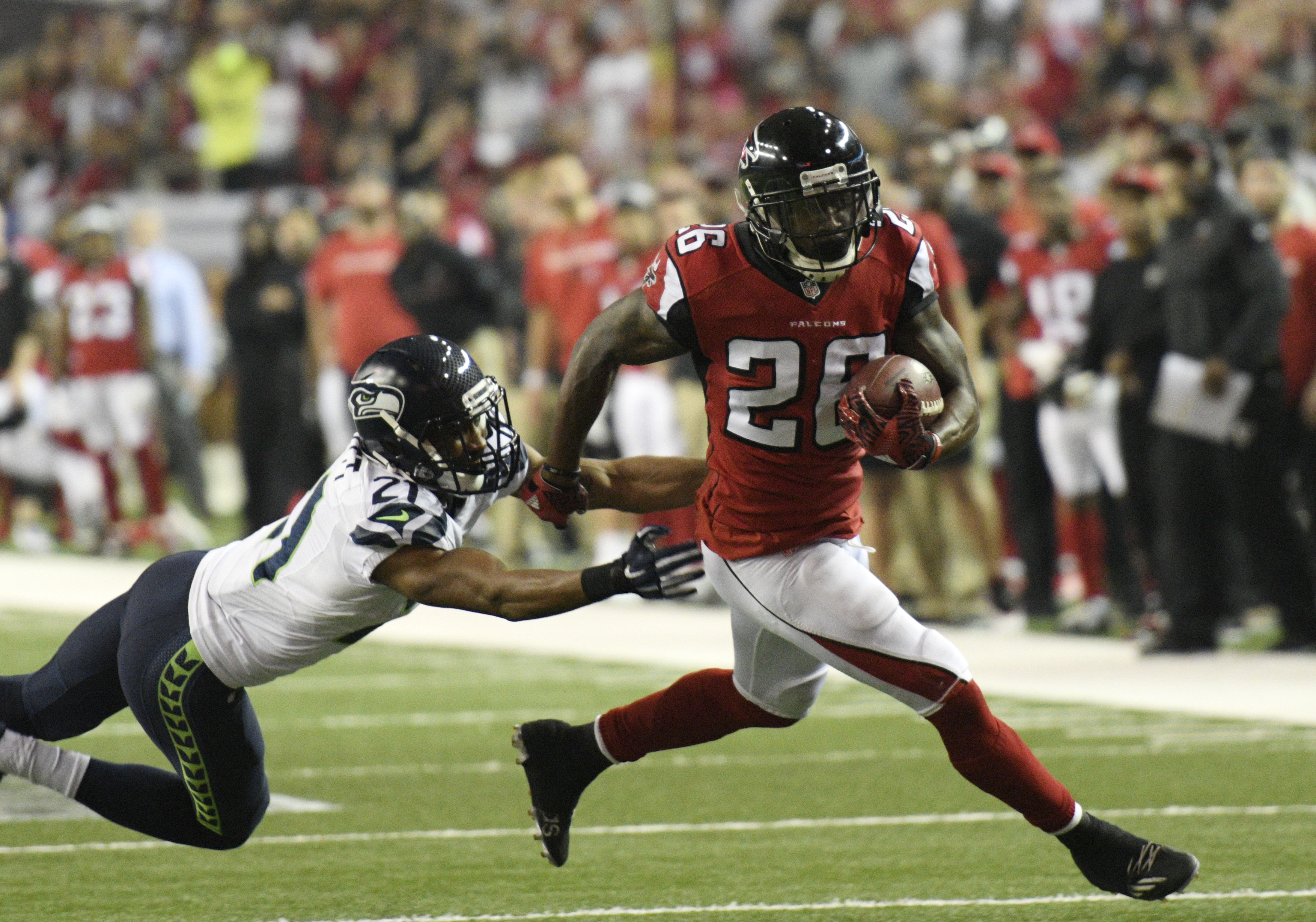 #3. Introduce the Packers to Tevin Coleman
Back in Week 8, the Atlanta Falcons totaled 367 total yards, 25 first downs, and scored 33 points. They did all of that without the services of their electric running back Tevin Coleman. Coleman missed the Packers match-up due to a hamstring injury suffered the week before against San Diego.
The 2nd-year running back has had a considerable workload this season with 520 rushing yards and eight rushing touchdowns. He also had 31 catches for three receiving touchdowns. When rushing, Coleman averages 4.4 yards per carry with 13.6 yards per reception.
Coleman's 421 receiving yards is eighth in the NFL among running backs. 16 of his 31 catches this season were also good for first downs. In other words, Tevin Coleman is super productive with the ball in his hands.
Offensive coordinator Kyle Shanahan has devised ways to create match-up issues with Coleman. The Week 5 game against Denver was a prime example of how Shanahan saw a weakness and utilized Coleman to exploit it. Green Bay is stingy against the run. They do; however, have a pair of linebackers in Jake Ryan and Blake Martinez that aren't necessarily athletic in the open field.
Coleman should see numerous opportunities to display his solid route running and create favorable, one-on-one match-ups.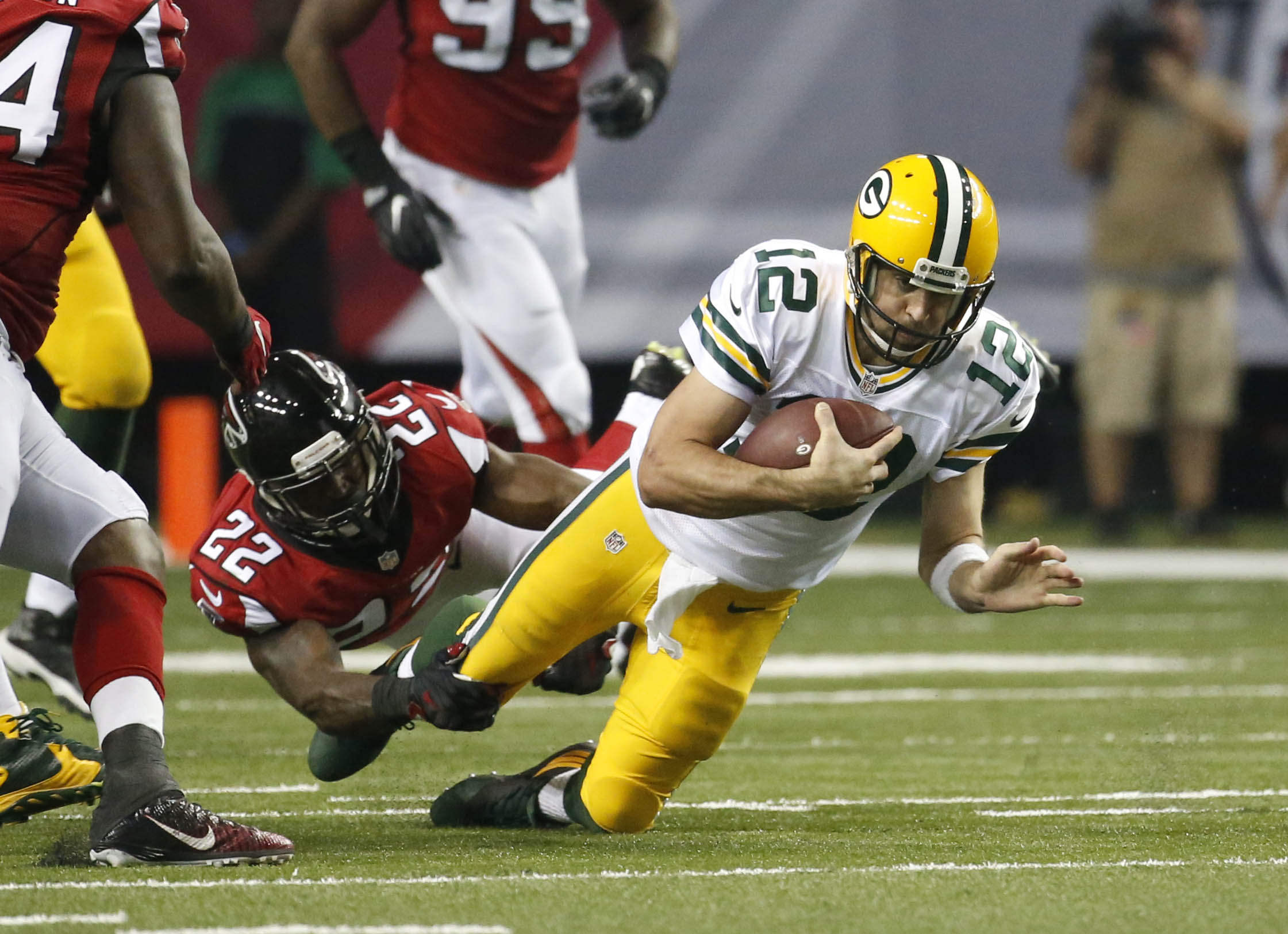 #2. Deploy creative defense
Playing Aaron Rodgers and the Green Bay Packers is considerable work. Dealing with Rodgers is also never fun. The veteran quarterback completed 28-of-38 passes for 246 yards and four touchdowns against Atlanta earlier this season. If you recall during that game, at times, Rodgers had plenty of time to find his targets. That can't happen this time around.
Head coach Dan Quinn and defensive coordinator Richard Smith may have to snag a page or two from the Cowboys game plan last week. During the second half of that game, Dallas was successful with creatively disguised blitz packages that confused and stifled Rodgers. Those blitzes led to sacks and stalled enough Packer drives that allowed the Cowboys to get back into the game.
The Atlanta Falcons would be wise to incorporate a few more man-coverage looks also. Containing Aaron Rodgers may take a spy tandem of edge-rusher Vic Beasley and strong safety Keanu Neal. Keeping the edge on Rodgers and blitzing with multiple looks may be just enough to throw the QB off his game.
Getting creative on defense will go a long way to taking Green Bay's offense out of their comfort zone. Shutting down Rodgers is next to impossible, but the Falcons defense has enough dynamic players that can make enough big plays.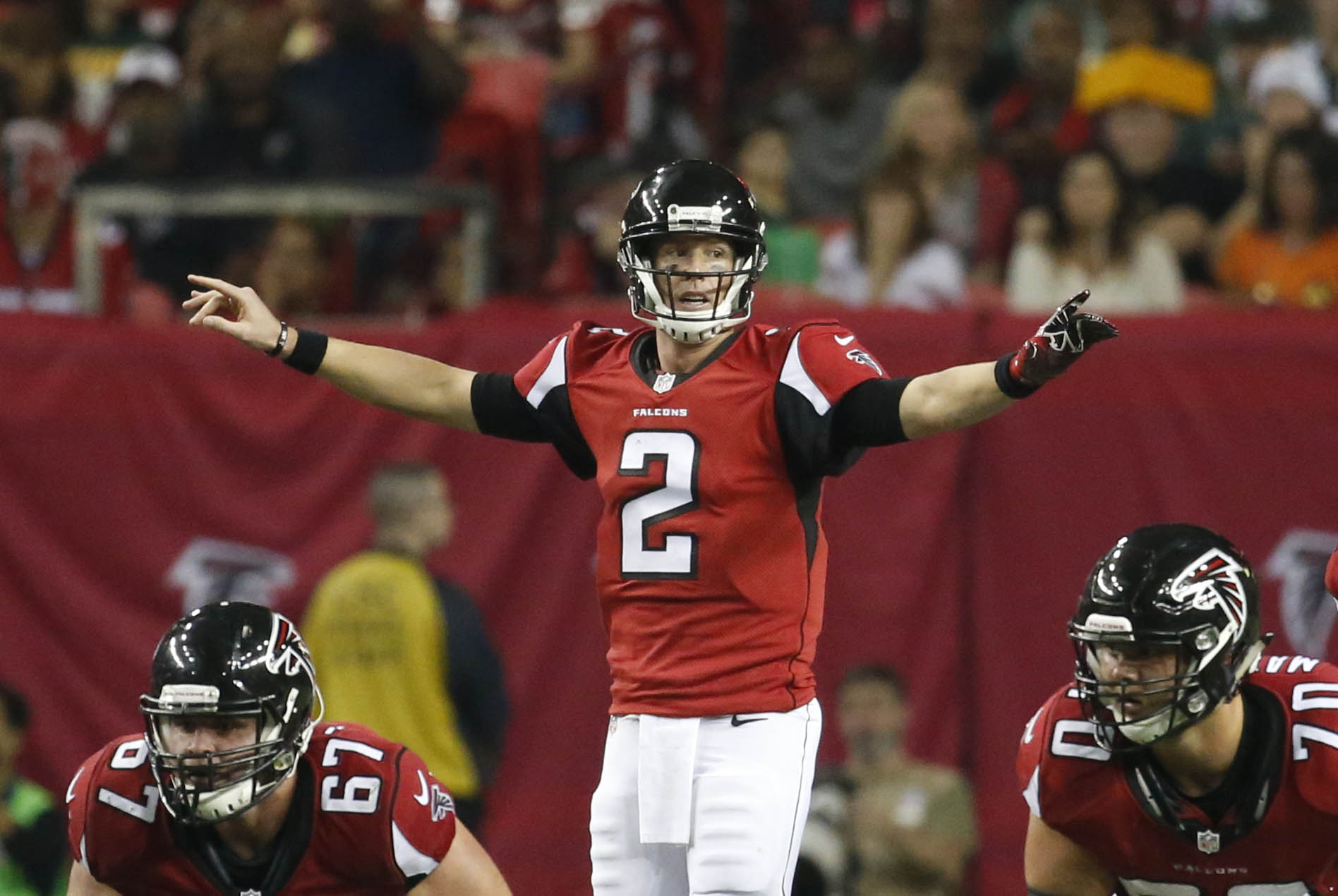 #1. Play four aggressive quarters on offense
At this point we already know what these Atlanta Falcons are all about. They're all about offense.
The Falcons are tops in the NFL in first half points (18.5) per game and second half points (15.4) per game. Their offensive drives have been incredibly efficient with 52.6% ending in a score. Rodgers and the Packer offense will make their fair share of plays, but the key is to keep the ball in Matt Ryan's hands. It's up to Ryan and the Falcon offense to remain aggressive and finish drives in each quarter. Atlanta's offense has proven a handful for the NFL's better defenses, but they can't pick the 2nd half of the NFC Championship Game to slow down.
Atlanta's defense feeds off Atlanta's offense. The defense gave up a lot of second half points to the Saints in Week 17, but only after the offense shifted to a conservative approach. The Falcons offense didn't slow down at all against Seattle last week and neither did the defense.
Atlanta's offense has posted incredible numbers this season courtesy of a plethora of productive weapons. From All-Pro quarterback Matt Ryan, to the running back combo of Tevin Coleman and Devonta Freeman, to the elite Julio Jones, the Falcons are well-stacked. Incredibly enough, it doesn't stop there either. Taylor Gabriel, Justin Hardy, Austin Hooper, and Mohamed Sanu, are all capable of giving defenses fits.
How the Packers got so far in their season is a story on its own. Green Bay finds themselves in the final four with a defense that has been oft-injured and a major liability. Their secondary especially has been banged up a majority of the season. The Packers have allowed at least 24 points and over 400 yards in four of the last five games. That said, Sunday is the Falcon offenses's for the taking.
This article originally appeared on