Atlanta Falcons: Loss of Adrian Clayborn Bigger Than You Might Think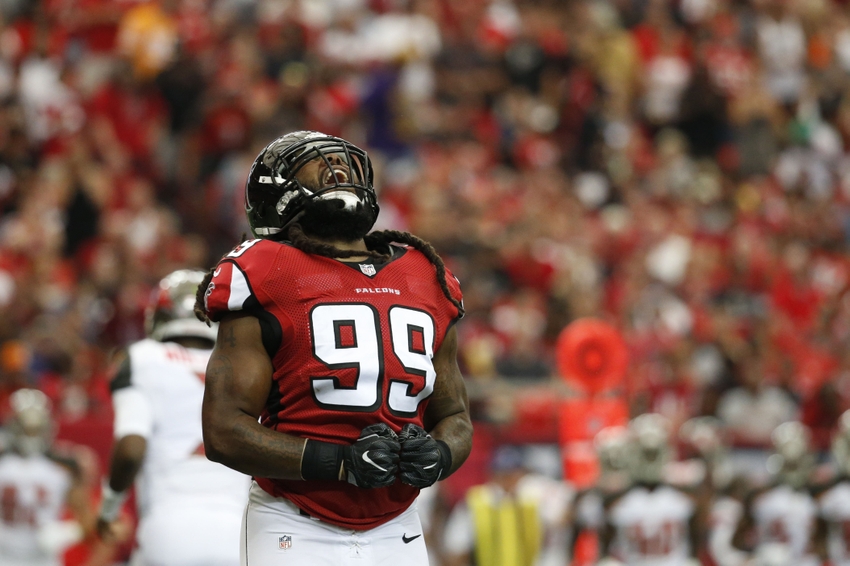 The Atlanta Falcons defense has shown some progress as the 2016 season has worn on, but the loss of Adrian Clayborn could cause it to take a step back.
Defensive end Adrian Clayborn came to the Atlanta Falcons in 2015 as a bit of a reclamation project. A former first-round pick of the Tampa Bay Buccaneers, Clayborne was looking for a fresh start, while Atlanta was looking for a value addition to their pass rush.
Clayborn's first season with the team was alright, but not outstanding. He produced 15 total tackles and 3.0 sacks as a part-time contributor. Fortunately, Clayborn has watched his role grow a bit this season, and he has already racked up 20 tackles and 4.5 sacks.
Unfortunately, it appears that the Iowa product is set to miss a significant amount of time. Adam Schefter of ESPN is reporting that the defensive end will miss at least a month with a knee injury:
Falcons DE Adrian Clayborn tore his MCL, partially tore his meniscus, and is expected to miss at least a month; surgery likely, per sources.

— Adam Schefter (@AdamSchefter) November 28, 2016
The loss of Clayborn is most unfortunate for the Falcons, who have finally started to generate a notable pass rush. The defense is rated 13th in pass rush by Pro Football Focus and has produced 24 sacks on the season. It's worth noting, though, that Clayborn's value goes far beyond the roughly 19 percent of the team's sacks he has produced.
Clayborn actually affects the opposing team's passing game far more often than his sack total might suggest. Pro Football Focus rates Clayborn 49th in the NFL among all edge-rushers and credits him with five sacks, 11 quarterback hits and 22 total pressures.
So while the Falcons are certainly going to miss Clayborn's sack numbers, the team is going to miss his pressure even more. This makes for a significant loss because Atlanta is built to score points and then to make it difficult for opposing signal-callers to play catch-up.
The good news is that there's a chance Clayborn will be able to return in time for the postseason. Former NFL physician David J. Chao believes that a realistic recovery period is in the 4-6 week range. Getting Clayborn back for the playoffs would be a huge boost for the Falcons. Unfortunately, not having him against Cam Newton and Drew Brees in the final two weeks of the season could significantly affect where Atlanta winds up in the postseason seeding.
This article originally appeared on