Arizona May Need to Move on from Carson Palmer Next Season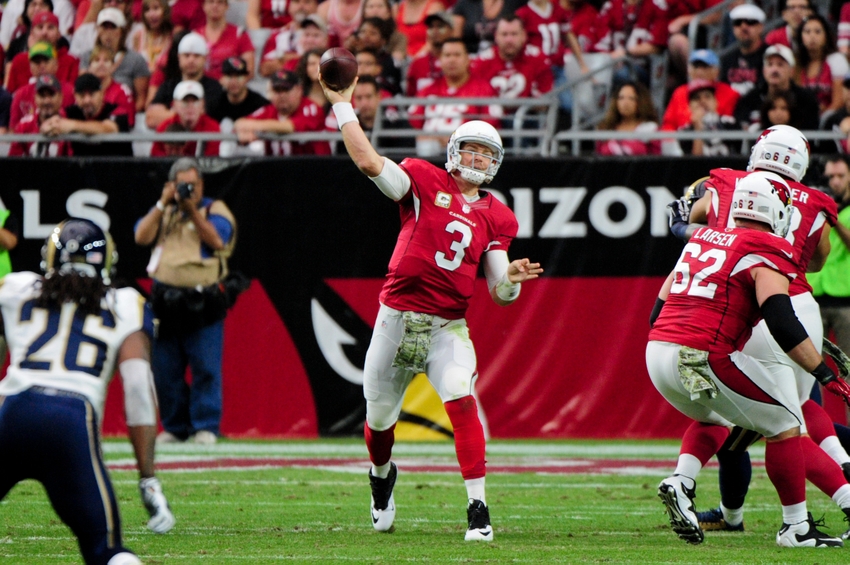 It's not hard to think that Arizona will move on from Carson Palmer in the near future. Next year might be the year that they start looking in a different direction at the quarterback spot.
Carson Palmer is in his 12th season in the NFL. Throughout Palmer's career he has been prone to injuries. This season he has suffered two injuries. Against the Rams he suffered a concussion missing the next game and left early in Monday nights game due to a hamstring.
More from With the First Pick
At 36 years old, the Cardinals have to know that the time is coming to move on from Carson Palmer. This team should be a top competitor with all their talent but are struggling so far this season. In Palmer's last three starts he has a total of 788 yards, two touchdowns and five interceptions.  He has been below 300 yards in his last three games.
For a team that made it to the NFC Championship game last season the expectations were high this season. The Cardinals are currently 3-3 and third in the NFC West. This is not where they expected to be at this point in the season. Granted their losses were against the New England Patriots, Buffalo Bills and conference foe the LA Rams. But that is no excuse for a team that was eyeing a Super Bowl last year.
Carson Palmer has regressed so far this season. Palmer has only thrown one deep pass this year. Last year they defeated teams with the deep threat. If Palmer can't start exposing teams defenses, this season is only going to go down from here. This week, they play division rival the Seattle Seahawks and will need to go deep in order to win. Palmer is questionable to start Sunday but Bruce Arians says he will play.
If the Cardinals want to be a Super Bowl Caliber team they will need to start looking for a replacement for Palmer. He will be 37 next season and if he can't stay healthy, the Cardinals will have another tough season. Their backup, Drew Stanton, is a good quarterback but not one that can take this team to a Super Bowl.
The Cardinals can grab a quarterback in the 2017 draft, which will be loaded with great talent at the quarterback position. They can also look to trade for a quarterback. The Patriots have a few good ones backing up Tom Brady.
Carson Palmer is struggling this season and it is hard to believe that he will get better next season. Palmer can still bring Arizona back to the top of the NFC West this season, but that isn't looking likely. Staying healthy and throwing the ball deep will be the key to Palmer having success the rest of the way. If Palmer can't bring this team back to where they should be. it will be time for the Cardinals to move on.
This article originally appeared on