Arizona Cardinals vs Minnesota Vikings: Preview, prediction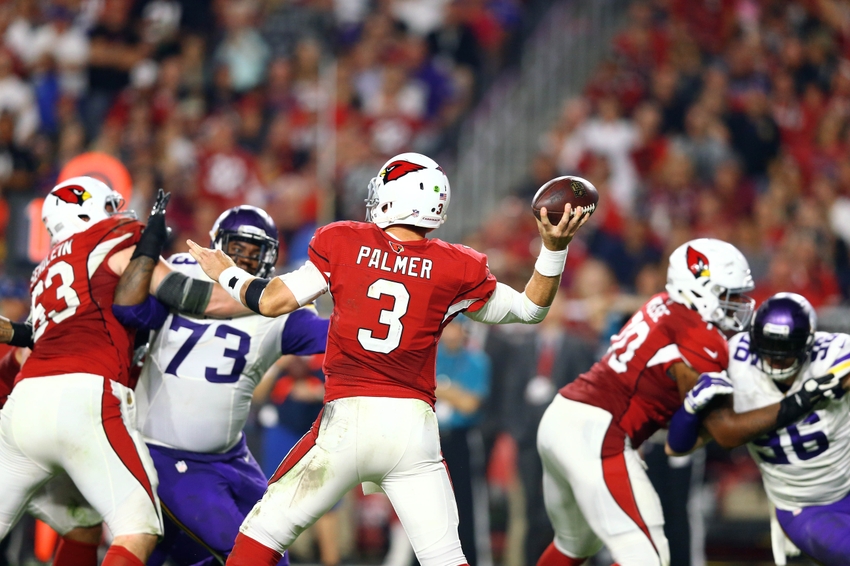 The Arizona Cardinals head north to visit the Minnesota Vikings on Sunday
Well, a trip to Minnesota in November is what the Arizona Cardinals get as reward for finishing in first place in 2015.  They face the defending NFC North champion Minnesota Vikings on Sunday, indoors at their new stadium.
You likely won't find many complaints amongst Cardinals players for a trip up north in November. What you will get on Sunday though is a lot of noise. Some have said that U.S. Bank Stadium is louder than CenturyLink Field in Seattle.
What: Arizona Cardinals vs Minnesota Vikings
When: 11:00 a.m. Sunday (Arizona time)
Where: U.S. Bank Stadium; Minneapolis, Minnesota
TV: FOX (Joe Buck, Troy Aikman)
Radio: Arizona Sports 98.7 (Dave Pasch, Ron Wolfley); Sirius/XM 383 (Internet 800) – Cardinals feed; Sirius/XM 226 (Internet 818) – Vikings feed
The two teams met in December last season.  The Cardinals came away with a 23-20 victory on Thursday Night Football.  They were able to secure the victory with a Dwight Freeney sack of quarterback Teddy Bridgewater.
Neither player will be on the field on Sunday.  The Vikings now have Sam Bradford running the ship at quarterback with Bridgewater on injured reserve.  The Cardinals allowed Freeney to walk away as a free agent after the season ended.
The Cardinals offense last week in a 23-20 victory over the San Francisco 49ers was all in during the first half.  They sputtered a bit in the second half, scoring just three points in the second half.
They moved the ball but Cardinals quarterback Carson Palmer threw the ball 49 times.  In contrast, Cardinals running back David Johnson ran the ball for just 55 yards, his second-consecutive sub-100-yard game.
The Cardinals are likely not going to have much more luck against a stringent Vikings defense.  The Vikings may have lost four games in a row, however their defense is not the main issue.
The Cardinals need to get back on the positive side of things when it comes to turnovers as well. Last week the Cardinals lost the turnover battle 4-1.  They are lucky it was the 49ers in town and not these Vikings.
If the Cardinals turn the ball over four times in Minnesota on Sunday, they will certainly be looking at a loss unless they have six turnovers of their own and they are takeaways right after the giveaways.
The Cardinals defense may have a little bit better time of things than the offense on Sunday. Minnesota at times also has difficulty running the ball.  They are also without their top running back Adrian Peterson who is on injured reserve.
Bradford can look brilliant at times at quarterback and then immediately turn around and look flustered leaving fans scratching their heads as to what they just witnessed.
With four consecutive losses, the Vikings are yearning for victory after starting the season 5-0. The Cardinals defense though will need to create turnovers to win.
They may get safety Tyrann Mathieu back.  He was expected to initially miss three to six weeks after hurting his shoulder at Carolina on October 30th.  Sunday would make three weeks.
Cardinals head coach Bruce Arians indicated mid-week Mathieu was on track to play.  However he was listed as questionable on Friday's injury report.
The Cardinals will be put to the test.  The game has been targeted for Fox's largest audience on Sunday. If they play like they did last week against the 49ers, this will be a cakewalk for the Vikings.
With a lot on the line and a chance to regain focus, the Cardinals are going to come out and fight harder.  The points may not come easy but in the end should outscore the Vikings.
Arizona 25 Minnesota 22
This article originally appeared on