Arizona Cardinals vs Atlanta Falcons: Preview, prediction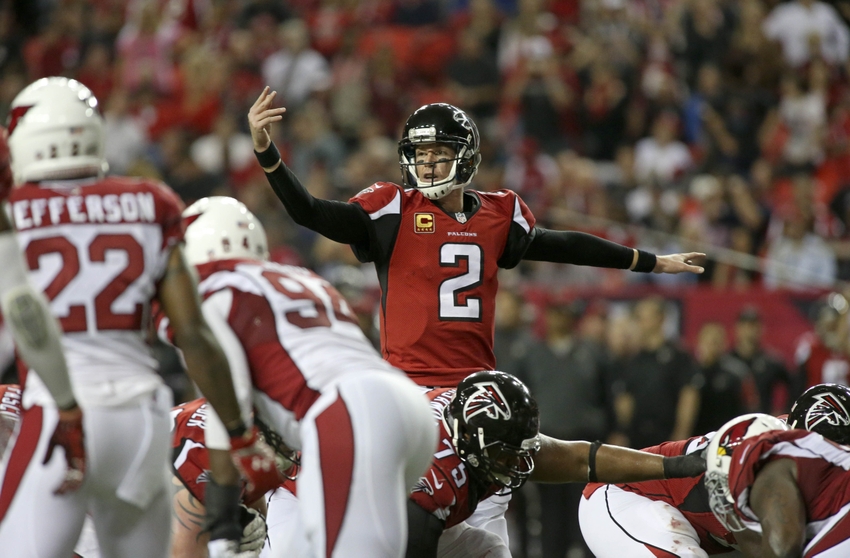 The Arizona Cardinals are on the road for the second consecutive week, facing the Atlanta Falcons
The Arizona Cardinals are a heartbeat away from having any realistic chances at playoff contention. Although not mathematically out of it, a loss to the Atlanta Falcons on Sunday would pretty much seal the deal for 2016.
What: Arizona Cardinals at Atlanta Falcons
Where: Georgia Dome, Atlanta, GA
When: 11:00 a.m. Sunday November 27th
TV: FOX (Kevin Burkhardt, John Lynch)
Radio: Arizona Sports 98.7 FM (Dave Pasch, Ron Wolfley)
The Cardinals are coming off a heartbreaking 30-24 loss in Minnesota.  The Falcons are coming off their bye week, which can always be a dangerous thing for an opponent.  They are also coming off a loss in their last game two weeks ago 24-15 to the Philadelphia Eagles.
The Cardinals will have head coach Bruce Arians on the sidelines after a health scare sent him to the hospital after returning from Minnesota last Sunday.  The last time the Cardinals played the Falcons was in 2014 when the Falcons defeated the Cardinals 29-18.
The Cardinals were without starting quarterback Carson Palmer who had torn his ACL two weeks earlier. The Cardinals do not have a good history in the Georgia Dome.  They are 1-8 lifetime in the stadium.
The Cardinals offense, although seemingly sputters at times, has actually moved the ball as of late.  Running back David Johnson rushed for 103-yards last week in Minnesota.
He had a rushing touchdown and a receiving touchdown but it wasn't enough.  The Cardinals offensive line could not save Palmer last week while trying to drive for a game-winning score.
This week the Cardinals are going to move right tackle D.J. Humphries over to left tackle.  Seems like a bold move this late in the season.  Without Jared Veldheer and John Wetzel struggling, you can't blame the Cardinals for trying something.
There is some uncertainty about the status of receiver Michael Floyd.  He has been bothered by a hamstring injury.  The Cardinals waived receiver Chris Hubert and moved receiver Marquis Bundy to the active roster on Friday.  Floyd is a game-time decision according to Arians.
Palmer has played sporadically as of late.  He seems to be able to move the ball when given time to throw but when having to play from behind like he did last week and in Carolina a few weeks ago, things haven't turned out well.
He played well in Carolina but made a couple of big mistakes last week in Minnesota.  Most notable of mistakes was the 100-yard interception return for touchdown by Vikings cornerback Xavier Rhodes.  It appears Palmer and receiver John Brown were not on the same page.
As for the Cardinals defense, they played fairly well last week in Minnesota.  They only gave up 16 points as a unit.  The Vikings defense and special teams came up with the other 14 points.
The Cardinals will get safety Tyrann Mathieu back this week after injuring his shoulder in Carolina. There was a chance he was going to come back last week but the Cardinals wanted to give it one more week.
They will need to come up big against the high-flying offense of the Falcons.  Falcons quarterback Matt Ryan is having an MVP-like season.  Receiver Julio Jones, although quieter as of late, torched Cardinals cornerback Patrick Peterson two years ago.
The Cardinals will need to shut down the Falcons passing game but also not ignore their running game.  Falcons running back Devonta Freeman has 699-yards rushing and three touchdowns while Tevin Coleman has 234-yards rushing and five touchdowns.  He also has 19 receptions and a touchdown in the air.
For the Cardinals to come out with a victory on Sunday will take a mistake-free contest on their part.  They need to consume time on drives and have a balanced attack.  All easier said than done.
The Cardinals have done very little to inspire confidence in any predictions for the future.  The Cardinals will give the Falcons a game but in the end it is likely to be the same old story down in Georgia.  Atlanta 31 Cardinals 23
More from Raising Zona
This article originally appeared on