Arizona Cardinals: The good, bad, and ugly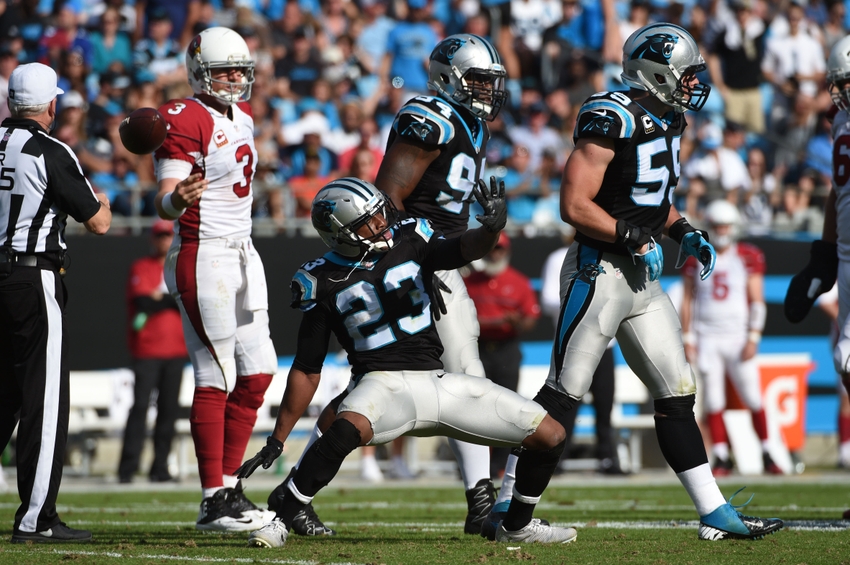 The Arizona Cardinals were mostly bad on Sunday but did have a couple of bright spots in loss
The Arizona Cardinals lost to the Carolina Panthers 30-20 on Sunday.  It was pretty ugly from the start as far as the Cardinals were concerned.  At least it was that way in the first half.
In the second half of Sunday's game, the Cardinals did show some signs of life but again what has dogged them all season, mistakes cost them in their attempted comeback.  Penalties and turnovers once again halted any thought of the Cardinals winning Sunday afternoon.
The Panthers were able to grind the ball out in the running game.  Quarterback Cam Newton didn't have an especially great day, going 14-27 for 212 yards.  His receivers did him no favors by dropping some easy passes.
However the Cardinals fell behind 24-0 and couldn't get anything going in the air or on the ground early on.  They also caught no breaks.  An interception turned over.  A Carson Palmer incomplete pass ruled a fumble and a returned touchdown by Panthers linebacker Thomas Davis. Questionable penalties at crucial times.  Not much went right on Sunday.
Here is a look at was was good, bad, and ugly on Sunday.  Again, more focus on the bad and ugly unfortunately from this one.
The good
As always, as bad as a game can get sometimes, there is usually something that can be pointed out as a positive when it comes to the Cardinals.  Early on, there was some worry there would be nothing good to talk about and this piece would have to be re-titled bad and ugly.
The second half though changed that.  First, receiver J.J. Nelson was very reliable on Sunday.  He had two touchdown receptions, catching eight passes for 79 yards.  He was huge for the Cardinals.
Quarterback Carson Palmer, despite an interception late, an interception that was really a great play by Panthers defensive end Kony Ealy, had a decent day when he was upright.
He went 35-46 for 363 yards and three touchdowns.  His passes for the most part looked the best they had all season.  He made some tight passes into receivers Larry Fitzgerald, John Brown, and Nelson.  Even tight end Jermaine Gresham got himself open for three receptions for which Palmer go the ball in there nicely.
The bad
Penalties.  The Cardinals had 10 of them for 88 yards.  A few were questionable but there were a couple of holding calls that didn't need to happen.  It was not a good day by anyone on the Cardinals offensive line.
The Cardinals also couldn't stop Panthers running back Jonathan Stewart, who ran for 95 yards, not quarterback Cam Newton, who ran for another 43.  Their ball control kept the Cardinals from mounting a complete comeback.
Missed opportunities on defense.  Safety Tony Jefferson had what first looked like an interception but he never maintained position in bounds after stepping out.  Then cornerback Patrick Peterson missed a tackle and was burned badly on a play that initially looked like Newton would be sacked on.
The ugly
Back to the offensive line.  In addition to their penalties, they couldn't keep Palmer off his back. They allowed eight sacks, most Palmer has been sacked in one game in his long career.
Then they could not open any running lanes for running back David Johnson.  He carried the ball 10 times for just 24 yards.  That meant the Cardinals had to throw the ball most of the afternoon.
Earl Watford and D.J. Humphries looked lost most of the afternoon.  On one sack, Watford blocked with one hand on his guy he was responsible for then looked back to see another guy go around him, forgetting about his own guy.
Jared Veldheer committed a un-timely illegal procedure penalty and Mike Iupati had a hold called on him in the midst of Palmer being sacked.  The Cardinals may want to look at changes on the line schematically.  What they had set up on Sunday didn't work out at all.
More from Raising Zona
This article originally appeared on